The Quick Guide to Saison Beer and Food Pairings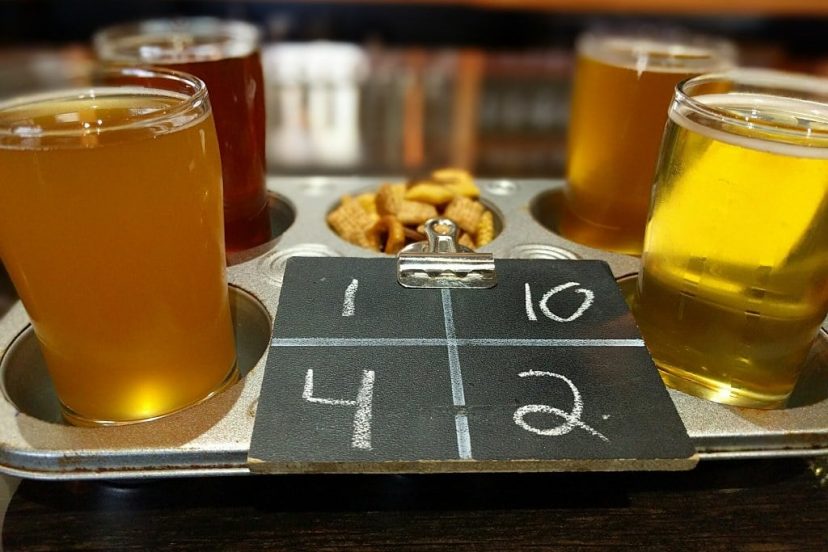 There are hundreds, perhaps thousands of beer styles. After all, beer is amongst the oldest fermented drinks on the planet. Every country in all corners of the earth enjoys beer, and it varies greatly.
Some beer styles are new and trendy, like chocolate milk stouts and grapefruit-scented Hazy IPAs. Other beer styles are timeless classics, and you'll find most of these in the Old Continent, where some breweries have five hundred years of brewing tradition.
You cannot talk about beer tradition without mentioning Belgium, and amongst its varied and attractive beer repertoire, you'll discover the Saison beer. Here's how to pair Saison beer with food.
What is a Saison Beer, Anyway?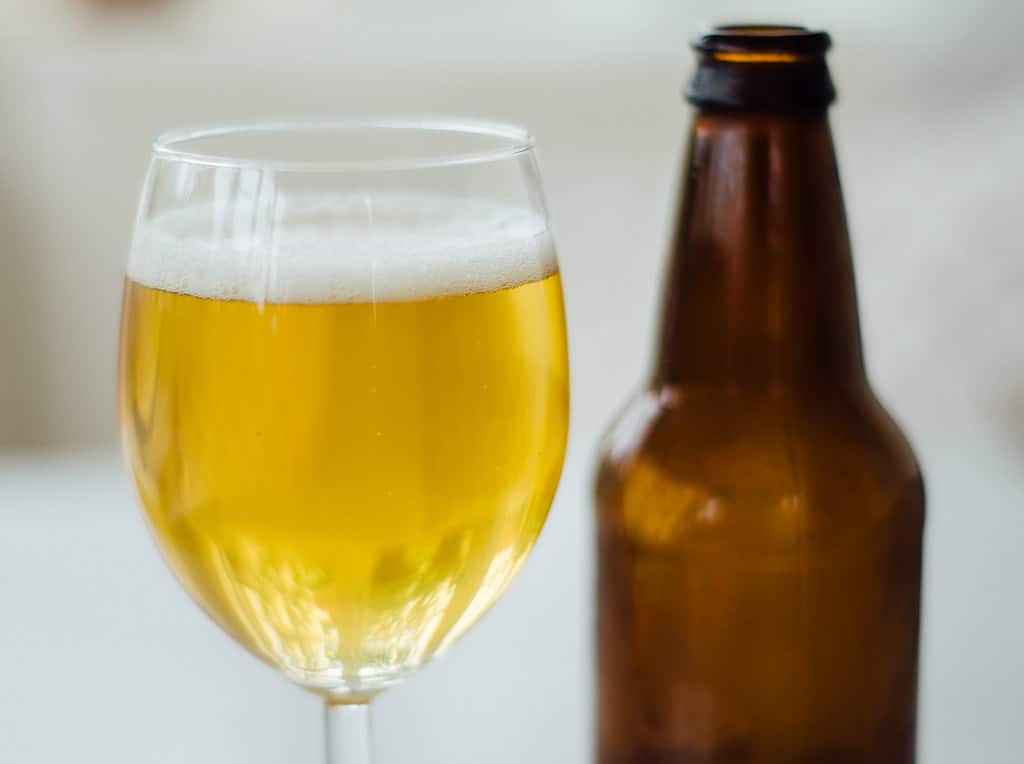 Amongst the most exciting beer styles of the Old World, there's the Saison Beer. This is an artisan beer style often known as farmhouse ale, and it's the specialty in the French-speaking side of Belgium.
In a way, the Saison beer style is the 1920s Belgian answer to the popular clear and clean Pilsner style developed in the Czech Republic, which was later imitated elsewhere. Other than that, Saison beers can vary widely.
Most Saisons are pale, utterly refreshing, and dry. They show high carbonation, and the nose is always intriguing with fruity, spicy, and herbal undertones. Saisons come with moderate alcohol levels between 3.5 – 7%, and the bitterness of 20 -35 International Bitterness Units (IBUs) is perceivable but comfy.
Although some Saison beers, often called 'table' Saison are mild and pleasant, some have 'super' strength and can have up to 9.5% ABV!
How to Pair Saison Beer with Food?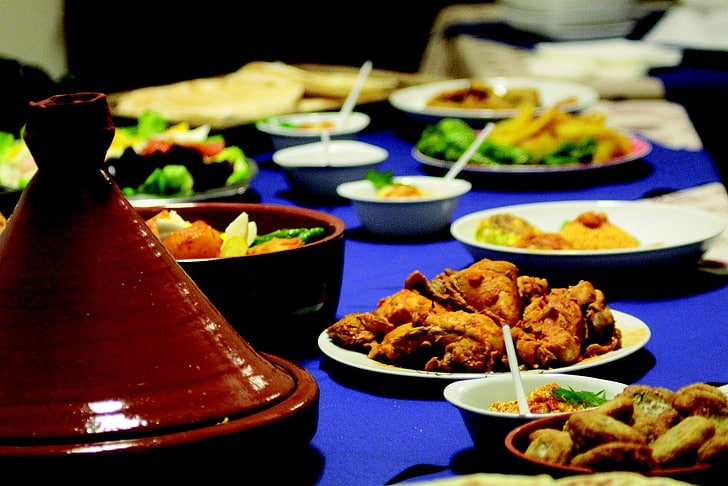 What all Saison beers have in common is a pastoral feel; they're authentic agricultural products that remind us that there's beauty in simplicity. Saison beers have a strong character, but they're still refreshing.
Saison beers will pair well with a wide variety of foods, mostly comfort food, from roasted poultry to grilled veggies — think farmhouse food. There are some exceptions to saison beer food pairing, though; the beer's high carbonation is not compatible with spicy food – bubbles increase the burning sensation -. On the other hand, the beer's spicy character makes it ideal for spicy food that's not that hot, like Middle Eastern and Moroccan food.
Ideal for meaty meals and anything kissed by smoke and fire, Saisons could become your go-to grilling beer. The beer style is sophisticated, though, so it has a place on a fine-dining table as well, and can even be paired with pungent, aromatic cheese — Saisons are popular in northern France for that reason.
Saison Beer and Food Pairings to Try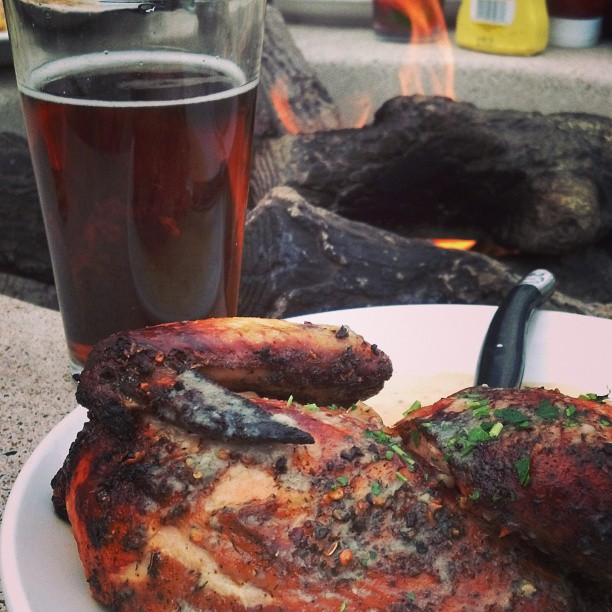 Try a moderately alcoholic, pale Saison beer with a fire-roasted chicken with crackly golden skin and juicy meat. Add a bit more pepper to the bird to match Saison's spiciness. The beer's dry, palate-cleansing character will cut through the chicken's fat like a knife through butter.
Bring out a few Saisons when cooking country-style. Rich and flavorful smoked ham and roasted potatoes will contrast with the Saison's clean palate. The characterful beer is a sophisticated drink for dining alfresco on a warm summer day. Let's call it a massive upgrade to our average pale lager.
My Favorite Saison Beer and Food Pairings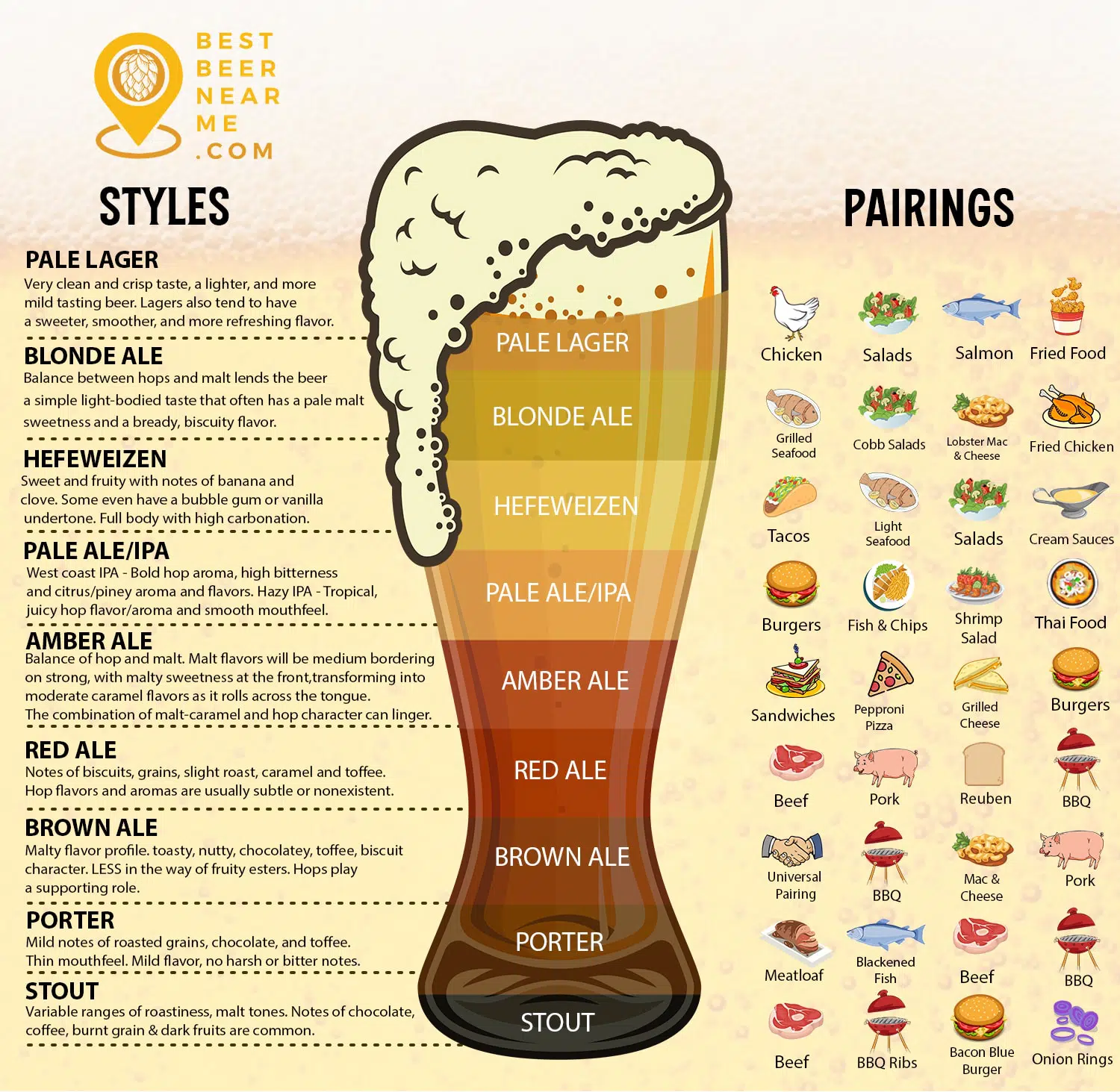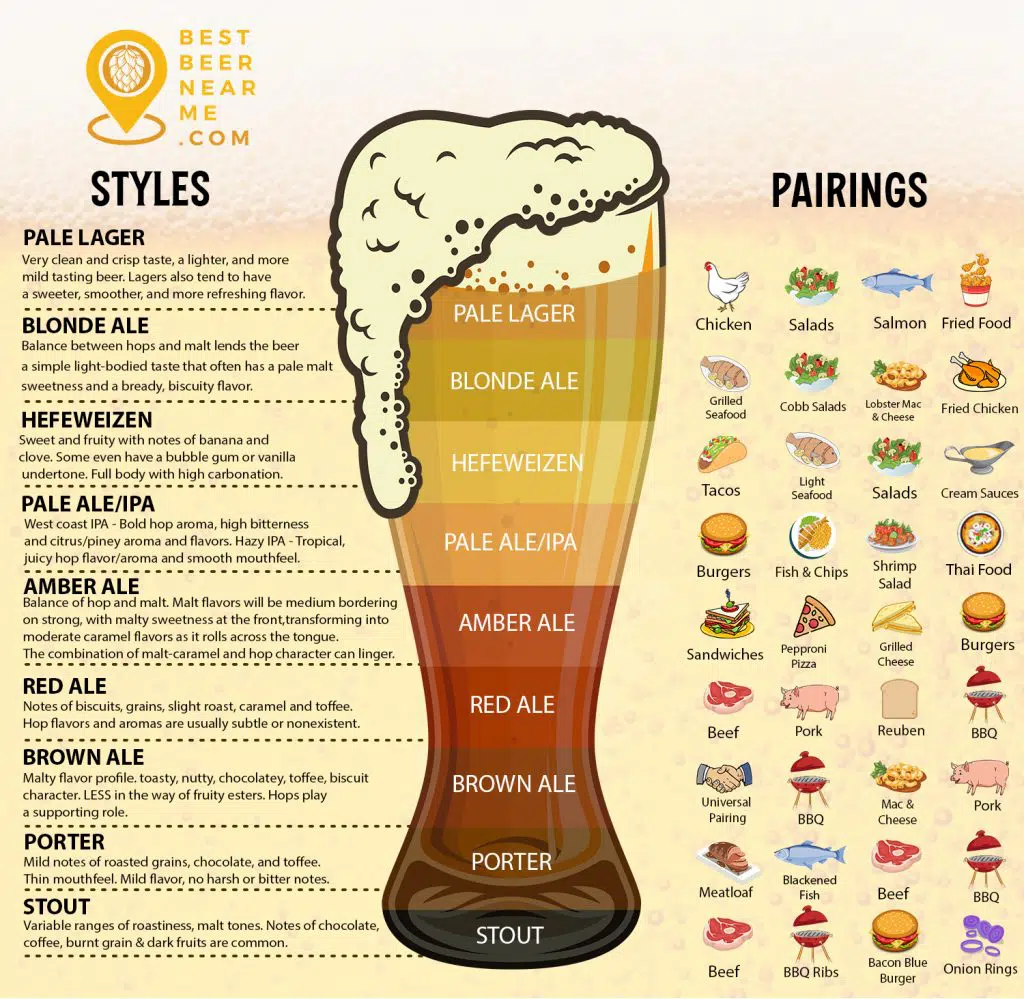 For Saison beer lovers, there really is none better than the classic Saison Bernice from Sante Adairius Rustic Ales. Bernice is an exquisitely fermented farmhouse ale that stands on the most balanced acidity I've encountered with a farmhouse ale.
Saison Bernice Tasting Notes
This is a bone dry beauty that drinks like a raw medley of stone fruit. Hints of Bartlett pear, fresh grass, white grape, unripe berry, starfruit, fresh nectarine and white plum. A floral minerality lingers through to the finish. There is quite a bit of dusty brett, lending some light funk, wet wood, a gentle earthiness, fermenting stone fruit, and a gentle peach pit bitterness. There are subtle grassy floral notes from some very restrained hopping, which is greatly appreciated. The finish puts particular emphasis on these grassy floral notes, along with some dusty brett funk, and a gentle black pepper bite. The ale finishes beautifully dry, with zero lingering tartness, and a gentle, clean aftertaste of cracker saison grains, with the faintest whisper of tannic fruit pits.
So what pairs with this, for my money pad thai is my favorite answer. Check out this recipe and prepare to have your mind blown.
Pad Thai
INGREDIENTS:
Pad Thai Sauce:
2 oz tamarind pulp
1/2 cup boiling water
3 Tbsp palm sugar grated
2 Tbsp fish sauce
1 Tbsp thai black soy
Pad Thai:
8 ounces dried pad thai rice noodles
1/2 lb chicken breast, thinly sliced
2 tsp thai sweet soy sauce or just thin soy sauce i u use that sweet radish
1 tsp corn starch
salt to taste
1 tsp white pepper, ground
1/3 cup small dried shrimp
4 cloves garlic, sliced
2 shallots, thinly sliced
1.5 Tbsp finely minced zha cai (optional but necessary)
3 large eggs
1 cup mung bean sprouts
1 cup chinese garlic chives
4 Tbsp roasted peanuts, finely chopped
2 limes
INSTRUCTIONS:
Pad Thai Sauce Method:
In a small bowl, cover tamarind pulp with boiling water and mix until combined and rehydrated then press through a mesh sieve.
Add in palm sugar, fish sauce, and black soy. Whisk until incorporated.
Pad Thai Cooking Method:
Slice chicken breasts into ⅓" slices. Toss together with kosher salt, ground white pepper and cornstarch. Add soy sauce and toss together.
Place noodles in a large bowl and cover with hot water. Soak for 15-20 minutes until done then drain.
For dried shrimp, place dried shrimp into the food processor and process at high speed into a powder.
In a large wok over medium-high heat, add vegetable oil and once shimmering add chicken in batches, stir 2-3 minutes per side. Set to the side.
Add more oil to the wok over medium-high. Once ripping hot, add in ground shrimp. Shake the pan and stir vigorously until golden brown and toasted.
Add in shallots and stir fry 2-3 minutes before adding in garlic and stir frying another 2-3 minutes.
Optionally add in zha cai and stir fry 1-2 minutes.
Add in the noodles followed by the pad thai sauce. Increase heat to high and stir vigorously until fully incorporated.
Reduce heat to medium-high. Push noodles to one side, add in beaten eggs and let cook for 30 seconds before scrambling.
Toss eggs with noodles until incorporated.
Add in chinese garlic chives, mung bean sprouts, and cooked chicken. Stir fry until chives begin to wilt.
Remove from heat. Plate with crushed peanuts, fresh mung bean sprouts, and lime wedges.
The spicy, subtly acidic nature of Saison Bernice holds up well to the sweet, savory fusion of Pad Thai. The inclusion of authentic Thai ingredients takes this pad thai to another dimension that is way better than the take out versions you have tried. Though the ingredient list takes to some diligence to find (available in most Asian markets or findable online), the recipe is quite simple to execute. Saison Bernice and this Pad Thai is a perfect marriage. Try it out and let us know what you think. If you don't have access to Saison Bernice any farmhouse ale is substitutable.
Farmhouse Ales Will Always Have a Place on the Table.
Saison beers are amongst the most gastronomic beer styles on the planet; they're designed to be enjoyed with hearty food served center table, surrounded by friends under a starry night. Now that you have a grasp of Saison Beer and Food Pairings, experiment!
The Belgium/French beer is what you take when you go camping or horseback riding — those moments when you want to appreciate a good-old farmhouse drink with all the flavor of the countryside.