Belgian Beer Food Pairing – A Beginners Guide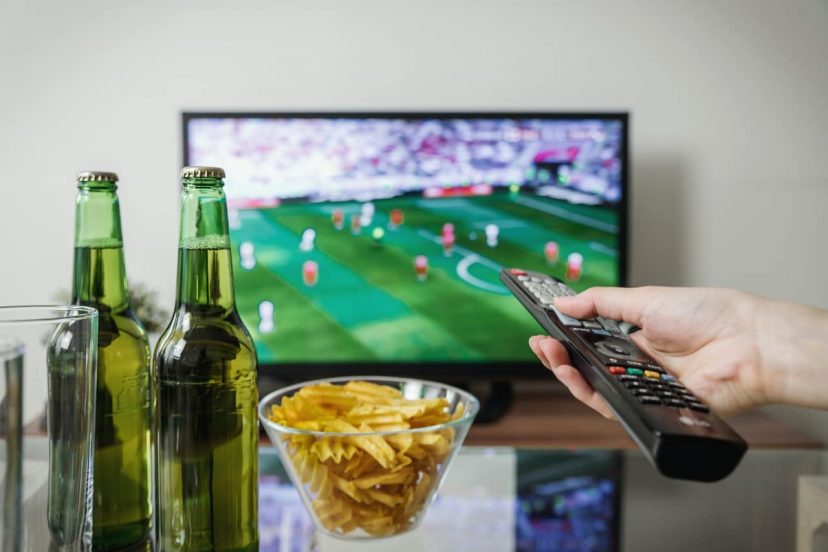 Belgium is amongst the most respected beer-producing countries. Not only because people here have perfected beer since the Middle Ages, but because they have an impressive range of beer styles not found anywhere else.
Today we're talking Belgian beer and food pairing, but take the advice below as a drop in the bucket. You could spend your whole life getting swooned by the various Belgian beer styles and their compatibility on the table.
Added to that, let's start our beer pairing guide by saying that we're all different and we all like different things. As much as we all want food and drink pairings to be universal fail-safe knowledge, it isn't.
Pairing Belgian beer and food is more of a creative experience than a scientific experiment. You'll find flavor combinations you'll absolutely love, but don't feel bad if your peers don't feel as enthusiastic about your pairing. In other words, have fun! That's what beer and food pairing is all about!
The Many Faces of Belgian Beer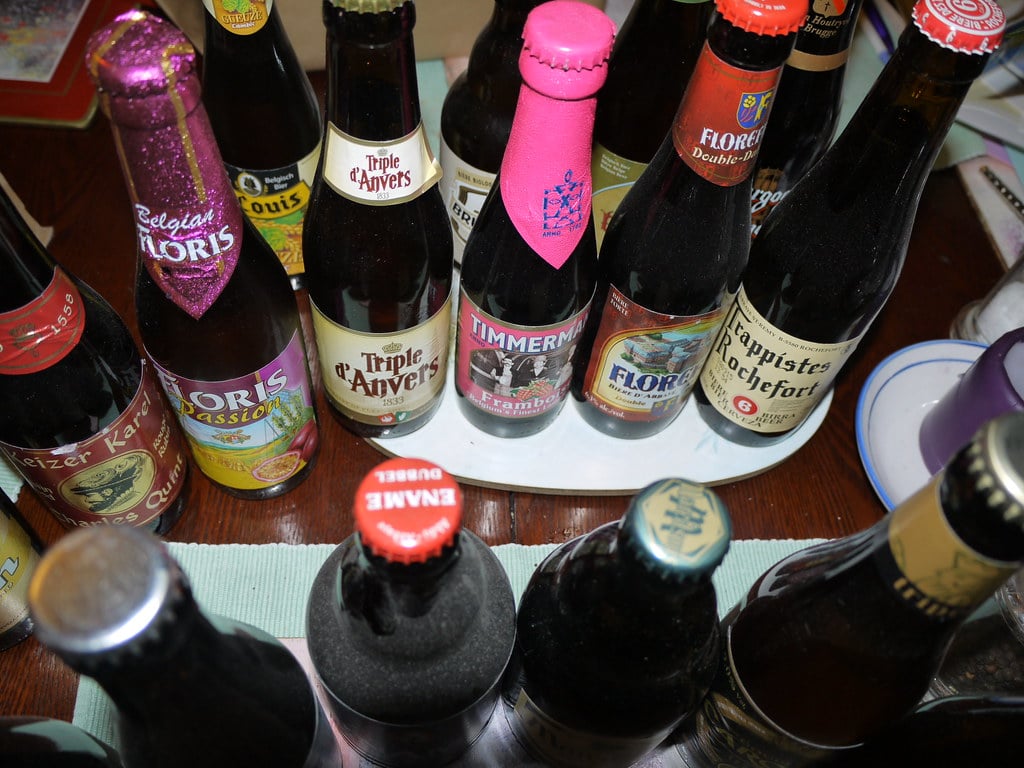 There are many Belgian beer styles out there, too many to mention, but we can classify the country's beer between Belgian Ales and Strong Ales, Trappist Ales and Sour Beers.
How to Pair Food with Belgian Ales and Strong Ales
The highlights in this category are witbiers, Belgian pale ales, Belgian blond ales and Saison beers.
Witbiers. These creamy and rich wheat beers have at least 400 years of history; they show nice carbonation, have a standard strength of between 4.5-5-5%, and little to no bitterness. They're all about wheat's mouthfeel. You'll often find honeyed aromas and citrus zest reminiscent of ripe oranges, and hints of coriander are typical too. Pair witbiers with creamy food, from dairy-based sauces like Bearnaise and Alfredo to butter seared prawns and lobster. Creamy and buttery food goes great with Belgian witbiers.
Belgian Ales. Whether you're dealing with a Belgian Pale Ale, a Blonde Ale, or a Golden Strong Ale, you'll always find the beer crisp, refreshing, clean, and nicely attenuated. A bit biscuity and with hints of noble hops, Belgian ales are ideal pairings with fried finger food, think breaded shrimp of popcorn chicken. The beer category is known to be a natural palate-cleanser that will wash off the oily mouthfeel and the intense flavors. It's not hard to imagine Belgian Ales as the authentic Champagne of the beer world.
Saison Beer. The famous farmhouse ales are the very definition of an uncomplicated, fresh, and dry countryside beer. Beautifully balanced in every way, Saison beers have a noticeable but not overwhelming bitterness and a clean rustic mouthfeel. Pair Saison beer with country-style food, from grilled meat to meat pies, from char-grilled potatoes to meaty stews. Anything cooked over an open flame and blessed by smoke is immediately compatible with the most remarkable countryside beer in the world.
Pairing Food With Trappist Ales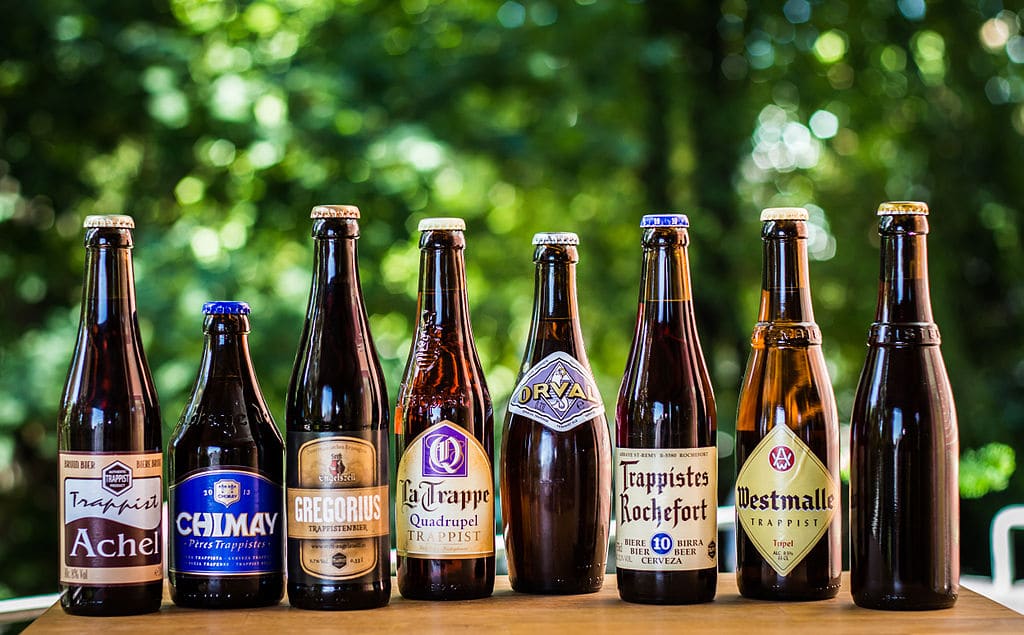 Belgium has a unique beer style exclusively produced in Trappist monasteries, the Trappist ales. These are amongst the oldest beer styles in Europe. They're known for being complex and sophisticated and for coming in increasing strengths, from standard Trappist Ales to Dubbels and Tripels — with double and triple flavor intensity and alcoholic strength, respectively.
Trappist beers are beautifully balanced between maltiness and hoppiness. For the monks making it, this is literally 'liquid bread,' and you can expect some spiciness along the rich, complex palate. A Trappist beer with a standard alcoholic strength is one of the most versatile beers for food. You can pair them with hearty stews and casseroles, roasts and poultry.
As you go from Trappist singles to Dubbels and Tripels, you can expect more maltiness and assertive bitterness. You'll also notice higher alcohol levels. These more robust styles are more suitable for heartier foods, including grilled meat and barbecues, smoked brisket, and whole-roasted lamb.
Sour Beers and Food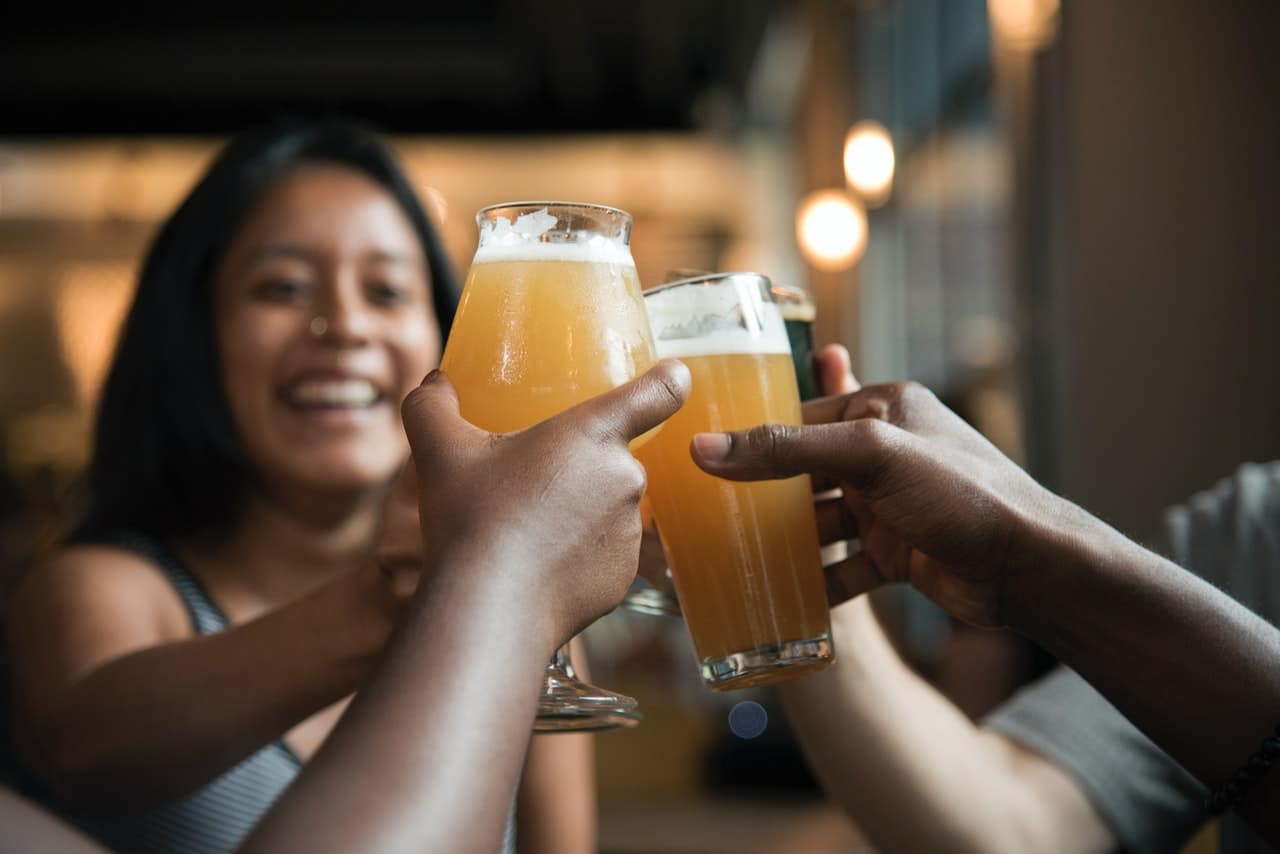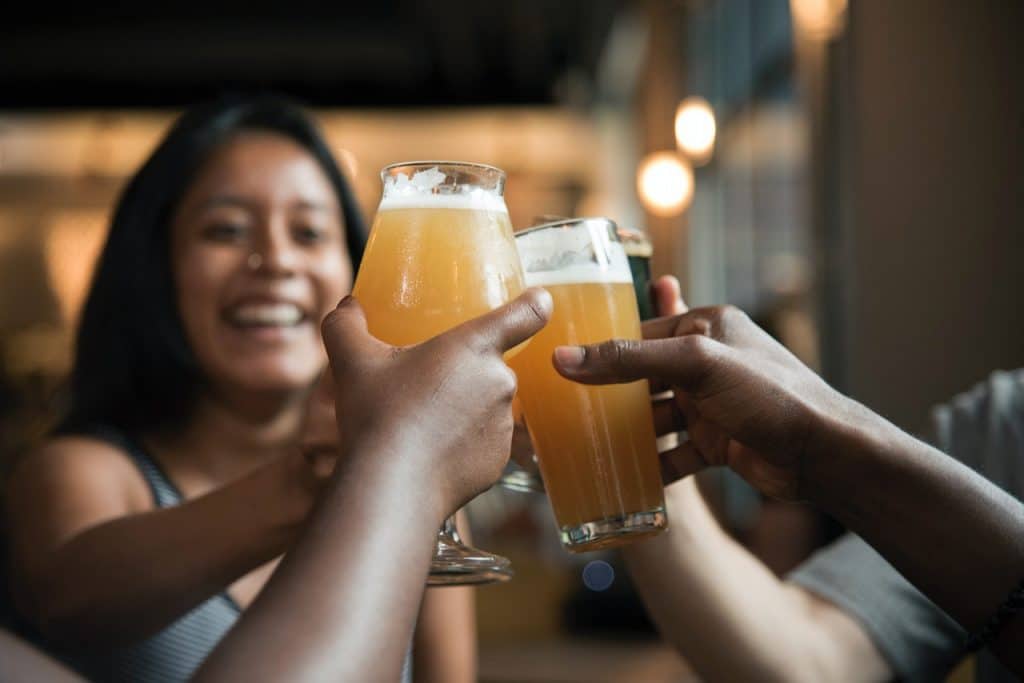 Sour Beers are just that. Beers with noticeable acidity, which is rare in the realm of beer. You can thank the beer's tanginess to Brettanomyces yeasts and lactic bacteria that aid the prevalent Saccharomyces yeast in turning malted grains into delicious beer.
There are many sour beers in Belgium, including the Flanders Red Ale, the Lambic and the Fruit Lambic.
Flanders Red Ale. Fruity and malty, this unique sour beer is astoundingly similar to a light-bodied Burgundian red wine, making it very easy to pair with food. Like Pinot Noir, pair Flanders Red Ales with oily fish like salmon, tuna, mackerel, and sardines. You can also pair it with roasted poultry and pork roast. Not as hearty to tackle a fatty steak, this one is still quite a bulky beer!
Lambic. Lambics are creamy and somewhat funky beers with noticeable acidity; they can liven any dish as a splash of lemon juice would. Think seafood and shellfish and even grilled veggies will benefit from the beer's tanginess.
Lambic Food Pairing Recipe:
If you want to blow your next dinner party out of the water, try this recipe paired with Lost Abby's Duck Duck Gooze. DDG is an American style gueuze that exploits lemony tartness with hints of oak and a bretty funk. There are discernable notes of damp hay bright lemon juice and zest. In the background there are suggestions of patchouli and apricot marmalade. Undertones of cabernet grapes and plum bring this celebrated beer to life. The mouthfeel is crisp and airy with shimmers of minerality.
So, what do you pair this beer with. From the book, Moules Fromage Bleu; just a fancy French way of saying Mussles with blue cheese.
Ingredients:
1 ¼ rope grown PEI mussels
3 tablespoons olive oil
1/3 cip diced applewood smoked bacon
1/3 cup thinly sliced shallot
¼ cup white wine
Juice of 1 lemon
1/3 cup baby spinach, cleaned and stemmed
Sea salt
Black pepper
Process:
Rinse and check all the mussels. Discared cracked or open mussels.
Heat the oil in a pan over high heat. Cook the bacon until the fat is rendered and is slightly browned. Remove the bacon on a paper towel to drain. Add the shallots, saute until soft. Next, add the mussels and toss together. Mix in the white wine and lemon juice and toss. When the mussels start to open, crumble and sprinkile in half of the blue cheese, melting it into the broth. As soon as all the mussels are open, toss in the spinach. Season to taste with sea salt and black pepper. Top with the rest of the blue cheese and the bacon. Serve with crusty bread to sop up the blue cheese broth.
Why this pairing:
DDG lends so much to this experience. The funkiness of the gueuze compliments the funk present in the blue cheese. The added benefit is the acetic nature of the beer cuts through the bitterness and rounds out the flavor profile. Citrus of any kind is a perfect marriage with sea food and the lemony notes of DDG accent the Mussels and bring them to life in a wonderfully delicious way.
Fruit Lambic. Fruit lambics are actually made with fruit, more often than not cherries or raspberries, making them beautifully sweet and fruity, like a boozy soft drink or a funky hard seltzer. Pair fruit lambics with fruit desserts, orange chicken or sticky pork ribs. Satisfy your sweet tooth!
This is Just the Tip of the Iceberg in Belgian Beer Food Pairing.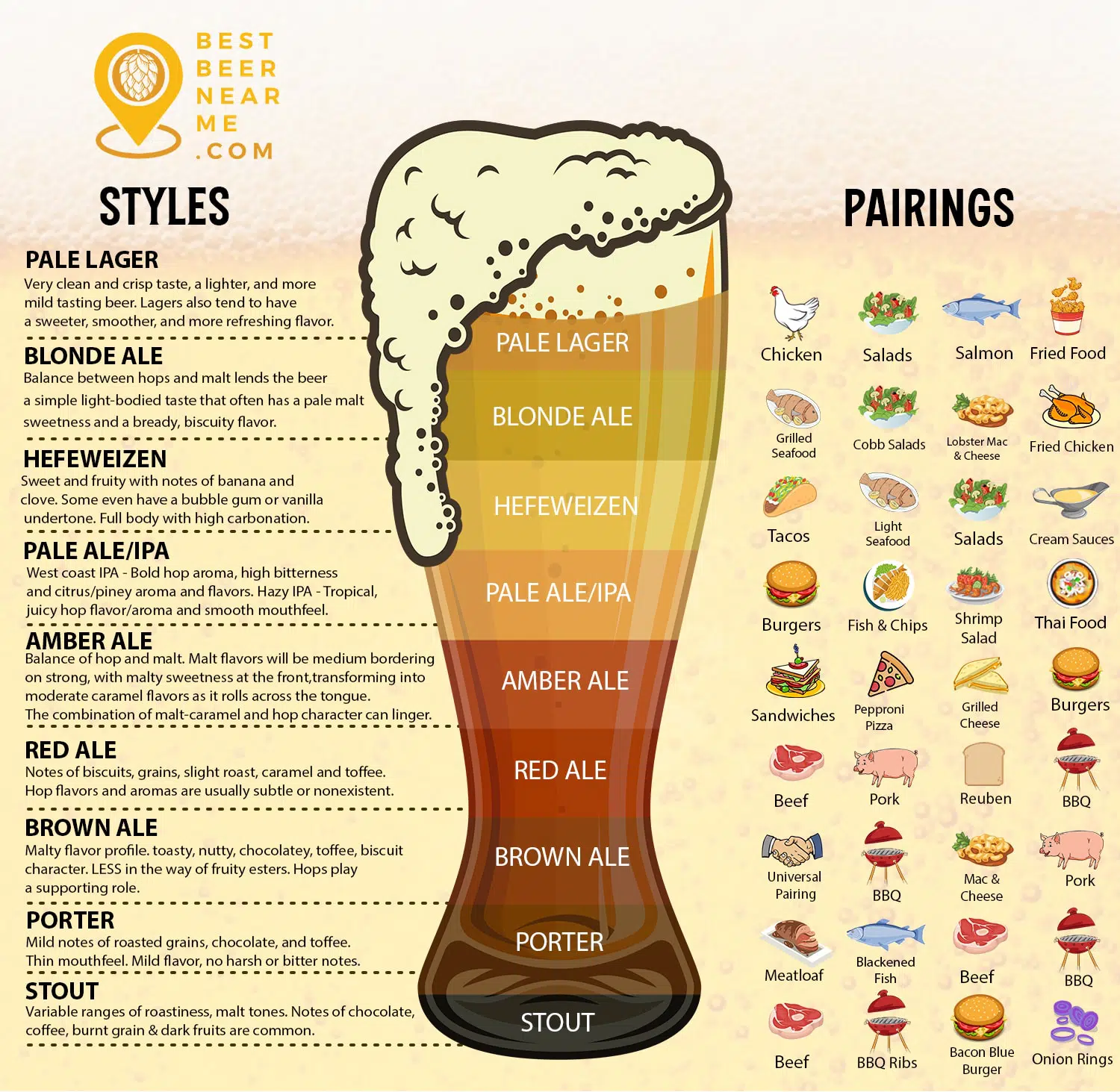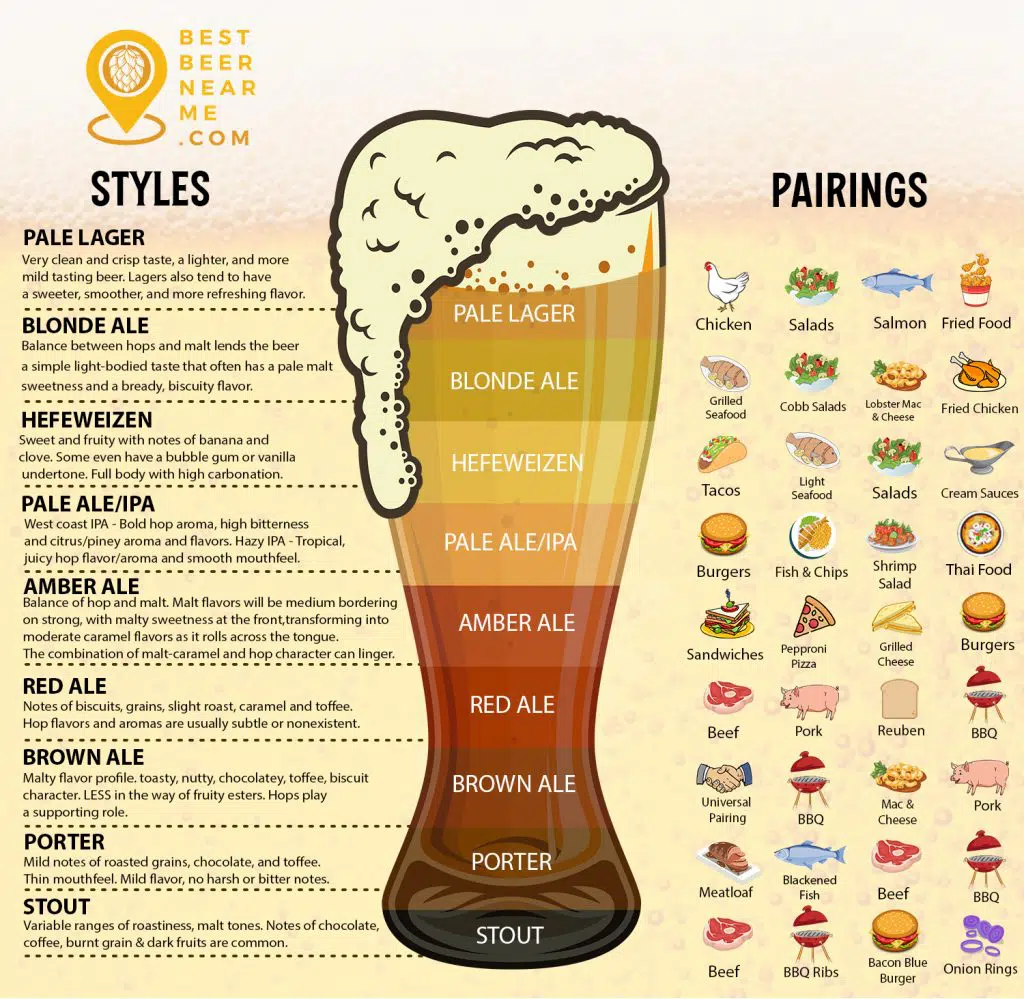 As you see, Belgian beer food pairing is quite a complex topic. With so many styles, you'll surely find in the country's catalog a beer for any type of food and occasion. You'll have to look extensively for the perfect Belgian beer food pairing, though, but that doesn't sound that bad, does it?