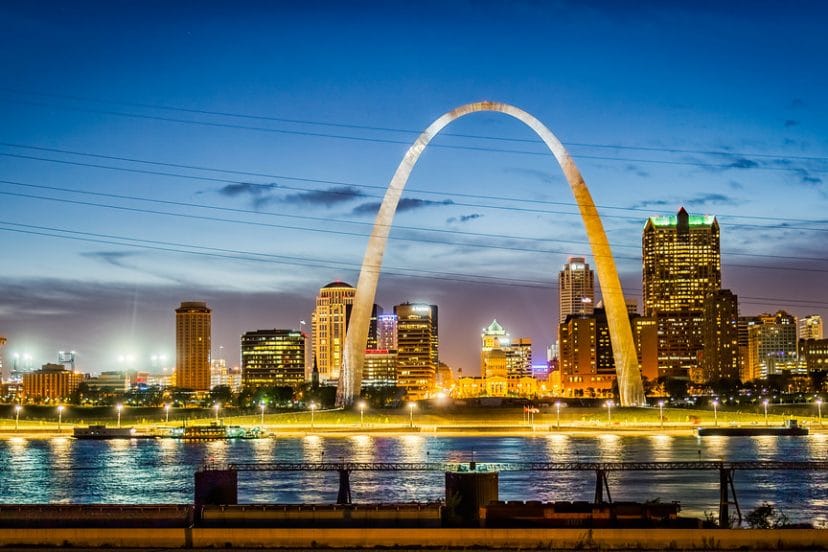 "She didn't know (The barrel was loaded)" – Tragically Hip
If you've ever pondered where and how you could obtain the best beer in the world without having to cross the country, you could set up trading partners in all corners of the globe or you could simply make a trip to St. Louis. The best beer in the world is conveniently located right there. Now, what is the best beer in St. Louis, you ask? Allow me to be your beer Sherpa. I will guide you right past the perilous trails that lead to Anheuser-Busch and help you find base camp next to an independent craft beer Mt. Everest.
Barrel Aged
Barrel-aging beer has been a process of beer making for centuries. All manner of beer has been aged in barrels once brimming with spirits ranging from rum to whiskey and from wine to fernet. In the beginning, barrels were just a cheap way to transport. Today creative brewers carefully select the perfect wooden vessel and allow time to wring out every drop of complexity into carefully brewed beer. This process requires know-how. Though barrel-aged stouts and sours have become ubiquitous, it is the master brewers who use these vessels natural properties to enhance the flavor profiles while harnessing the maturing process of the beer.
St. Louis Barrel Aged Beer
St. Louis is perhaps the glint in the eye of the barrel aged beer world. The best barrel-aged beer in the world, arguably exists in 2 breweries in the St. Louis area; Perennial Artisan Ales and Side Project Brewing. A quick look at the top 250 beers as ranked by Beer Advocate include 8 from these 2 breweries.
The Barrel Aged Masters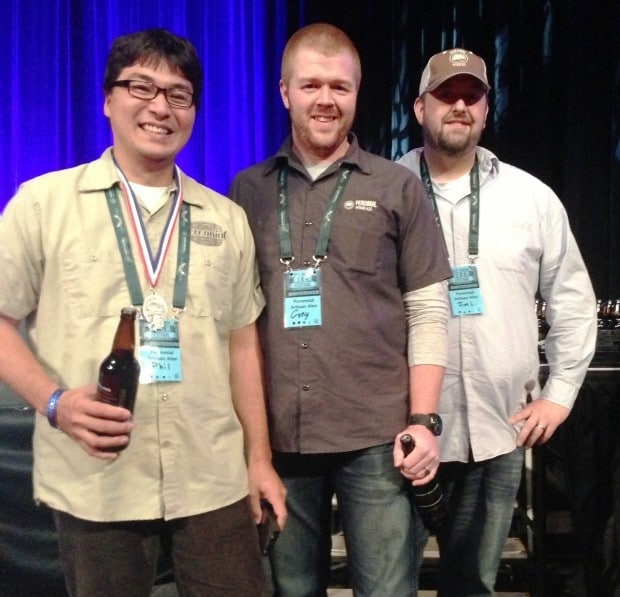 Phil Wymore of Perennial and Cory King of Side Project have an interesting history as Corey King was Perennial's first brewmaster, hired by Phil Wymore. Wymore has ties to Goose Island and Half Acre. The pair has developed some of the most sought after barrel aged stouts in the country. Under Wymore's guidance, Cory has evolved into the 3 star Michelin chef equivalent of the brewing world. Since opening Side Project, it has become renowned for producing some of the best wild ales and stouts in the world. No one can manipulate the complexities of a barrel with more facility than Cory.
My First Time
I was invited to a friend's wedding that was going to occur in St. Louis in late 2017. I said yes without hesitation, of course to support my friend, but also it gave me the excuse I needed to travel to Perennial and Side Project for the first time. To try for the first time these beautiful beers I had been hearing about for years. Naturally, I committed to it with the fervor of a man spangled with the butterflies of vertigo.
Stumbling Across Hidden Gems
But a funny thing happened on my way to these bucket list breweries, I stumbled across some hidden gems that made this wedding/beercation an experience to remember. While considering the best beers in St. Louis it would be easy to inundate the list with only beers from Perennial and Side Project. However, there are some exciting beers being produced outside of these 2 giants. St. Louis has become nationally relevant as a beer town and not solely for Perennial and Side Project's influence. Breweries like 2nd Shift Brewing, Narrow Gauge Brewing and 4 Hands Brewing Company are producing some worthy suds that would be criminal to ignore. So if you're like me and you love scavenging for little golden nuggets in whatever community you happen to find yourself in, here's a bit of a trail of breadcrumbs leading you to the best St. Louis has to offer.
Brewery – (Manchester Ave. Maplewood, MO, 63143)
Cellar – (7373 Marietta Ave. Maplewood, MO, 63143)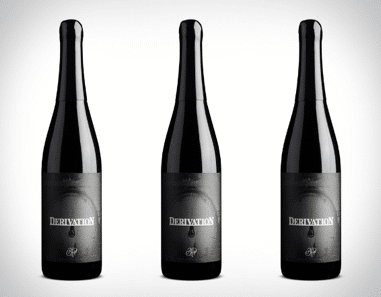 The idea behind Derivation is to make a comprehensive series. Cory brews several recipes, ages them in a variety of barrels and blends them before bottling to add depth and structure. This process is what sets Cory King apart from everyone else. He is part brewer, part chemist, part mechanic, part chef, part sinner, part saint. The man draws on all of his instinct and experimentation to produce his beers. There have been 11 base derivation blends since inception and you really won't be disappointed with any of them. They all have a life of their own. Every blend generally trades for over $400 on the secondary market, an evil we can discuss at another time. Blend 2 fetches over $1000 on the secondary market. These are special beers.
You Won't Need a Second Mortgage
Not to fret, you can go to Side Project and they will have a Derivation on-site that you can enjoy for a reasonable price. Bring friends, as this cannot be enjoyed alone. If you didn't bring friends, make friends at the bar, and with this beer you'll make them fast. I enjoyed blend #8 at the Side Project Cellar. The Cellar offers a broad and very well curated range of Side Project brews, both on tap and "in the cellar." The staff is knowledgeable and passionate. This is a high end bar experience.
Prepare to spend a little more. Once you understand the amount of time, work and expertise that has gone into these beers you will understand that the price is set reasonably for what you are getting. The energy is friendly and welcoming and you, at once, become a part of the chorus of conversation that is pulsing through the room. Its infectious and contagious
Alright, Down to Business
Derivation. It poured a deep pitch black. There is the faintest red tint. The beer is thick as demi-glaze. Initial scents of sweet cream, coconut and dark roasted coffee. The play between the coffee and coconut as they joust for position on the palate is delicious with the growing presence of bourbon jostling with cocoa nibs are tagged onto the mat with a finish that lingers for days, yet does not dominate. Mercy. My friend needs to get married in St. Louis more often. The great thing about great beer is that we shared it with the people next to us at the bar. We spoke for over an hour, brought together by the forces of beer.
(8125 Michigan Ave. St. Louis, MO 63110)
As it happened, my friend's wedding was the same weekend as Perennial's Anniversary. What a stroke of good luck, because these guys broke out all their greatest hits for the event. I got to try, BA Abraxas, a beer I had heard legendary tales of. Most often the hype out paces the beer, but not so in this case. My schedule for the day was 10am wedding rehearsal, 11am Perennial anniversary party, 2pm wedding. To maximize my time at Perennial, I made the critical decision to wear my suit, my wedding suit, all day.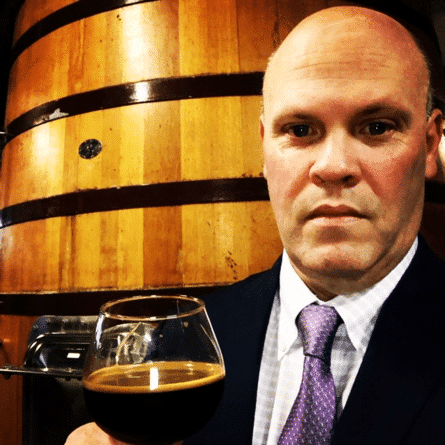 Having left the wedding rehearsal, I mosied on down to Michigan Ave. in my suit. This beer deserved that kind of reverence; though, I was the only one at the event giving it such, I was undeterred because I march to a higher calling (and I had to be back for the wedding in 2 hours).
The Experience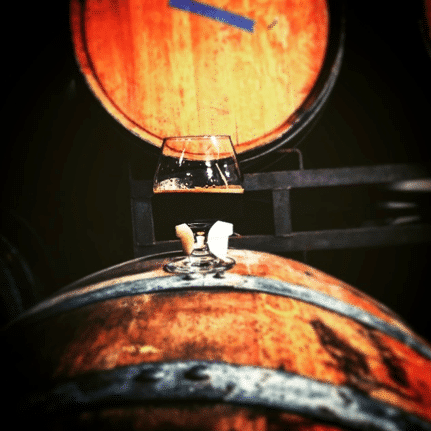 The beer poured coffee brown, with burnt hickory edges. It had minimal carbonation save for the mocha ring clinging to the rim. The air becomes perfumed with cinnamon, nutmeg, chilies, coffee and oak. You could honestly just sit and sniff this for an hour and be satisfied, but I didn't dress up for that. I took a sip, almost started to cry, so I composed myself and sipped again. Wow. It is a paroxysm of flavor. There is dusty cinnamon up front with a slight growing heat from the chili. Cocoa dusted dates evolve subtly towards a fairly dry finish. The spicy rye barrel lends an added complexity that other chili/cinnamon based beers miss. Just when you think you're done with the sip, vanilla says hello. Wonderful experience drinking this and mingling with the dressed-down locals at the Anniversary party.
Brewery – (Manchester Ave. Maplewood, MO, 63143)
Cellar – (7373 Marietta Ave. Maplewood, MO, 63143)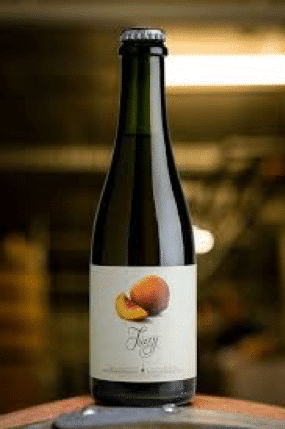 I was so smitten with my first visit to St. Louis, I made a promise to myself that I would make a trip for a bottle release. Having been to so many releases at Jester King, the undisputed champion of fruited sours, and had so many great times with my Austin beer friends; I wanted to experience the beer culture of another town and just breathe that in. I set my sights on Side Project's release of "Fuzzy."
Fuzzy is a fruited sour, blonde ale aged in Chardonnay barrels with Missouri grown White Peaches. The buzz in the craft community is that Fuzzy is easily in the top 10 of fruited sours in the world.
Sour Junkies
Being the sour craving junkie that I am, this seemed most appropriate. The line started forming around 9:00am for the 12:00 release. Hipster bearded fellows carrying their lawn chairs and coolers began curling around the brick building. Impromptu bottle-shares started erupting all over, as the low rumble of good conversation began to metastasize.
Though this was a crisp, cold December morning, the warmth of shared experience began to thaw the frigid lines that delineate us as strangers. We were no longer just a wordless thing in an empty place, we were a blended chorus gathering to share this moment in time as a singular us-ness. We filled the air between us with stories and the sharing of favorite bottles collected from our travels. This was our extempore ritual. Our unorthodox communion. It was clear that these folks had been to many Side Project releases and new how to kill the time with various, pre-show aperitifs and laughs.
The Experience
There have only been a handful of beers that have blown my mind. Let's be clear, I've had tons of very good beers, but I'm talking sips that made my knees buckle. Fuzzy made me swoon like Trevor Berbick when Mike Tyson knocked him down 3 times with one punch. Fuzzy is rated a perfect 100 on Beer Advocate and for good reason.
It pours a clear gold with a "fuzzy" small head. The nose is fresh cut peaches, inheriting not only the pulp but the pithiness as well adding a lightness to the perfume quality of the aroma. The carbonation is light and nuanced and a satisfying bite. There is no escaping that the peach is the star of this show, some nice minerality from the water base collaborates nicely. The peach is defined by a pleasant tartness that sweetens toward the finish. It is well aided with the chardonnay barrel which accents the barnyard quality that is subtly poking its head in.
While peach is the star other fruity gems make an appearance. There are jabs of crabapple, lemon, lime, nectarine, and sour white grapes. In short this beer does what it is supposed to do, deliver a "take a big bite of peach" experience as if it were dressed up by a master chef.
Brewery – (Manchester Ave. Maplewood, MO, 63143)
Cellar – (7373 Marietta Ave. Maplewood, MO, 63143)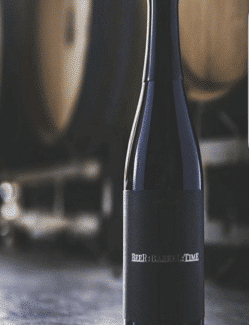 I've tried on multiple occasions to procure one of these bad boys. They are difficult to acquire if you don't happen to be a quick-draw artist when they are released on-line. They typically sell out in seconds. Getting them on the secondary market is something I just won't do, because I'd rather give the money directly to the brewery rather than some money-grubber marking it up 400%. I was lucky enough to try this on-site at the Cellar. This is another beer that earned a perfect 100 rating from Beer Advocate.
This is Side Projects honoring of the purity of a style by eluding the adjuncts that send the barrel-aged community into a frenzy. With BBT there is nothing hiding behind integrated ingredients. The vanilla notes and coconut will come from the process of precision in the aging of beer in the right barrel. It is the product of a master of his craft squeezing out flavors from the barrel itself and the manipulation of malt, grain, water and yeast. The team at Side Project sample over 50 bourbon and whiskey barrels to find the right blend of Beer:Barrel:Time. It is the same base as Derivation, with an entirely different result.
The Experience
It pours a mahogany brown that stains the glass. The barrel assaults your nose as soon as it is opened. While there are no adjuncts you definitely notice fudge and baker's chocolate. The palate is treated to a luxurious bourbon temperament that is balanced with a cocoa bitterness. There's nods of Crème Brule burnt sugar and a sweet bite of tobacco with a wisp of smokiness. An absurdly complex beer.
(8125 Michigan Ave. St. Louis, MO 63110)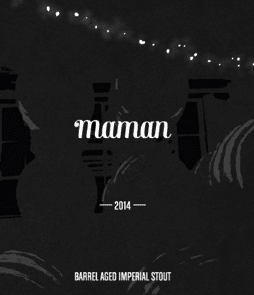 Because the gods were smiling on me, I got to try this while at the anniversary party as well. You guessed it, this also received a perfect 100 from Beer Advocate. Are you beginning to sense a trend about St. Louis and there barrel aged beers. Mother of god this is the holy land of BA beer. Maman is aged for 18 months in Rittenhouse Rye barrels before blending. This like BBT is a non-adjunct beer relying on craft over flavor additives.
The Experience
It has a deep black body with a faint chestnut dissipating head. The barrel is the star of the show. The whiskey redolence is smooth clinging nicely to the nose. The taste is big doses of chocolate with hints of marshmallow surrendering to nuanced tinges of date and raisin. The oak is maple-esque that finishes with toasted coconut. Ok. After about 4 BA stouts at the party, I was feeling really good and would likely be the life of the Wedding that I was scheduled to be back at in an hour.
3rd Time's a Charm
Because I had fallen in love with the beer culture of St. Louis, I made a 3rd trip for the Mid-West Belgian Beer Festival that is thrown annually by Perennial. The festival is an invitational that includes over 60 of the country's best breweries. It also gave me a chance to drop by Side Project Cellar again and sample some more barrel-aged nectar. Abricot du Fermier was on hand. This du Fermier series is a nod to the French beer making region that nestles next to Belgium. Du fermier is a French farmhouse kitchen, so when Side Project brews a French farmhouse ale it conjours visions of dusty barrels tucked along the walls of an aging stone mews carved into the cobbled landscape of Wallonia.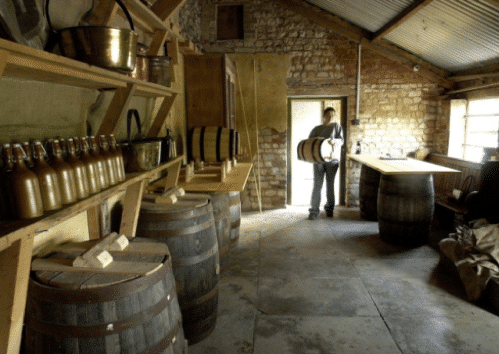 Abricot du Fermier is a saison aged with apricots in French Oak wine barrels. These beers age racked for months and allowed to age for over a year until the perfect dryness. The process lends depth and rustic nuance elicited from the yeast native to the Missouri farm from whence its cultured. Side Project never releases mass quantities, because their process of beer making takes time and one on one attention given to each barrel. There is no responsible way to produce this to a large scale. Side Project's beers are carefully rendered and tailored to the few over the many.
The Experience
It pours a hazy orange with a nice head with a Belgian lace as it drops and fades. As soon as the bottle is cracked, copious amounts of apricot pervades the air. Orange, lemon and green apples esters drift while supporting notes of thyme and laurel. The beer has a light to medium mouthfeel with a playful carbonation signature. There is a generous pucker to this one. The apricot comes through with the citrus on the palate. A nice white pepper phenol is present to support the faint hop presence. This is a special beer.
(1595 US-67 Florissant, MO 63031)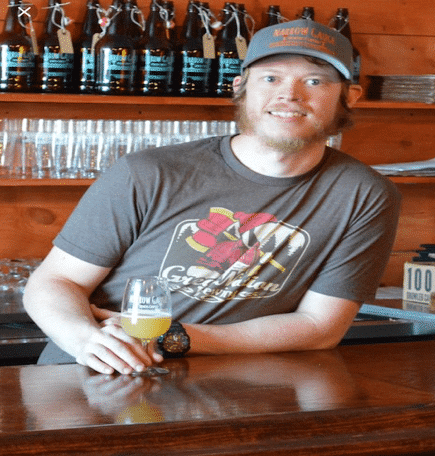 I was turned on to this beer, by my friend whose wedding I was attending. Narrow Gauge is a gem in the confines of an abandoned strip mall. They're rated the #1 brewery for NEIPA's in the country. Surpassing giants like Treehouse, Trillium and Other Half. These guys share space with an Italian food restaurant in a run-down strip mall.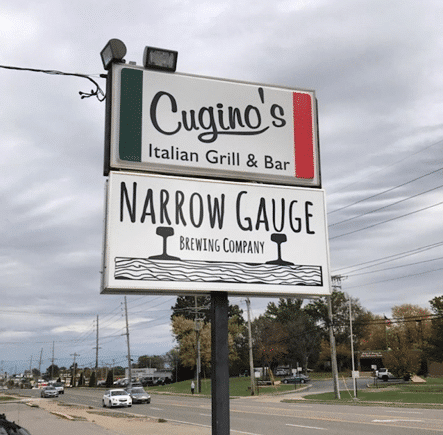 The space looks like if an old 70's Sambo's merged with Better Call Saul which gives it a small, quirky, playful vibe.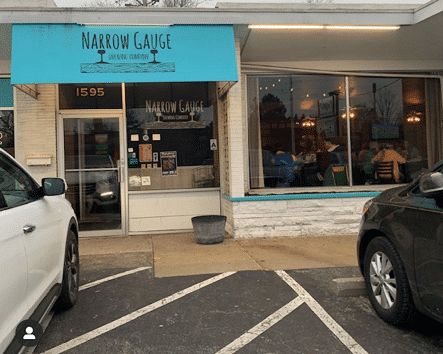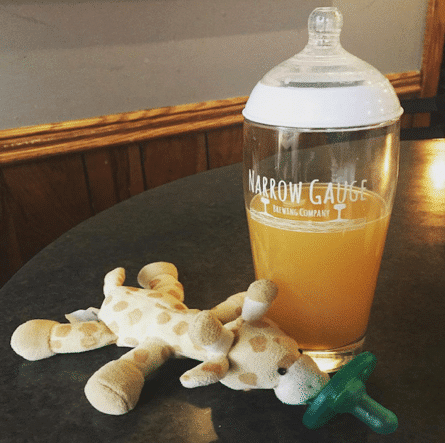 DDH Fallen Flag is one of their flagship beers, but really sit down and try all of them. They are all stellar.
The Experience
I tried the Fallen Flag on draft at the brewery. It poured a golden orange body. There's a nose full of citrus orange and a heavy dose of herbal dankness. It has sweetness to it, juicy with the slightest inkling of peach. And finally, Finishes with a dry bitterness making this a perfect beer to watch football with, while stuffing your face with some 'wangs.'
While you're there grab their Peanut Butter & Stout, which is probably the best Peanut Butter stout I've ever had.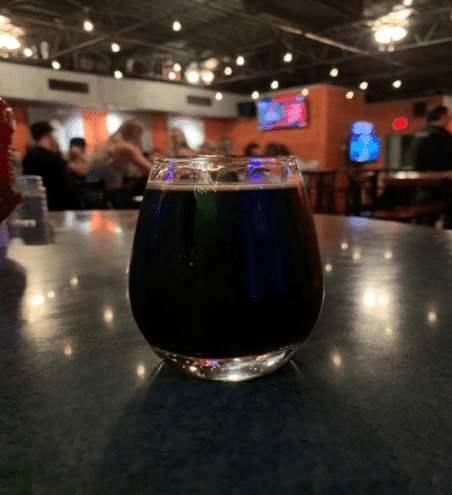 1601 Sublette Ave. St. Louis, MO 63110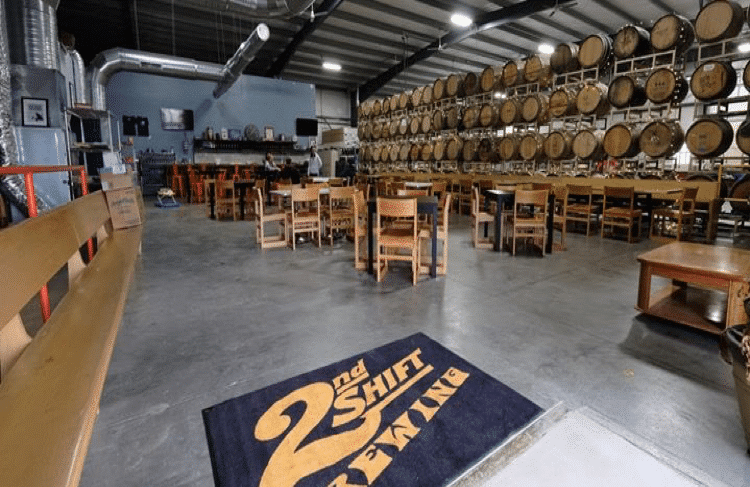 On my way back from Narrow Gauge I made a stop at 2nd Shift to sample some of their goodies.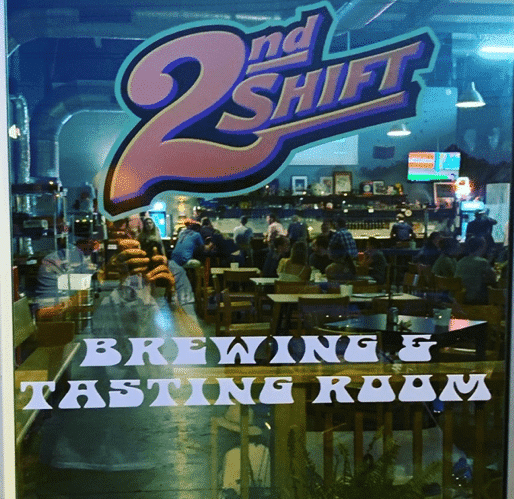 This a family run brewery that seems to be lacking any form of pretense. It has a lively energy that you can channel through board games or conversation out in the beer garden. I was lucky enough to stumble across their LSD with maple.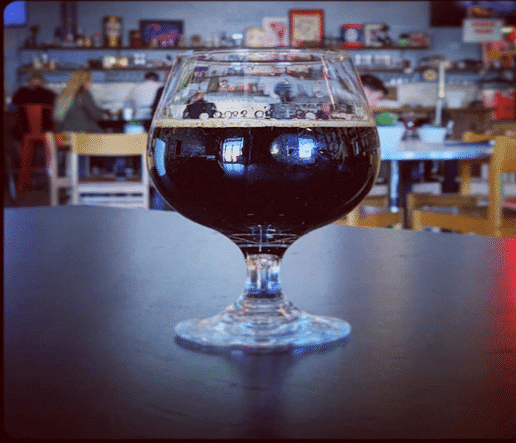 The Experience
Pours a coffee black and the nose is a clean coffee and maple. The mouthfeel is syrupy thick and chewy. Its breakfast in a glass: syrup, coffee, banana, coffee. Comparable to Even More Jesus from Evil Twin.
2724 Cherokee St. St. Louis, MO 63118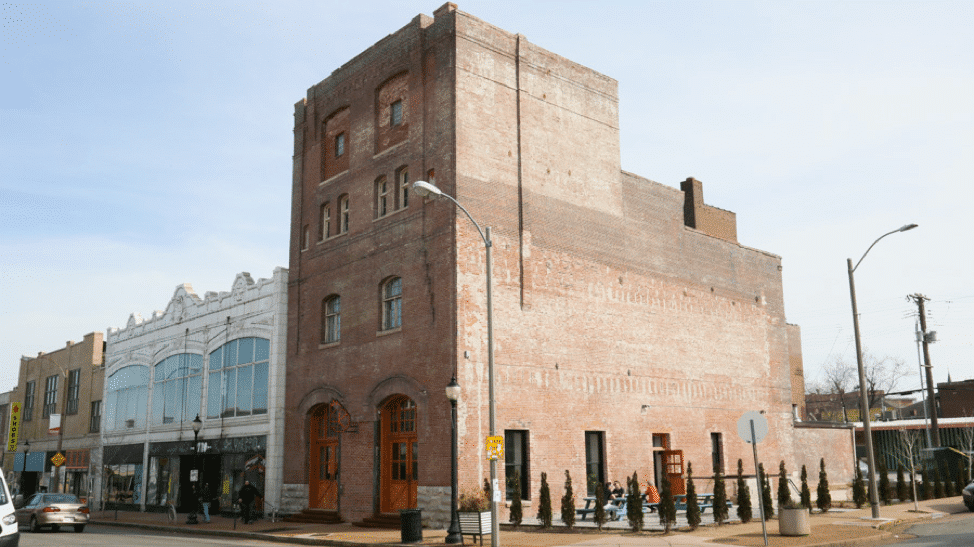 This place was an unexpected treasure. While at the MWBBF I ran into a couple and we started chatting as the festival was wrapping up. These locals invited me to follow them up to Earthbound. I had never heard of the place, but I'm always up for a new experience. This remarkable space is half craft brewery, half Game of Thrones Set.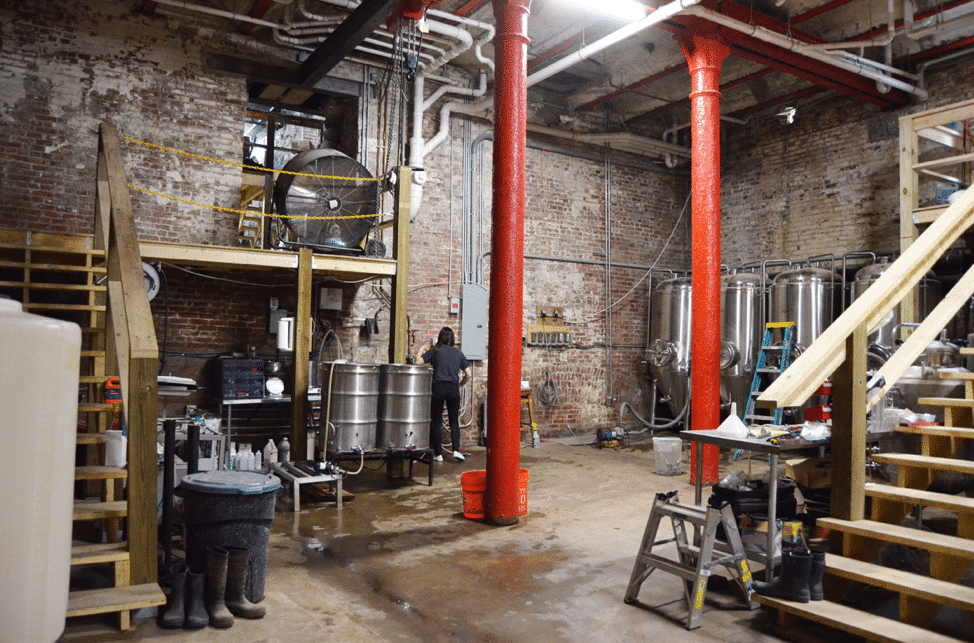 The space alone was worth the trip out there. I suddenly wished I had some capital and a few investors, because I wanted desperately to buy this place and turn it into a brewery of my own. The $27 in my pocket wasn't enough to swing the deal. So I settled for their Cucumber Pepper Kolsch instead. Wow!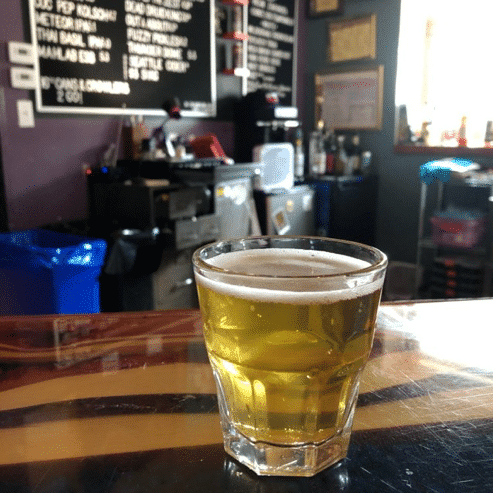 After a full day of sampling some of the best lambics, sours, stouts and IPAs from around the country, on a hot steamy day in St. Louis, this might have been the perfect way to wrap up the day. Crisp, sparkling carbonation greets your tongue, while cucumber courteously asks for a spot at the table, then gains energy throughout the pint. A nice pepper undercurrent is the perfect complement to cucumber. It quenched, it satisfied, it put the perfect bow a nice trip around the Best Beer in St. Louis.
Slaying Goliath
Somehow, small craft beer took on the Anheuser-Busch goliath of St. Louis and powered its way in the collective beer unconscious of the community. Budweiser was once so big it blocked the sun. It was the bully who would steal your lunch money. Now cracks have emerged and the light is coming through. The bully isn't quite as scary as we once thought, because brewers like Cory King and Phil Wymore have pack more than a few shiny stones and a sling shot. They come guns up and barrel loaded. Cheers.