The Definitive Craft Beer Glassware Guide – The Right Glass Type Makes Beer Better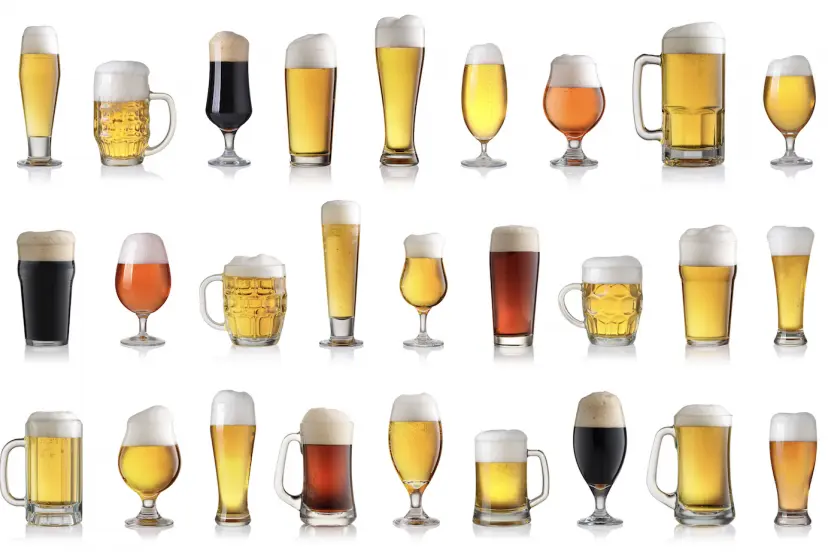 The shape of a beer glass, much like the liquid it's holding, has undergone significant changes over the last century. Have you ever wondered why pubs care so much about the choice of beer glassware when it comes to brews? It's because the flavor profile of each brew strongly correlates to the types of glassware it's styles of beer being poured into. This is especially true for the rare types of brews. Our definitive craft beer glassware guide will help you pair the right glass with the right beer.
While choosing the right craft beer glass types isn't the best way to improve a beer's taste, it does help you enjoy the full flavor of the liquid. 
For instance, a bulbous snifter will enhance the flavor of barrel-aged beer such as stouts and barley wines. Likewise, tall and straight-walled glasses will be more partial to lighter beers like wheat ales and pilsners.
Why Does the Shape of Craft Beer Glassware Matter?
As soon as the beer is exposed to the ambient air, all the trapped aromatics and volatiles start to escape. This is especially true in the case of specialty grains, hops, and some rare brews since their volatiles rapidly evaporate into thin air.
You'll notice that pouring beer often produces frothy bubbles and foam, which is known as the 'beer head.' The head acts as a lid to trap the volatiles in the container.  The shape of the beer glass keeps the head of the beer intact to preserve its taste and aroma. Different types of beer glasses have had varying levels of influence on beer heads, depending on the brew. 
We've rounded up our list of the seven most popular beer glass types and uses every beer-lover needs.
Beer Glassware Types and Uses
Nonic Pint Glassware
The nonic or 'no-nick' glass has a narrower top than the bottom, which is great if you like stacking your glassware. A lot of 'engineering' goes into the design of the neck, which has a little flair to retain the beer's aroma. This glass is traditionally used alongside pale ales, brown ales, IPAs, and the porter. If you're pouring some rare drinks into the glass, then you may want to consider other options.
This product wins bonus points for extra durability, and it is the embodiment of the classic English no-nick glass.
Flute or the Pilsner Glass
The flute is among the most prominent beer glass types with its signature long, thin body that flares upwards. This design traps beer bubbles in one place and,as a result, ensures that the carbonation doesn't dissipate too early. This isperfect for most lagers with their signature effervescence. Furthermore, the fluteprovides a quick release to beer volatiles, providing an intense aroma.
Enjoy this glass when pouring bocks, ales and lagers, lambics, and light lagers.
This beer glass has a thick bottom and a thin lip for high durability that will not only last for years but will also keep your beer chilled for longer periods.
Goblet Glassware
The goblet has an exaggerated, bulbous body with thick glass walls. Besides adding tremendous flair to the interior décor, goblets are ideal for deep sips and head retention. You will find a large variation in the size, thickness, and weight of goblets in the market. It is common to find some goblets with a silver or gold rim, but that is done for purely cosmetic reasons.
Goblets are sometimes confused with chalices.While the two share many of the same features, chalices are long-stemmed and delicate while goblets are rougher.
Goblets are great choices for heavier beers such as German Bocks and Belgian Ale styles of beer.  Moreover, the glassware has a wide opening that assists in analyzing the aromas and flavor profile.
This set of 4 goblets and chalices are free of lead and boast a durable design. They are also dishwasher-friendly, so maintenance won't be a chore.
The Mug
Mugs are among the first things that come to mind when you think of beers. These heavy glasses are known for their voluminous capacity and can be found in many sizes and shapes. Mugs have their characteristic large handles that allow for a stronger overall grip. This becomes particularly important if you're in a loud party and safety becomes an issue.
Most mugs feature double-wall insulation to keep the temperature of the beer at desirable levels. Speaking of insulation, the handle on the mug keeps a fair distance between your hands and the cold glass walls of the mug, thus maintaining its temperature for longer. Mugs are ideal for use with all types of ales and stouts.
This is the typical classic German beer mug with traditional thick-walled glasses and huge handles.
Weizen Glass
This beer glassware has an unusual shape and it's so tall that it dwarfs most bottles! The Weizen glass has a curved lip which is designed to retain the beer head's fluffy consistency. It can hold more than a pint glass or at least ½ liters of beer. Weizen glasses are primarily designed for wheat beer styles.
This non-leaded German beer glass boasts a premium design with durable construction.It's a must-have product for all beer enthusiasts.
Tulip and Thistle Glassware
Thistle and Tulip and glasses are designed to retain the beer head and work best with hoppy and malty brews. They both share the same features with the exception that thistle glasses are a more stretchedversion of tulips. They have a small footer and a bulbous bowl that allows you to swirl your beer around.
Tulip glasses are used with stronger beer such as Belgian ales, double IPAs, and barleywines. Thistle glasses are used best with Scottish beer.
This is the perfect glass for those of you who love their Scotch ale.
Teku Glassware
The Teku glass is a relative newcomer to the beer glassware scene and embraces a non-traditional approach to beer drinking. Designed by the legendary Italian brewer, Kuaska, the Teku features an angular design – almost like a parody of the modern world with its square-ish buildings and boxy cars. It's name is a brilliant play on the two words, Teo and Kuaska, hence TeKu.
Its imaginative design serves both functional and aesthetic purposes, as the TeKu effectively traps beer aromas using its thick angular curvature. It comes with a little lip that curves outward from the top ensuring that the beer rolls out right out of the glass with zero struggle. Most beer aficionados swear that the TeKu way is the definitive way to drink beer. It works best with IPAs, pale ales, saisons, lambics, table beers, you name it.
This pack of 2 TeKu is made in Germany by the legendary beer expert, Rastal. It's easy on the budget and captures the aroma and taste of beer.
Beer Glassware Types and Uses Conclusion
You spend a lot of time selecting the perfect beers. Hopefully you've followed our guide on storing your beer. Following this definitive craft beer glassware guide will ensure each beer is fitted perfectly with the right beer glass.
Subscribe to our list so you get monthly updates on monthly beer events near you.
Cheers!