Best Beer Fridge for Your Favorite Craft Beers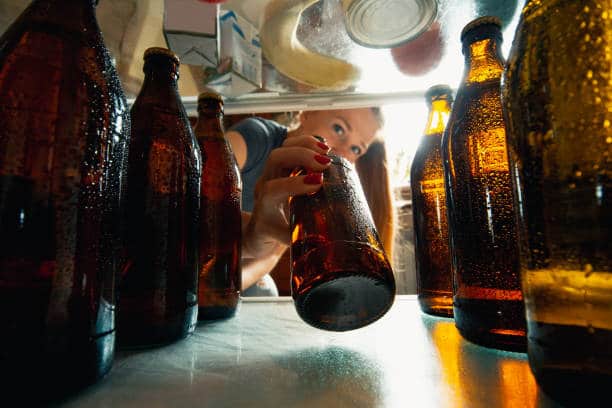 When it comes to your cans and bottles, nothing feels as great as knowing that you'll always have them at the right temperature and taste, whenever you need them. This is practically what the best beer fridge can do for you.
If you've thrown several parties in the past, you'd notice that you're always most likely to be stuck with warm beers in kegs towards the end of the party. OR your kitchen fridge is overflowing with bottles and cans after the party. Beer fridges solve this problem. Plus, it's quite convenient. You can have them anywhere; a basement beer fridge, office beer fridge, garage beer fridge, etc.
There are several beer fridge options out there, to suit whatever specific need you may have. There are those that have spaces for both wine and beer, mini beer coolers, and ones with child lock to ensure child safety. How do you know which fridge is for you? It largely depends on what you drink most often. Are you a hazy IPA guy, a crispy boi fan or do you indulge in aged stouts or sours? Not all beers are created equal and thus, have different requirements when it comes to keeping them ideal. Be sure to check out our beer storage myths article. Especially the myth about:
We've listed some of the best beer fridges below, and you'd certainly find the one that fit into your needs.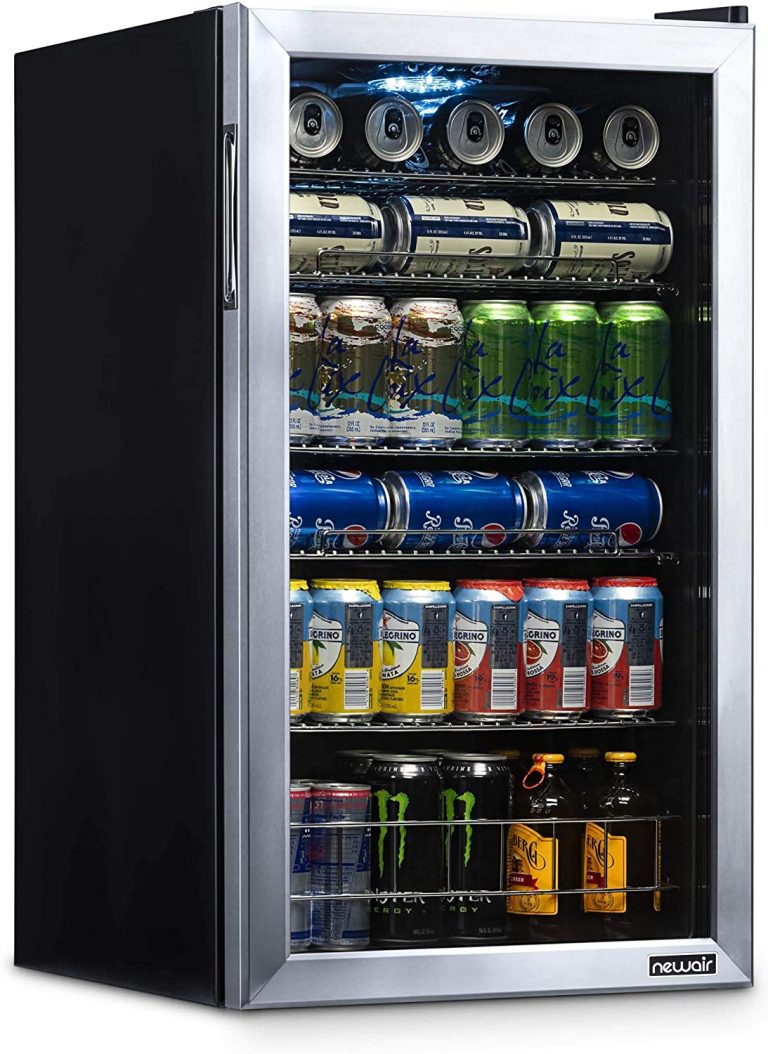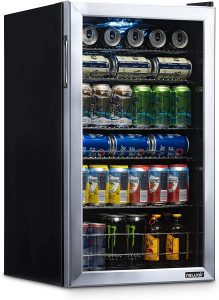 NewAir is one of the best beer fridges with a lock, which helps to keep kids away from adult beverages. It's available at Walmart and retails for $249.99. This beverage fridge can hold up to 126 cans, due to its modular shelving design. Styled with a double-paned glass and stainless-steel doors, it's quite the perfect fridge for all your favorite beverages.
| | |
| --- | --- |
| Plus | Minus |
| Pretty solid customer reviews | Not ideal for 750 or 500 ml bottles |
| Works well for storing multiple cans | |
| Not bad for the price | |
| Adjustable shelves to suit | |
| Holds 6 cans wide x 4 cans deep | |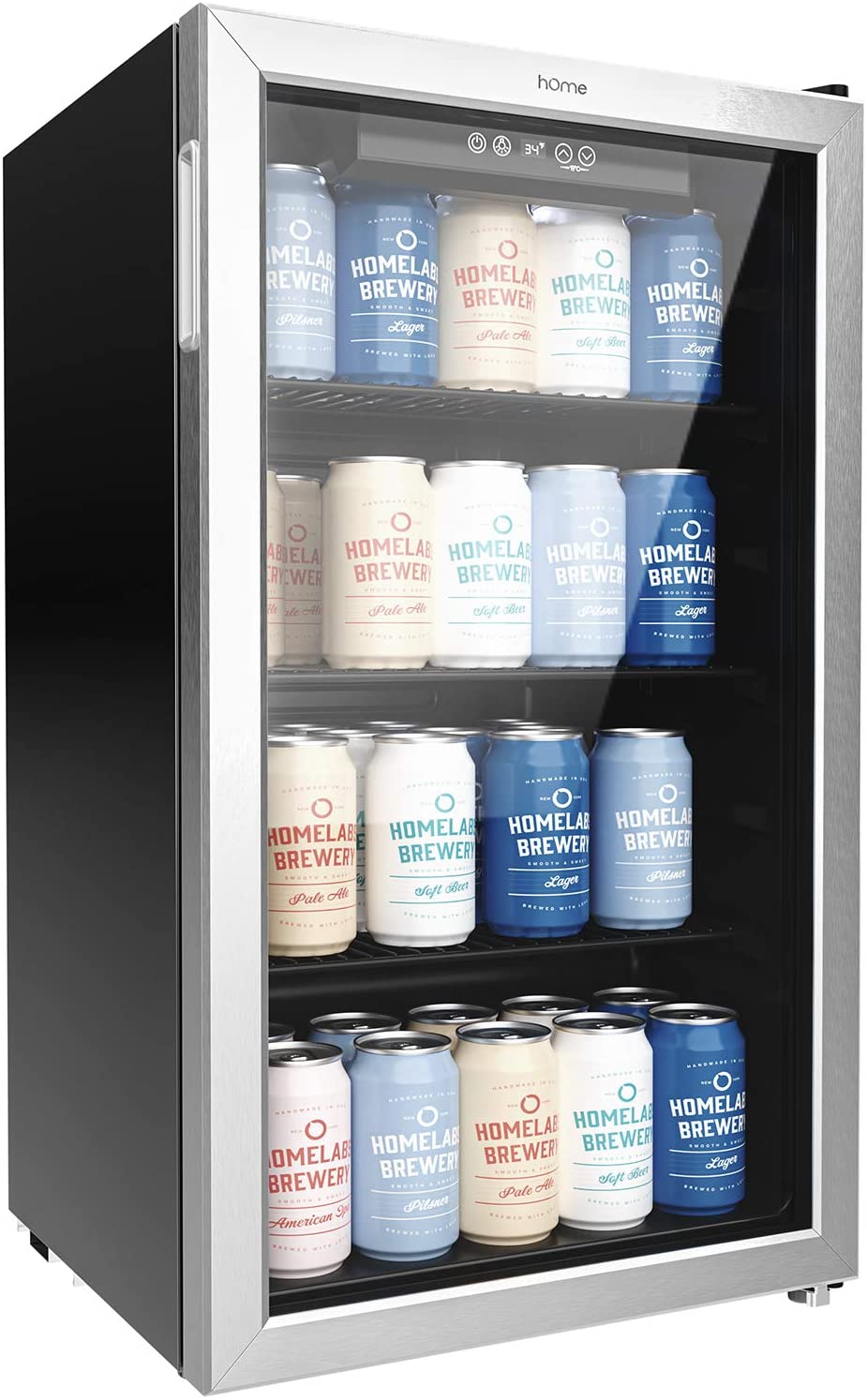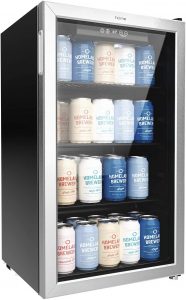 This is one of the best-selling beer fridges on Amazon. It's a free-standing beer fridge with a large capacity – can take 120 standard cans. One good feature of this fridge is the temperature sensor, for auto-defrost mode. Set at 50F, it's quite the quiet beverage fridge for any home. A tic smaller than the Newair, but the difference is negligible.
| | |
| --- | --- |
| Plus | Minus |
| Positive customer reviews | Shelves are not as solid as newair |
| Adjustable cooling sensor | Top shelf slot is blocked by fan |
| Nice for the price | Limited capacity for bomber bottles |
| See through door is nice feature | Rack spacing is meh |
| More real estate than most beer fridges | |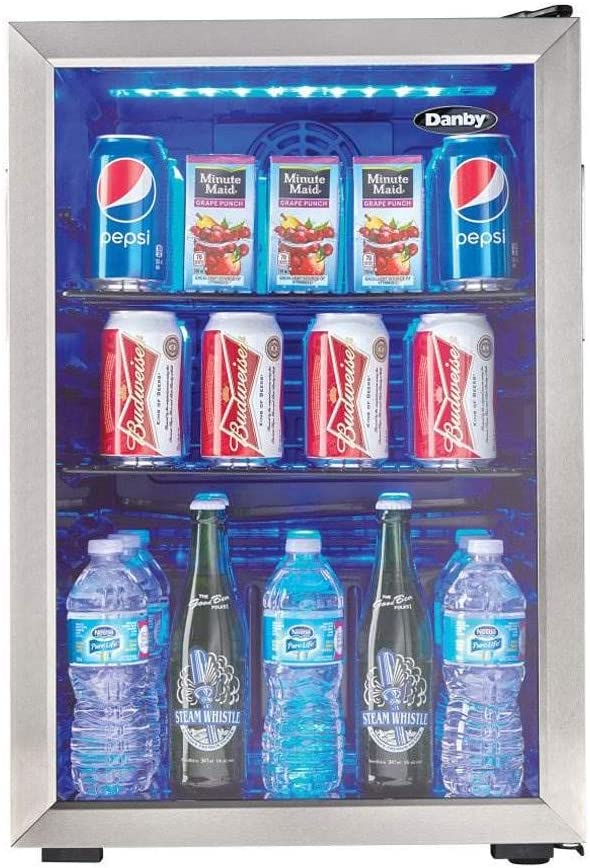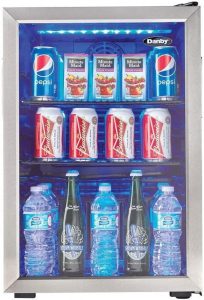 Retailing at around $200 at Amazon, the Danby beverage fridge offers great value for top quality. With a size of about 2.6 Cu. Ft., it can comfortably hold up to 95 standard cans. It comes with a blue LED interior display lighting and provides you with easy access to mechanical thermostat. You can simply put it in your garage, for an easy reach whenever you need it.
| | |
| --- | --- |
| Plus | Minus |
| Nice size for the occasional beer drinker | Low temp max is 43 degrees (not good for food) |
| Fits nicely under a beverage center counter | Limited capacity for bombers |
| Adjustable shelving | |
| Nice see through door | |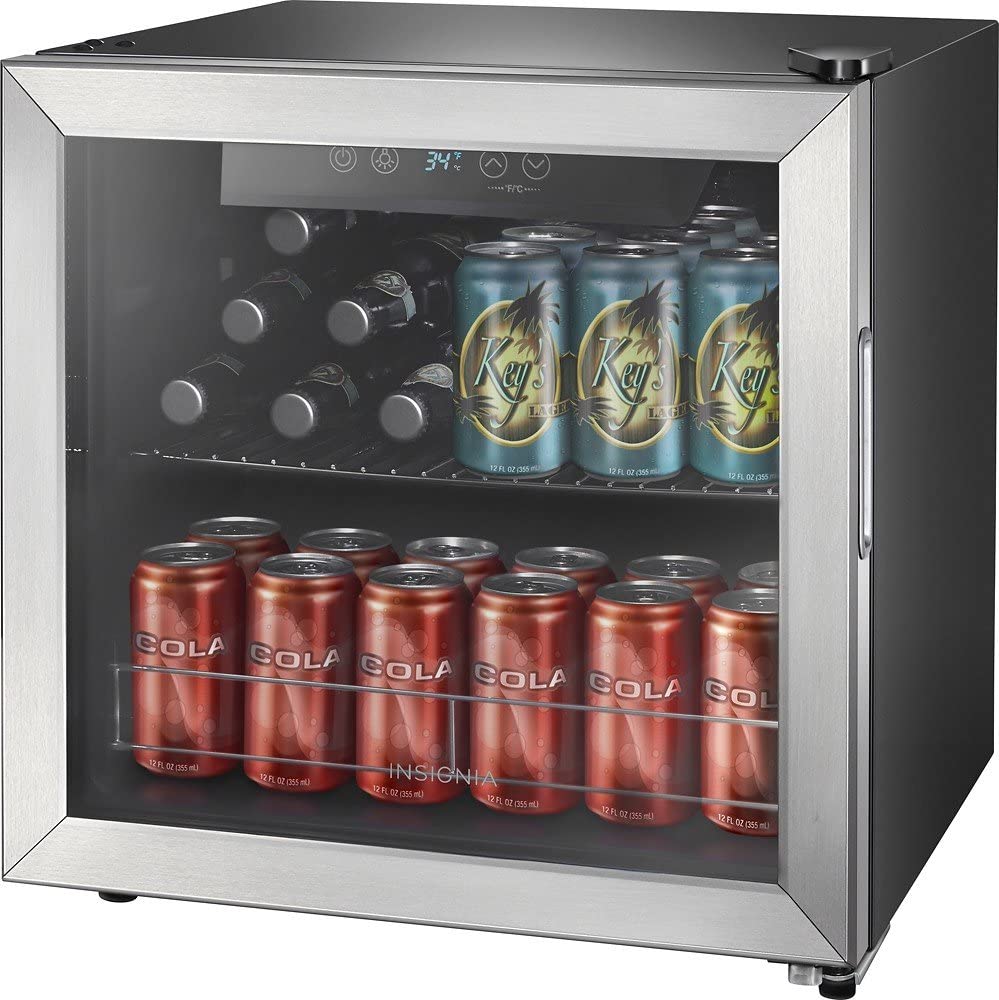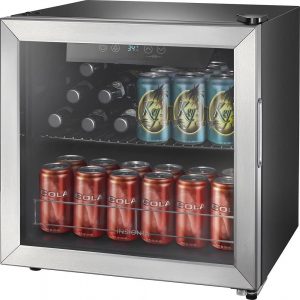 The RCA 3.2 Cu. Ft. is one of the best portable beer fridges out there. It takes up little room, and as a result, it's just the right fit for small spaces. You can fit this in small apartments or dorm rooms. There are adjustable legs and reversible doors, which makes the fridge customizable for any tight space. It also has door storage for easy dispensing of cans one at a time. Also, not forgetting the freezer chamber for making ice cubes.
| | |
| --- | --- |
| Plus | Minus |
| Semi-portable | Not practical for everyday use |
| Clear door | Bottles must be laid on side |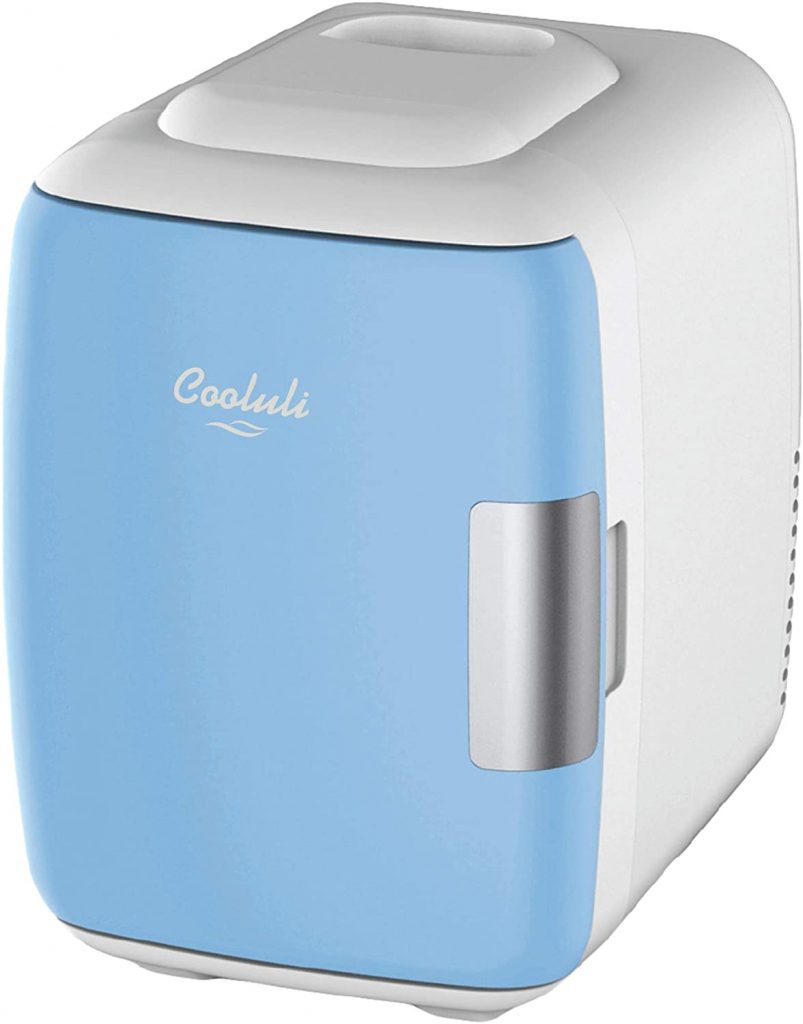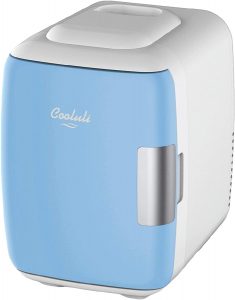 Another good portable fridge in the marketplace, and retails for under $60 on Amazon. Very lightweight and comes with AC and DC power cords. You can easily take this fridge anywhere without much hassle.
| | |
| --- | --- |
| Plus | Minus |
| 2 adjustable shelves | Not a practical, everyday option |
| Multiple color options | Takes a while to reach desired temp |
| Catchy design | Some have had difficulty shutting the door when shelves are full |
| 35 degree cooling capacity | |
| Spring lock | |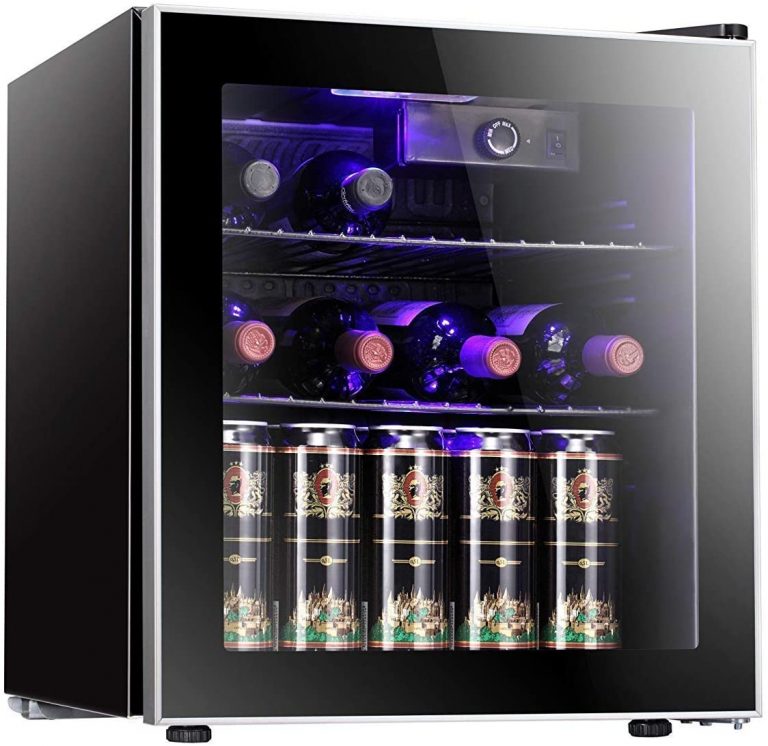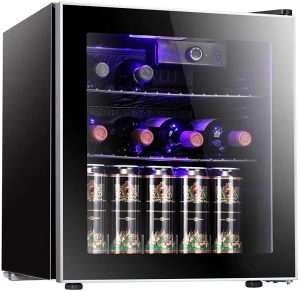 If you're looking for a beverage-only fridge to house both your wine bottles and beer cans, then the Antarctic Star is exactly what you need. You can store the wine bottles on the top shelf and the beer cans or bottles on the other two lower compartments. It emits an almost silent sound, with no vibration. You can get it in three sizes on Amazon.
| | |
| --- | --- |
| Plus | Minus |
| Nice design | Space in specs is misleading |
| Portable | Limited space |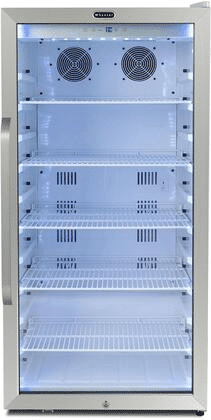 If you're looking for a fridge that can accommodate your 750ml or 500ml bottles, this is the fridge for you. It can be found on Amazon for just north of $1k. It has digital temperature control that ranges from 34-43 degrees. This allows you to care for your lambics and barrel aged beers at preferred temps. It has an 8.1 cubic feet and has internal fan forced circulation for even temperature distribution throughout the cabinet.
| | |
| --- | --- |
| Plus | Minus |
| Superlight door lighting strip with energy-efficient | Hefty price point |
| 5 pull out chrome shelves | Conspicuous in size |
| Digital temperature control | |
| Holds multiple sizes | |