Best Beer Cooler Solutions – Keep Your Beer Cool, Man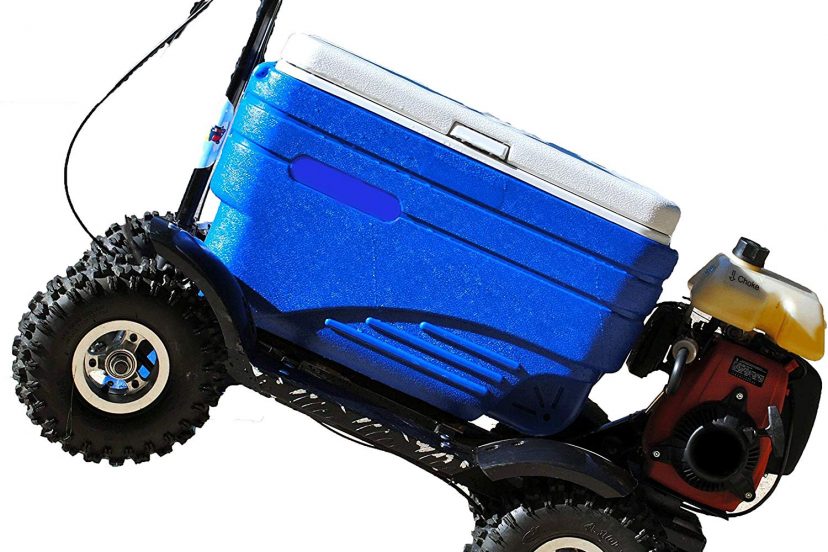 It's an art to expertly pack a cooler full of quality beer. You can dump your suitcase of mass domestic beer into a cooler and pour over a bag of ice. But, when it comes to crafted beer, you need room for your limited release cans and you need room for your special bomber bottles nestled neatly amongst the right amount of ice. Whether its camping, fishing, hiking or just hanging out with friends, none of that will matter if your cans leak or your bottles break. Lucky for you we have a list of the best beer cooler solutions, from the simple and durable beer bottle coolers to the small and portable for all kinds of beer. We even have a few bells and whistles to trick it up another notch.
Our first recommendation is the perfect beer bottle cooler for keeping your bottles intact. It features a soft-sided waxed cotton canvas exterior and an adjustable shoulder strap that allows for easy transport. A removable inner divider allows for storage of various bottle sizes. A smartly designed bottle opener on retractable cord stores in the exterior pocket of the cooler. The beer bottle cooler is backed by the Picnic Time Family of Brands BUILT TO LAST Lifetime Pledge to repair or replace if defective for any reason.
Clevermade cooler bags offer structured portability when you need them, and fold down flat — 3 inches flat — when you don't. The mighty beer cooler holds up to 30 cans of your favorite beer plus ice and has a load capacity of 35 pounds. The leak-proof insulation liner and strong polyester outer material make this small folding cooler ideal for keeping craft beer cold for hours. While it has amazing capacity and durability for the price, it does lack interior protection of bottles so you will have to consider additional packing options to protect against breakage.
We love this beer cooler for its stealth capacity. Since it looks like a laptop case, bringing beer on the down low is possible. The ZeeCooler securely fits 10 standard cans, 8 craft cans, or 6 glass bottles. This beer cooler includes 2 quick freeze gel packs that double as insulation for your bottles that you choose to carry.
Much along the same lines as other stealth coolers, the StowCo Portable Beer Cooler, looks less like a cooler and more like a laptop case. This beer bottle cooler features closed-cell foam insulation engineered to keep drinks cold. So much so, they recommend not using ice. Also, a semi-rigid case protects the glass and keeps bottles snug to prevent clanking and breakage.
Bells & Whistles
We told you we had few unusual recommendations for transporting beer. Here are a few unique beer cooler solutions for those out of the ordinary keeping beer cool occasions. enjoy!
What is a party without tunes?!? This stereo beer cooler has two full range 20 watt bluetooth speakers. The speakers are completely removable and built for high quality sound. Not all coolers with speakers work on all devices, but this one does! – iPhones, Androids, iPads & Tablets and connects via bluetooth (includes an optional 3.5MM jack). The rechargeable cooler speaker battery lasts for 8+ hours. As an added bonus the built in battery can recharge your smartphone!
Yes!! This cooler is born to be wild. The reliable 49cc engine provides the right mix of power and speed. We like the 4 wheel stability for all types of terrains. Sure, there isn't anything special about the 48 liters locking cooler itself, but you can ride it! It includes a wheelie bar and a safety bumper. Not that you'd ever try to do any wheelies and risk damaging your beer.
Sometimes you gotta have great beer on the water. The CreekKooler floating cooler allows you to tow your cooler behind your watercraft. Whether you are floating the river or canoeing to your campsite, this floating cooler saves space on you watercraft. Two inches of insulation is injected into the hull and deck, giving CreekKooler an ice retention of 48 hours. A 30 quart capacity holds (30) 12-oz cans and 20lbs of ice. With its watertight, locking lid and o-ring design, use your CreekKooler as secure storage on the water. The patented design includes 4 drink holders located on the deck.
Conclusion
Great beer should be a part of all your sharing moments. Hopefully, we've given you the best beer cooler solutions to help you transport your favorite beer safe and cold. If you need help figuring out how to travel on a plane with beer, check out this article.