8 Top Beer Accessories – Make Your Beer Better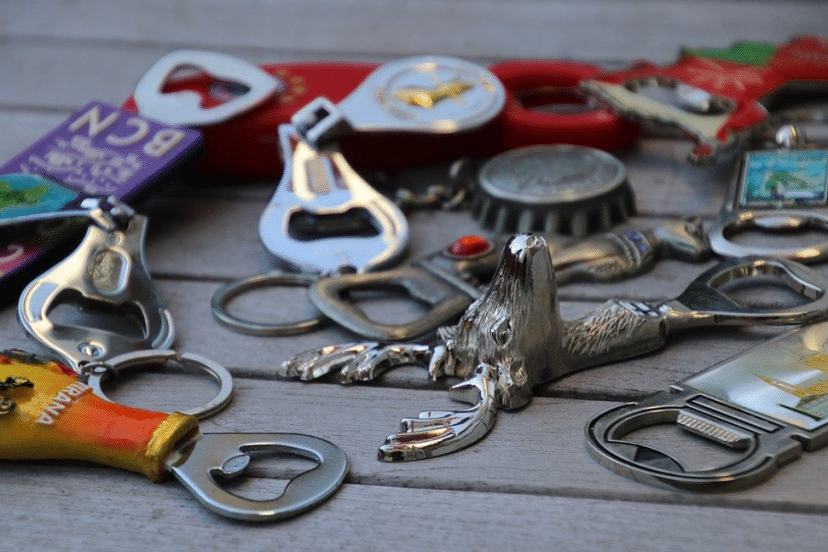 If you're searching for the best gift for beer lovers who are craft beer enthusiasts, this list is for you. We've rounded up 8 top beer accessories that will make their day even more special. From soft-sided coolers to underground beer holders, these unique beer gifts for beer connoisseurs are great additions to their collections or yours.
1. Soft-Sided Cooler
It pays to have one of the best soft-sided coolers on your person when you're preparing for a long hike into the wilderness.
Our Pick: Titan Deep Freeze by Arctic Zone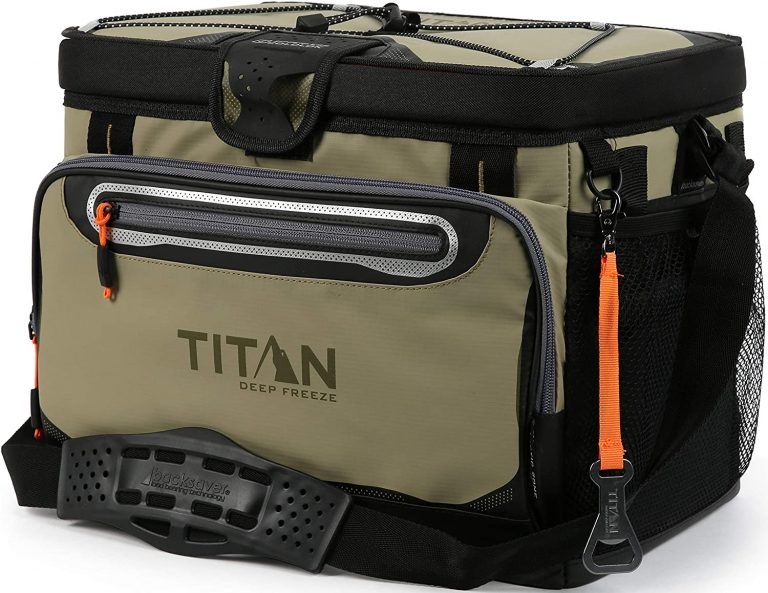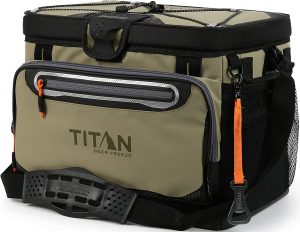 This unique offering from Arctic Zone gives you the convenience of portability of a small-size cooler without the hassles of dealing with a zipper. In its place, the Titan Deep Freeze uses their flip-open zipperless lid that allows for easy and quick access to your beer.
It also comes with Deepfreeze high-performance insulation which results in cooling performance of 2 to 3 days, depending on which model you buy. They use a leak-proof liner that allows the cooler to be used on both land and water. It can be carried on your back with a padded shoulder strap that includes side mesh pockets, removable Smart shelf technology, and two front zipper pockets. 
2. Beer Bottle Opener
Despite it being one of the must-have beer accessories, most people forget to bring beer openers with them to the party. This is why this perfect gift for a host.
Our Pick: Decapitator Bottle Cap Opener by Corkcicle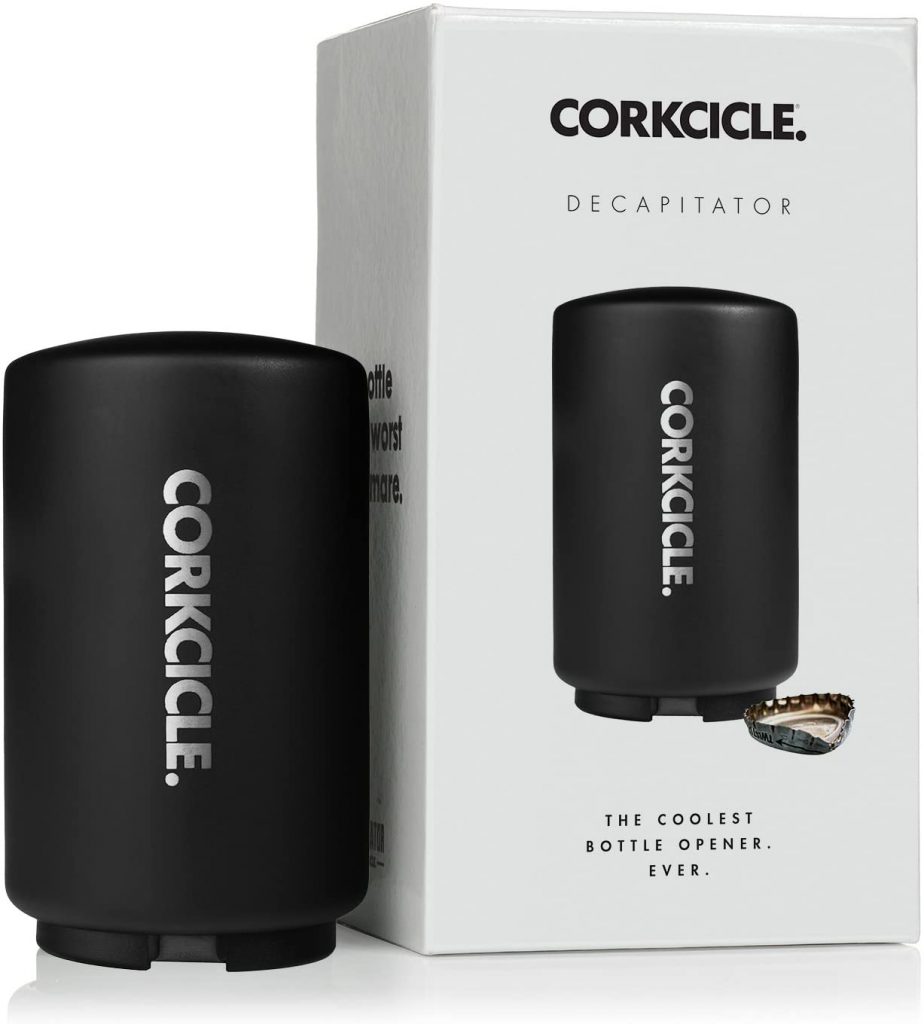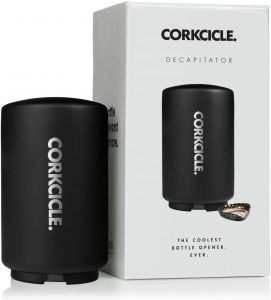 Corkcicle wanted to create the coolest bottle opener ever, and they've come close to doing that. This sleek device makes your average beer bottle opening experience a little more exciting. As the name suggests, it 'decapitates' the beer cap and comes with a strong magnet that holds it in place. You simply push down firmly on the Decapitator and pull up. The process may require a little getting-used-to but once you're there, you will never want to use another kind of bottle opener again. 
3. Beer Bottle Chiller
Every beer drinker, expert or non-expert, will agree that the best way to drink your beer is when it's chilled. This becomes even more important in the summer when you need cold beer more than ever. That's where this beer bottle chiller comes in.
Our pick: Frosty Beer 2 Go by Asobu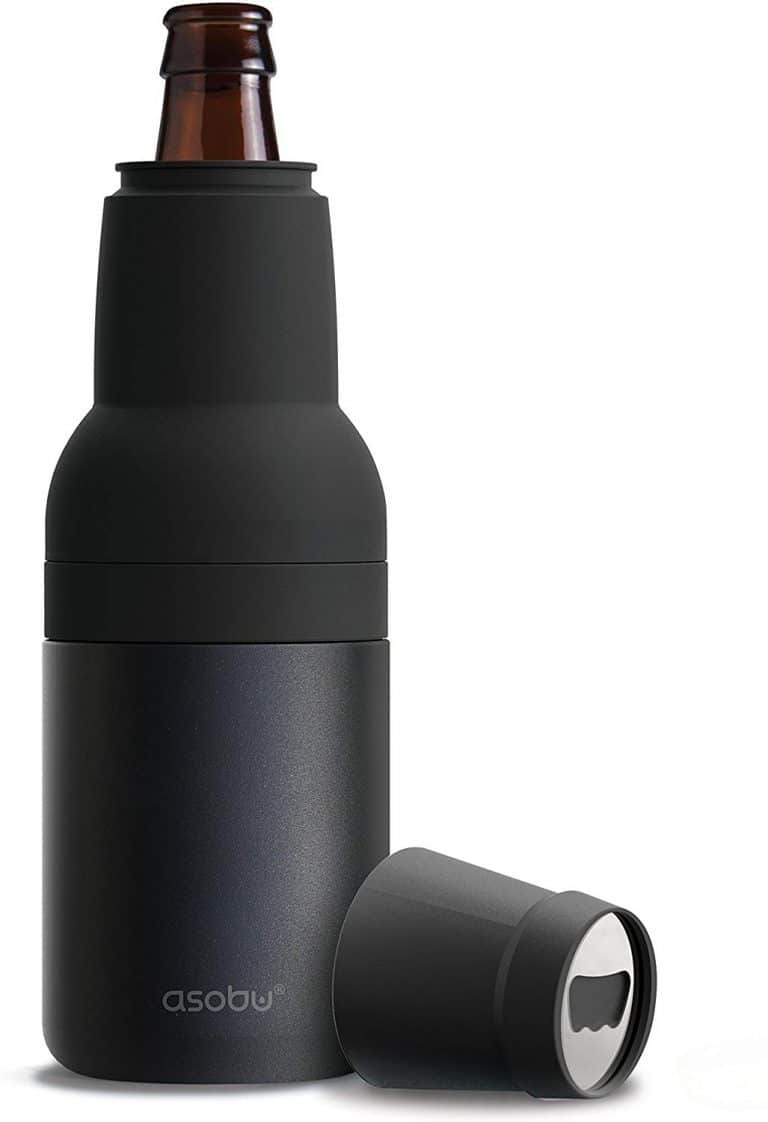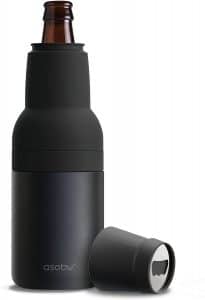 This beer chiller comes with double-walled stainless steel insulation in the shape of a bottle. The best part is that it works just fine with both bottles and cans. Furthermore, it is vacuum-insulated to ensure your beer stays frosty as if it were in the fridge for hours. And if, for some reason, you don't have a beer bottle opener, don't fret because this chiller doubles as a beer bottle opener. If you plan on going outside and need cold beer on you at all times, this is our number one pick.
4. Craft Brews – Beer Caddy
At this point, you're just showing off your knowledge of beer to friends. A beer caddy makes a great impression on everyone and allows you to safely transport an entire collection of craft brews with you.
Our Pick: 6-Bottle Beer Caddy by Legacy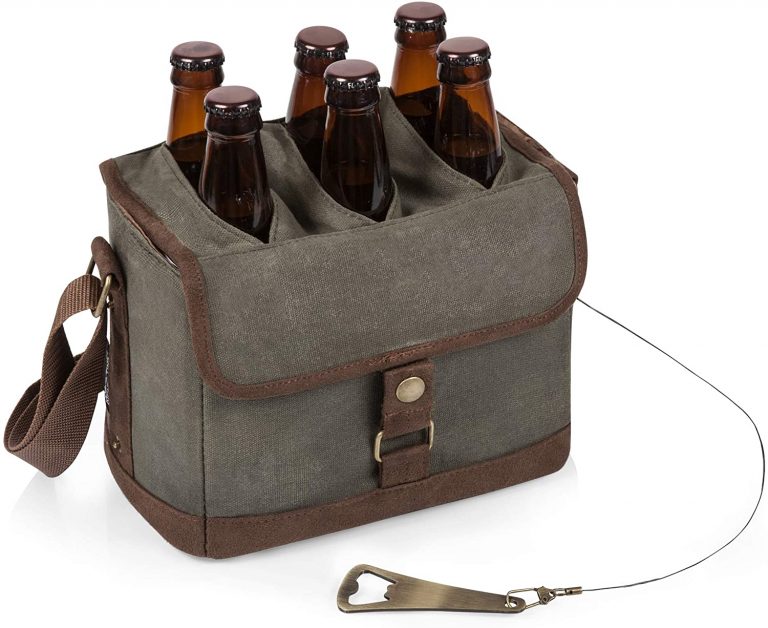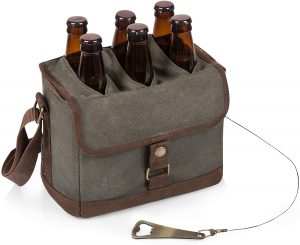 This rustic caddy comes with a removable padded liner and a bottle opener with a retractable cord, which makes transportation extremely comfortable. It also features a removable inner divider that lets you store various beverages or store different items. To top it all off, the material is water-proof, which means you can add ice to it and drink your beer chilled.
It also features a bottle cap opener in case you forgot to bring one.
5. Shower Beer Holder
Some people can't live without their beer and need one close by at all times, even in the shower. And when there's a will, there's a way. Enter the 'shower beer holder'. This clever device seamlessly attaches to your shower wall and keeps your beer ice cold.
Our Pick: The 30 Watt Portable Shower Drink Cup Holder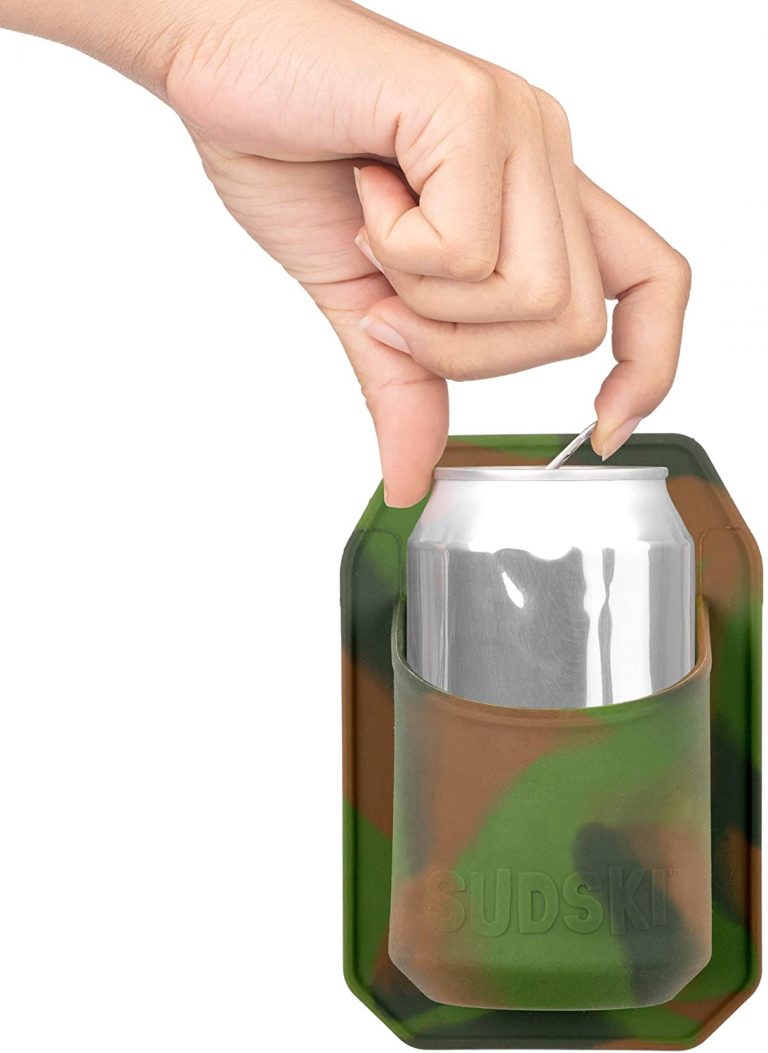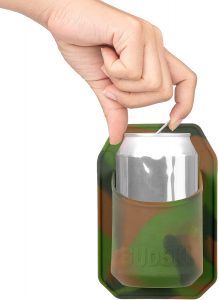 If your bathroom walls have a glossy texture, then this device is for you. It will securely grip the surfaces of most glossy walls like mirrors, marbles, metals, and glasses. There is no need to use wall mounts, suction, cups, or adhesives. It just works. And no, it doesn't leave a mark on your wall. You can remove it and stick it where you want to. BTW, 30 Watt is the name of the brand, no electronics.
6. Underground Beer Holder
Buying an underground beer holder is a little excessive, but it actually makes a lot of sense if you don't have the room for another refrigerator to store your beer. Plus, it really sounds cool to tell your friends that you've got an 'underground' beer holder. It has a good ring to it.
Our Pick: Original Beer Well by HopfenHöhle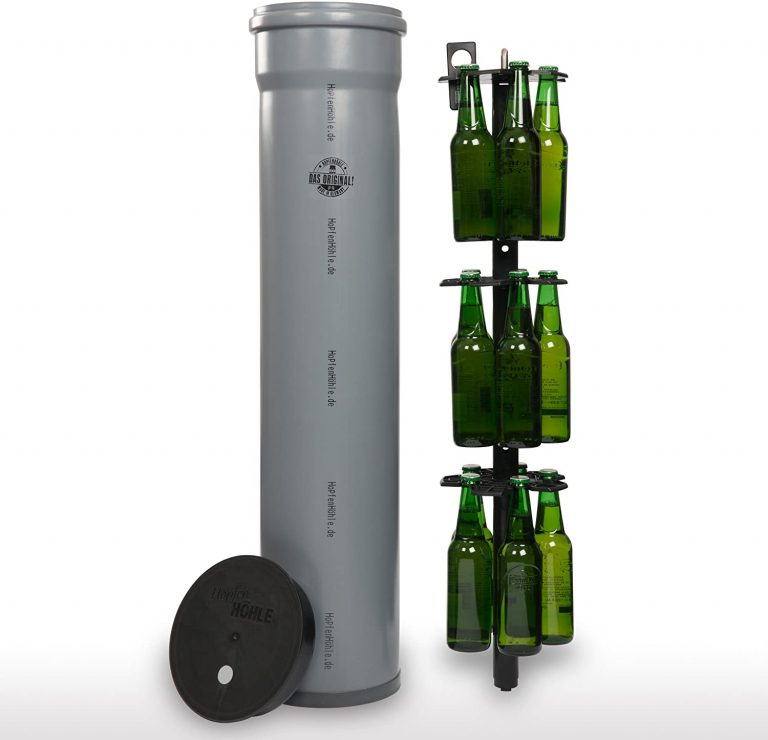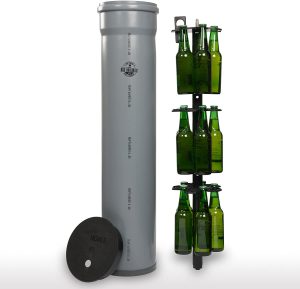 This underground beer cooler is sealed tight with thermal insulation and UV resistance. The walls are really thick and won't cave in. The slick 'futuristic' design looks like a time capsule and will really make you look cool. You can store a whopping 15 bottles in there at cool temperatures without requiring any external source of power.  
Has been out of stock, so check their page.
7. Pressurized Growler
A pressurized beer growler lets you bring the bar in the comforts of your own home. Some bars only offer craft beer on tap, which means you can't pick them up in a standard six-pack.
Our Pick: Beer Mini Keg System by Nutrichef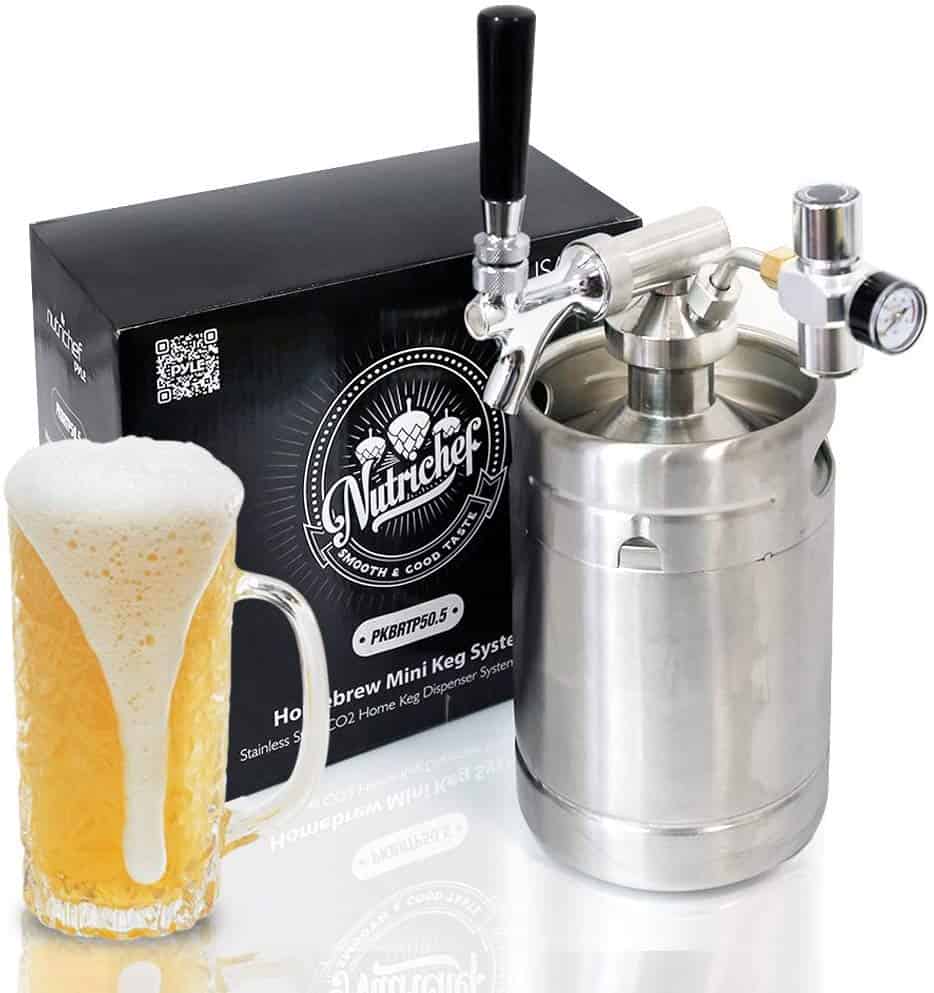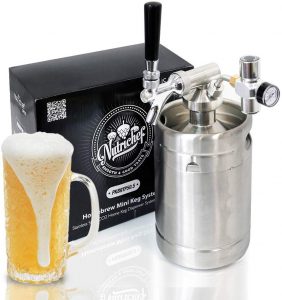 Take your beer on-the-go with this mini keg. It is made from durable stainless steel that insulates beer from the outside, thus keeping it colder for longer. You'll find the 64oz capacity just right for most craft beer. It's enough to share the beer with a group of friends. And here's the selling point: CO2. The pressure regulator will make your beer taste like genuine draft beer.  Also comes with a free keg insulator. I own one of these myself, perfect for transporting your homebrew.
8. Non-Pressurized Growler
A non-pressurized growler is to keep your beer fresh for longer
Our Pick: 128 oz vacuum Insulated Stainless Steel by DrinkTanks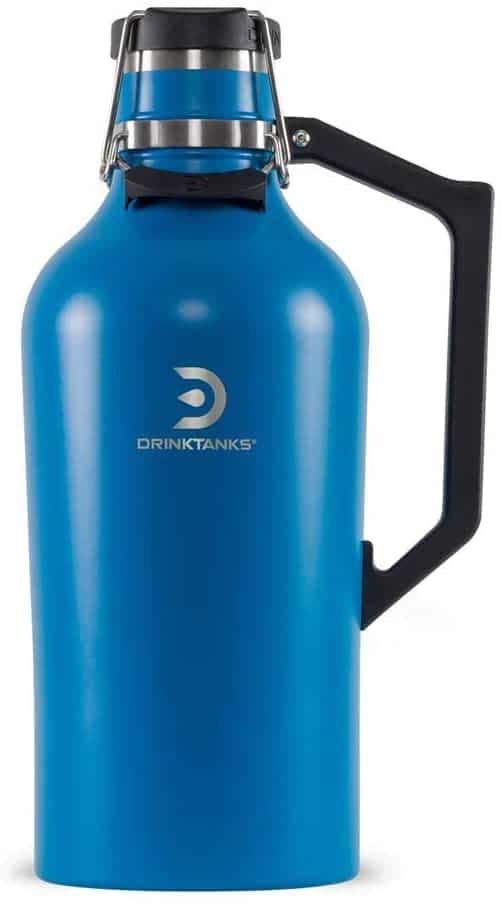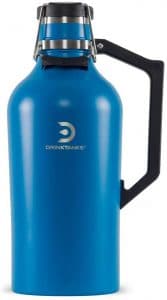 It's made using almost indestructible stainless steel with double-walled vacuum insulation to keep your beer cold. The inner walls will ensure your drink stays cool and fresh for longer while preserving the flavor. Plus, there's no metallic aftertaste with this non-pressurized growler.
What about Beer Books?
Though not considered really an accessory by some, when it comes to beer books, we are big fans of this beer review logbook.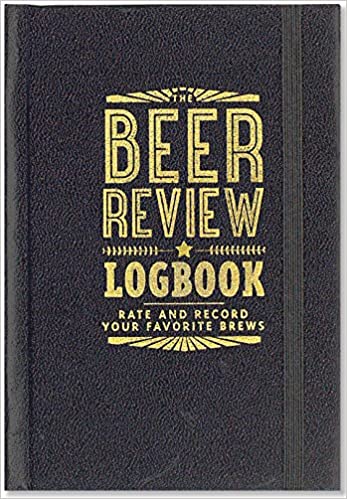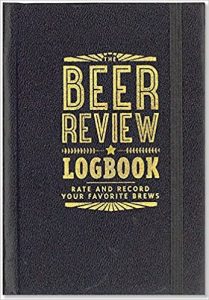 A great old school way to keep track of your favorite brew styles and beer experiences.
Beer Accessories Conclusion
Our goal is to bring you the latest craft beer accessories throughout the year. Some articles on our site feature accessories for specific tasks like bringing beer in checked luggage. Please let us know if you see a craft beer accessory we should highlight, we might just award you with your very own if we feature it. Subscribe to our newsletter to get the latest news on all things craft beer.