Rollertown Beerworks: Rollin' with the Punches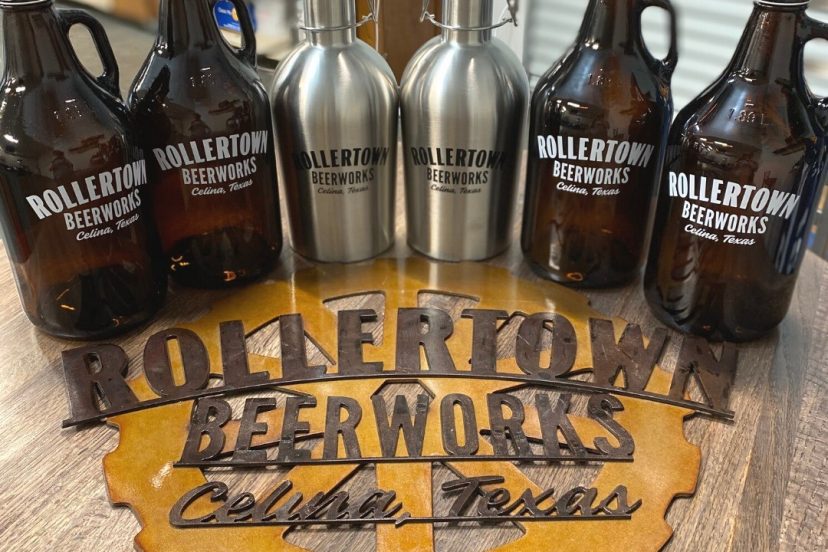 It came as the daybreak, Must surely arrive, Opened my eyes just To be sure I was alive Another day, They're much the same, 24 hours for me, To try againI' I'm rollin' on, I'm rollin'on
– Uriah Heep
Rollertown Beerworks is rollin'. Even though Rollertown started behind the 8-ball, this little brewery in Celina Texas keeps rollin' along. From the ridiculous to the sublime. I recently wrote about the infectious disease of greed. How it came to be personified in a morally bankrupt human named Keith Ashley. When faced with the choice of human or monetary value, he sold his soul for 30 pieces of silver. Thankfully, there is another side of the coin. I had the privilege of sitting down with a group of people who value interaction over dollar signs. These guys look for the humor and poetry that exists in every encounter. A group of men who recognize that friendship isn't a means to a grizzly monetary end, its family. They recognize that family isn't who you carry in your veins, but who you carry with you.
Rollertown Vibes
Rollertown Beerworks is a place where the townsfolk can suck on lagers and spit about the day's work. It's a swollen place until the naked eye of 11pm. The tables are adorned with beer guts and swizzle-stick legs jackknifed over bar stools. It's a place to elbow up to the counter with mixed feelings over mixed fermentations. Where melodies of see-ya-laters serenade the ears of disappointed Cowboys' fans. A place where the impending squint of sunset lurks behind the brewery's warehouse awning. There are no strangers. Only people who haven't taken off their jacket yet. Conversation is currency at this joint.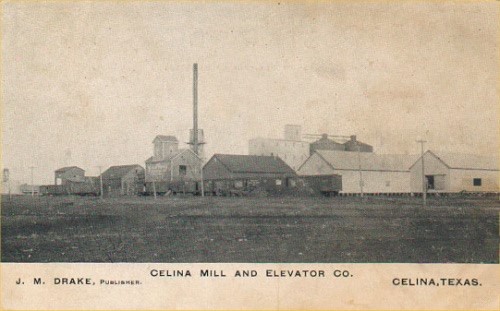 Celina is kind of shy and sleepy. It clings to the skirts of highway 289 that stretches out like an asphalt dance floor. In 1876 Celina, Tx was born. It rested a few miles west of where it currently sits. Around the turn of the century the Frisco Railway found its way into Collin County, but the line would miss Celina by just a few miles. In 1902, Celina hoisted their little town on rollers and moved the town via traction engines to the Frisco railway. Where there's a will there's a way.
What put the 'Roller' in Rollertown Beerworks
This general principal of adaptability has been a driving ethos for Ben Rogers and Jeff "Skin" Wade, Dallas radio personalities and owners of the brand new Rollertown Beerworks located in Celina, TX. "The Ben and Skin Show" has been a fixture in DFW radio for almost 2 decades. That is remarkable considering that this show has migrated the full continuum of the dial. They've been on 1310 "The Ticket," ESPN Radio on 103.3, "The Fan" 105.3 and currently on KEGL 97.1 "The Eagle." They, like the city of Celina, have been willing to move and adapt in order to produce the most authentic radio show they could; to be willing to hoist themselves upon rollers toward creative freedom and away from fixed formulas.
I sat down with Ben Rogers, Jonathan Rogers, Billy Roberts and Tommy Miller from Rollertown Beerworks to learn about their brewery, how they've adapted to ever shifting regulations during a pandemic and to share space with the new kids on the DFW brewery block. Somehow, these guys have found a way to keep their heads above water.
The Team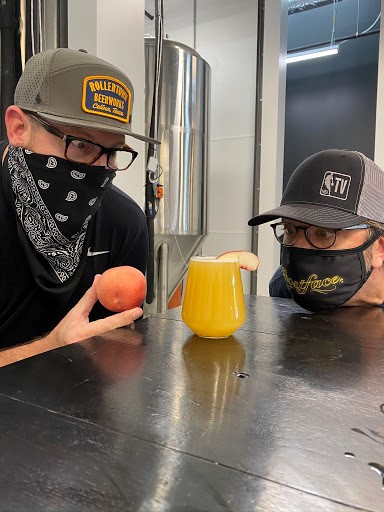 It would be easy to fix your attention on the most recognizable figures of Rollertown Beerworks, Ben and Skin; however, as Ben Rogers points out "Skin and I are the least important people involved in this whole equation. Our team is insane. We come from the sports world and it's like, all-star, all-star, all-star at every position." This is a team of all-stars. Jonathan brought his talents from the marketing world where he worked with the likes of Balcones Whisky. Billy Roberts came from the hospitality world where he became a star working with the likes of the Haymaker Club back in its heyday and more recently with the Front Burner Group at The Whisky Cake. Tommy Miller has pitched a tent at several local breweries learning the trade and honing his beer making acumen. While their resumes are impressive, their character is even more compelling.
Jonathan Rogers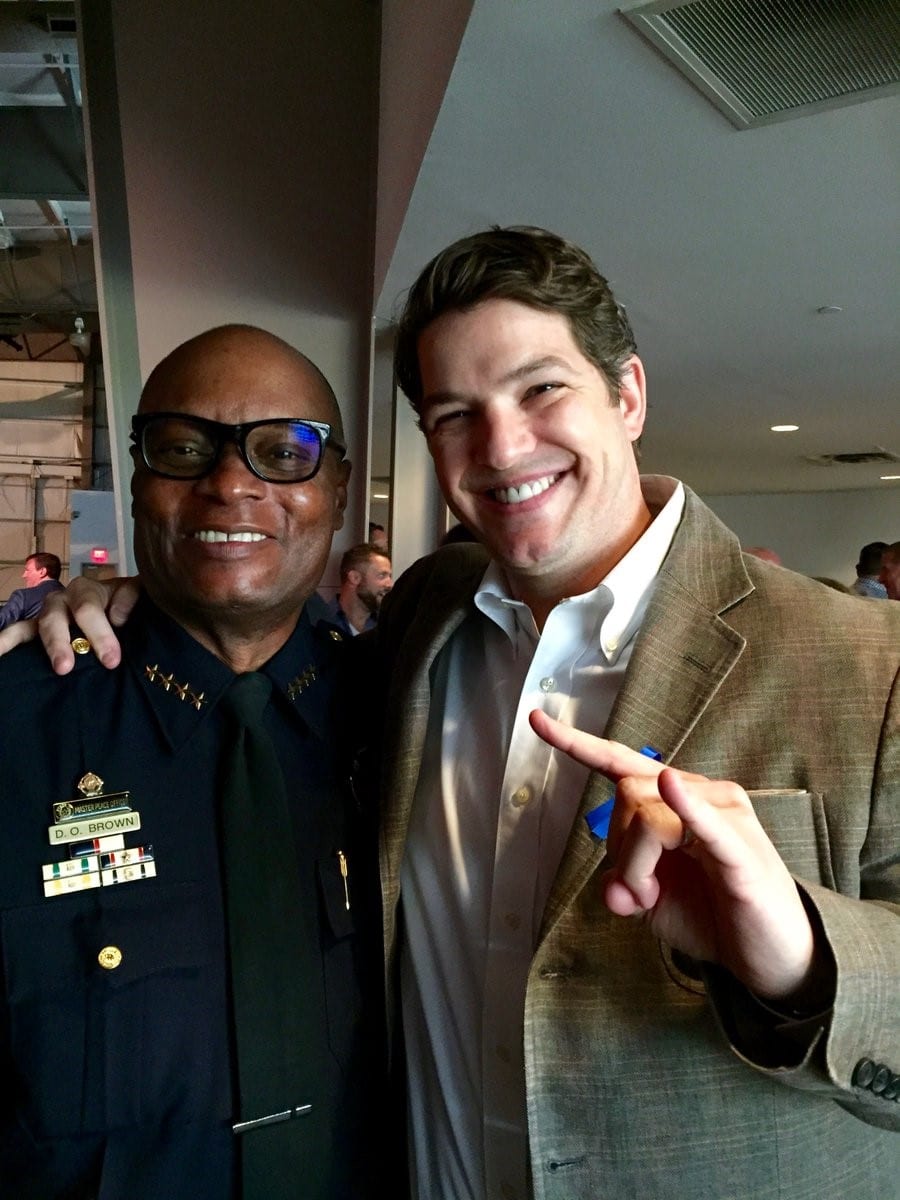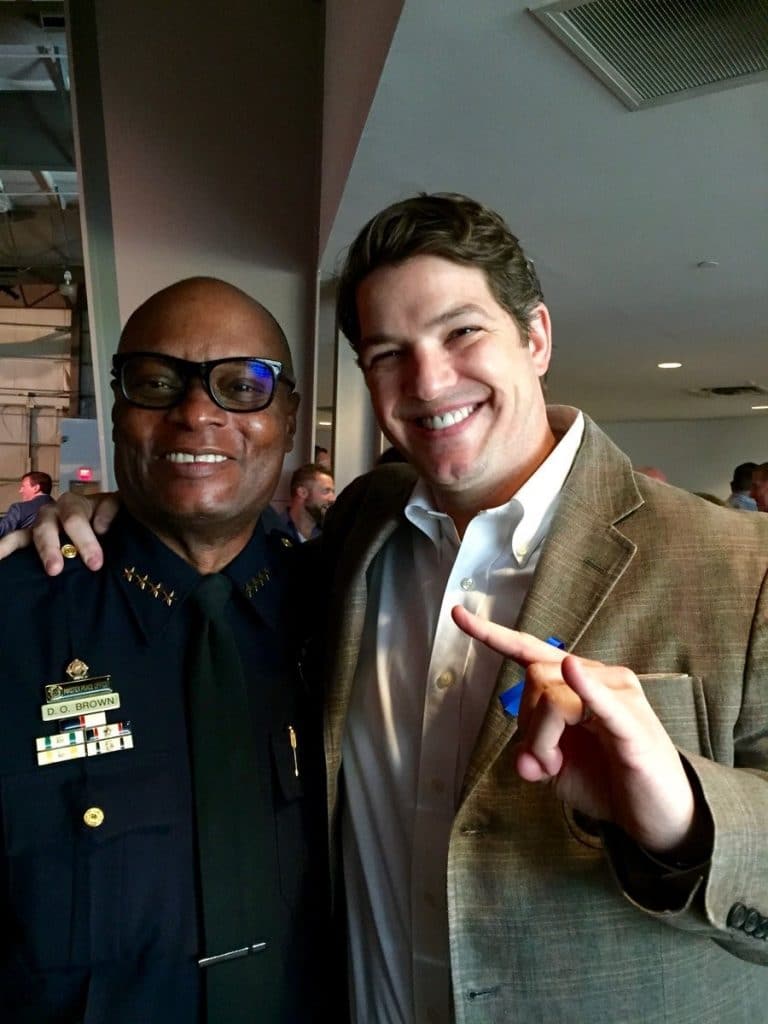 Ben waxed about the Yoda-like qualities his brother Jonathan possesses. "He's a marketing Jedi and truly the most talented person I know." To talk with Jonathan, you get a sense of an understated soul who's just happy to be part of the team. Then you look around at all the swag and ingenious branding that ornaments the taproom and quickly recognize just how valuable his presence is. The merch is really some of the best I've encountered in the craft beer industry.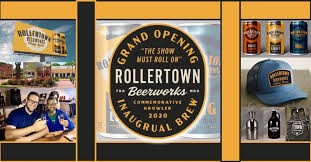 Tommy Miller
Tommy Miller is the brew master at Rollertown and he joins the team with a diverse experience in beer making. The art and science of beer making has worked its way into his tissue. He would speak of his beer adventures in Germany, Belgium, Japan and multiple stops around the states. As he speaks, you get a real sense from him that all fermentations are an interaction between the brewer and the microorganism. It is the welcome mat for all interactions to follow.
Billy Roberts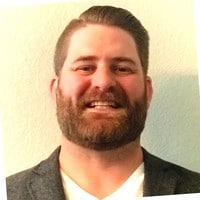 When you weave this into the front of house personalities you start to see the importance of interaction. This is due to the influence of Billy Roberts, the man in charge of hospitality. Billy noted "I love this business and helping people get through their day…making sure they have a good time is really what makes me go." The brewery itself is a blank canvass, nothing in the décor will grab you. This seems to be intentional. The beauty comes from the color of personality that splatter and drip across the venue, inviting you to contribute. You see a community form and you are compelled to add your mark
The Pandemic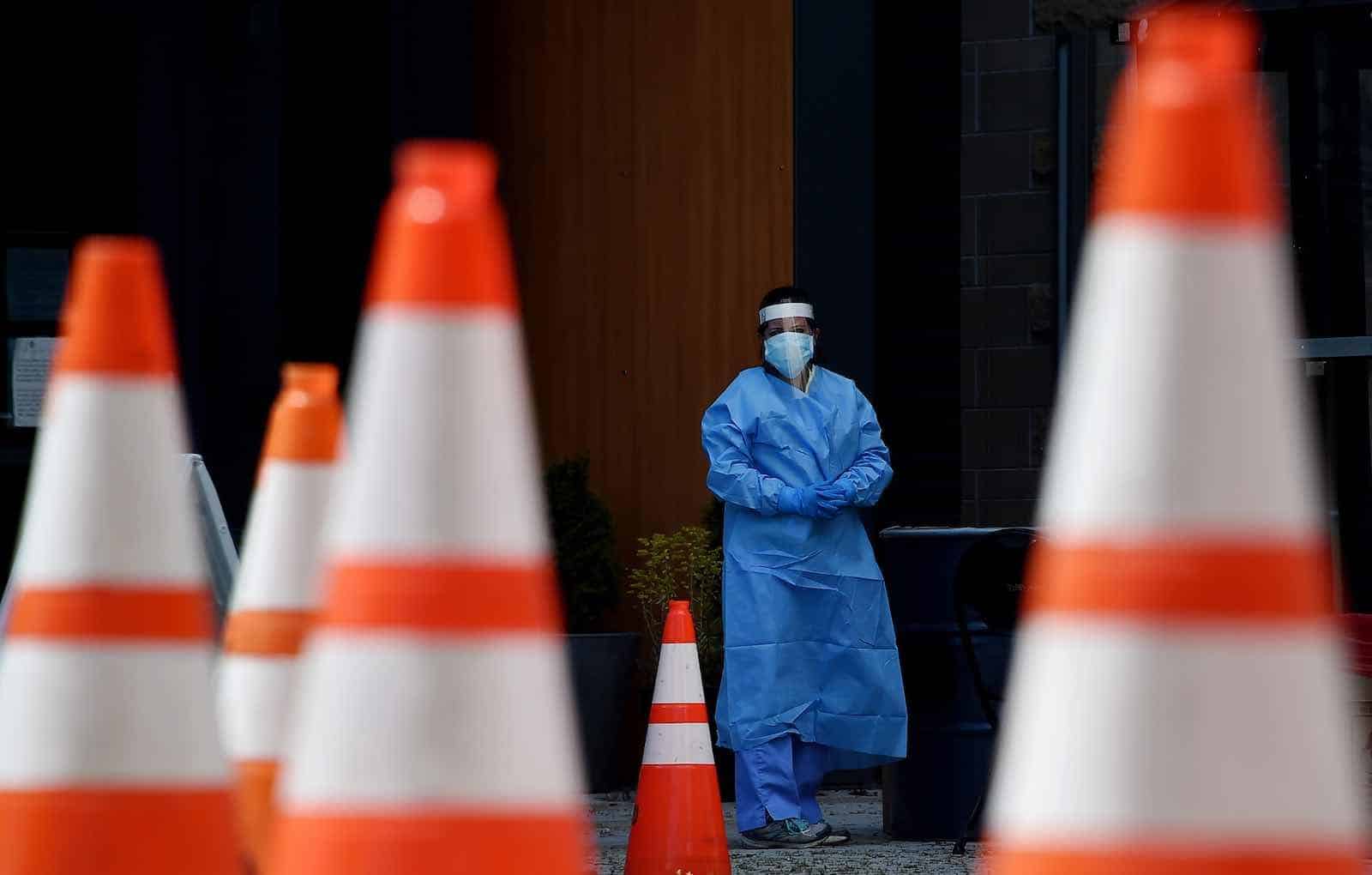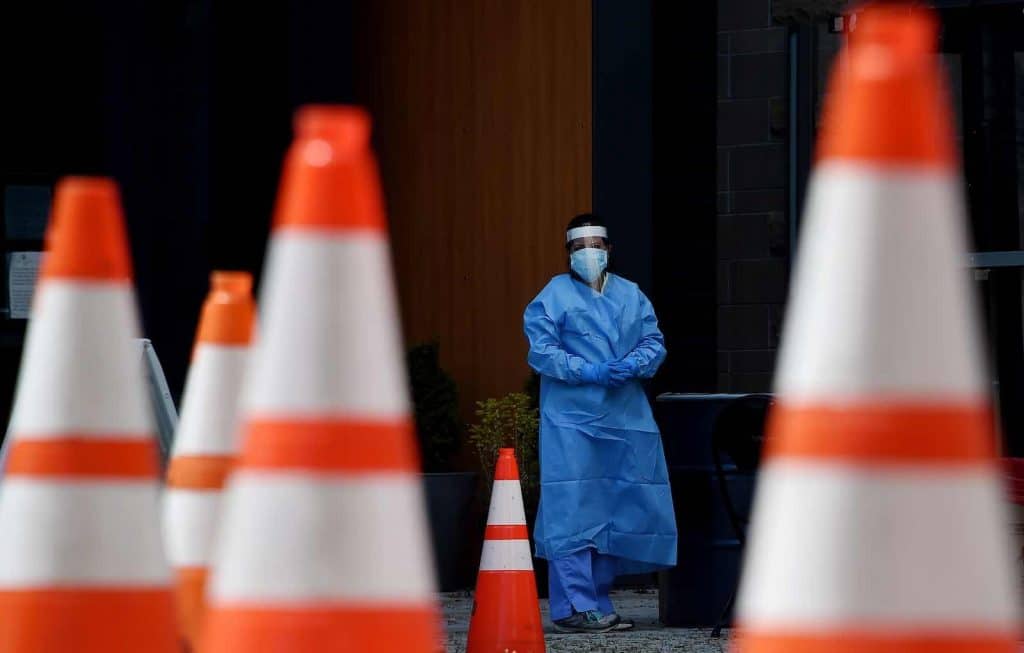 The dream for these craft beer enthusiasts was to open a brewery and enjoy the camaraderie and success of a booming DFW craft beer community…oops. Rollertown's resilience would be tested right out of the starting block. As Covid-19 turned the world into a planet of faceless surgeons, hiding their true identities behind political slogans and designer masks, Rollertown had to roll to new strategies and solutions. The pandemic shut the doors of businesses all over the world and threatened the sustainability of Rollertown Beerworks before they even had a chance to open their doors. Ben Rogers pointed out, "We literally got punched in the face with the biggest problem you could imagine. All other problems pale in comparison." While the philosophy of adaptability and "rolling" to new opportunities is a nice slogan, the viability of that doctrine would be leaned upon early and often.
Rollertown – For Love of Beer
So how do partners with zero brewery experience survive, let alone open a business venture in one of the most unstable industries in the country; all while entering a business smothering pandemic headlock? "The first key", as Billy Roberts reports, "is making really great beer." Jonathan Rogers reinforced this by saying "we will never sacrifice the quality of the beer." Excellence is a commitment that requires diligence and standards. "When Skin and I first started planning our brewery" noted Rogers, "Skin emphasized that whatever we do, the beer has to be fucking good."
Jonathan Rogers noted about the pandemic that "Initially, our whole brew house was set up for draft only. We had to reconfigure our whole operation. The intention was for Rollertown to be a nice environment where everyone can just come hang out and chill and then, overnight it turned into a staging area, packaging, manufacturing location, canning line, warzone…its nuts." This was adaptation number one, to transition from a draft only taproom into a curbside, beer to go, distribution center.
Rollertown was in a bind. Rollertown does not own a canning machine. As a result, the brewery was never set up to mass produce their product. The team was forced to can 7000 beers one at a time, in order to pay the bills. Though the intention was for a taproom service model, Rollertown became a distribution brewery overnight. As a result, resilience required them to move their thinking.
Rollertown Resilience
Tommy Miller on the shift in philosophy: "Essentially we started with a very small system that we could afford. Our plan was to really dial in our recipes first as a draft beer only taproom, not really worried about distribution and concentrate on making really cool beers for the area. Immediately there was a complete 180 in our thinking." The entire craft beer oscilates onsite beergarden to curbside to go service with the fickle winds of the TABC regs. 70-90% of brewery staffs are or were on furlough and/or laid off. To survive, breweries had to adapt.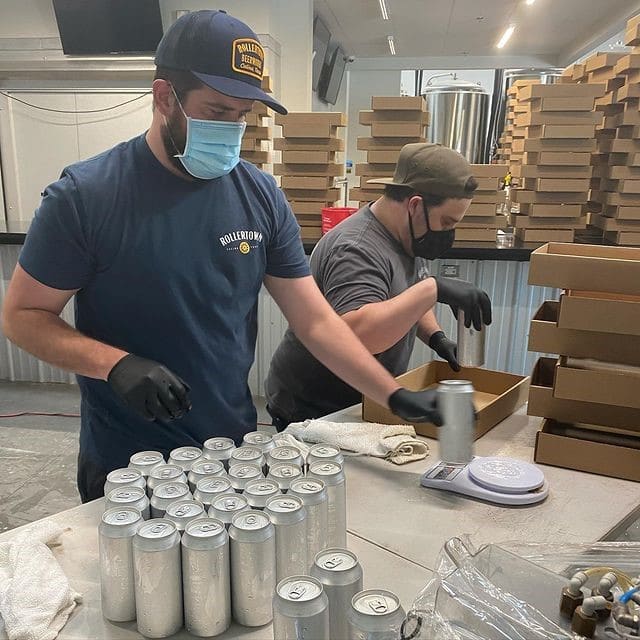 Black Lives Matter
While enjoying this sense of inclusion, the Rollertown crew and I talked in depth about the other issue gripping our country, Black Lives Matter. While the craft beer community has its share of overt racism, most of the craft brewing world is fairly progressive, leading the way in many social causes. Even though that is a nice philosophy, the statistics themselves suggest a wide gap in intention and practice.
For example, there are over 8000 breweries in the United States, only 61 have partial or full ownership by people of color. I asked the team what would make them different than the other 7900 plus? "We thrive on harmony" was the unified response. Ben and Skin have built a career on inclusive connection with their audience. While craft beer often looks like the place where white people and hipster beards were invented, the team insists they have a love of all people.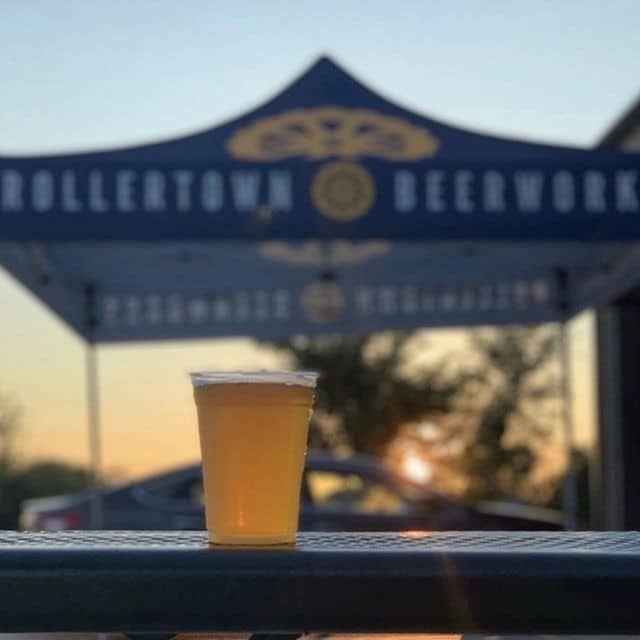 Rollertown – The Beer
When Tommy speaks about making beer you can visibly see his spirit emerge with childlike enthusiasm. He genuinely loves the process and is unashamed to nerd out with a fellow beer geek, like myself, and talk shop for as long as you can maintain air in your lungs.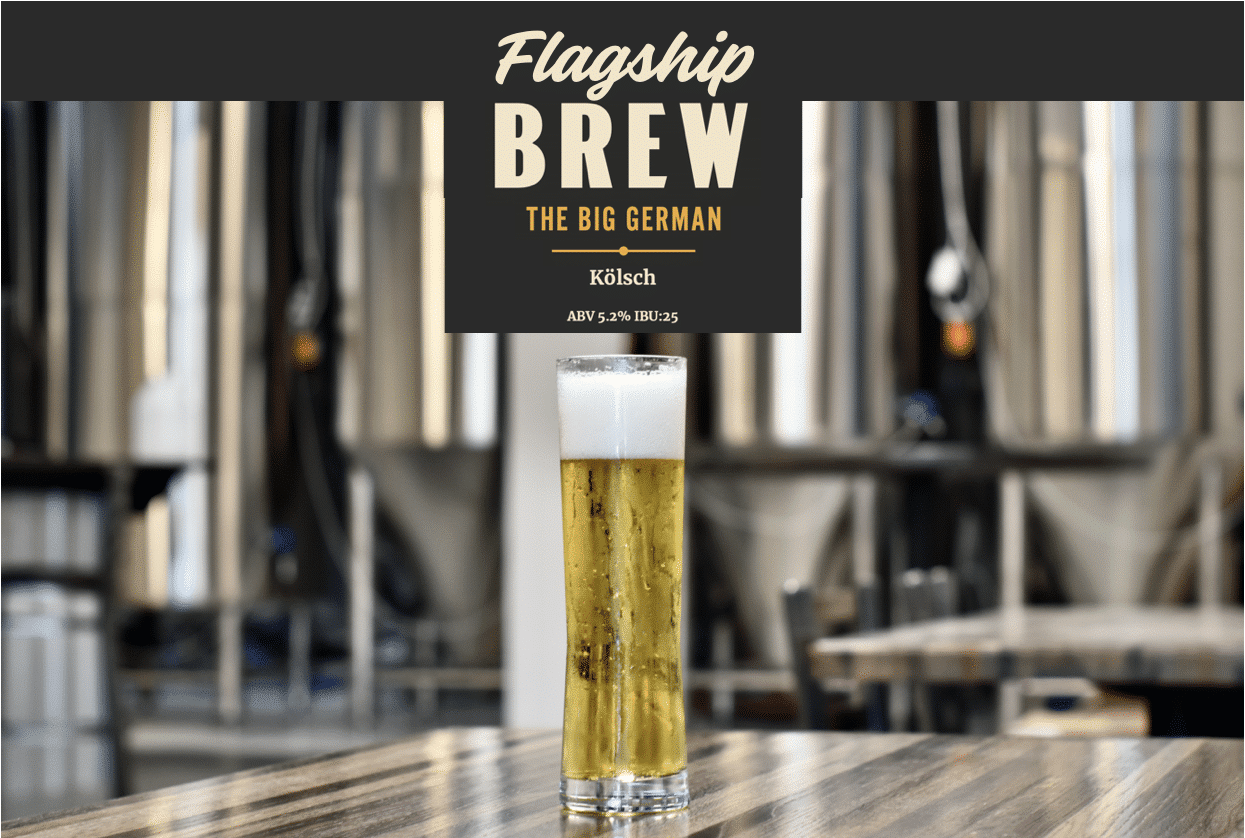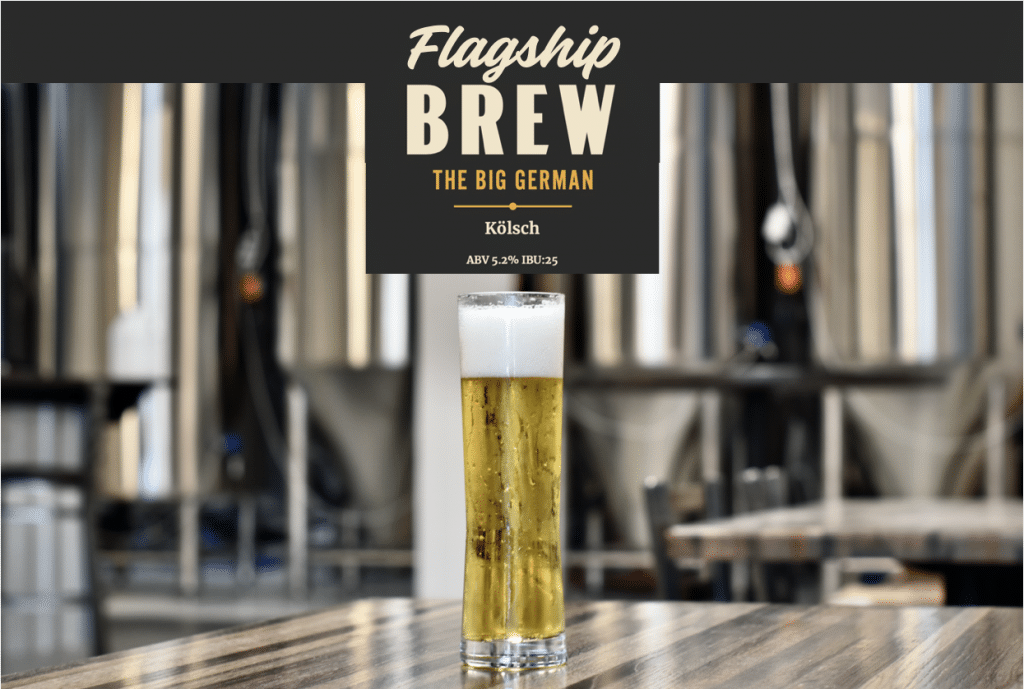 The beers at Rollertown Beerworks lean toward German style pilsners and lagers. Beers like "Big Trouble in Little Celina" is a honey pils that has a biscuity base, ornamented with honey sweetness and a hint of smokiness, for instance.
There is "The Big German" a kolsch bearing the name of Dallas Maverick's legend Dirk Nowitski. This beer is one of the staff's favorites for its drinkability. Billy Roberts says it's his "everyday beer."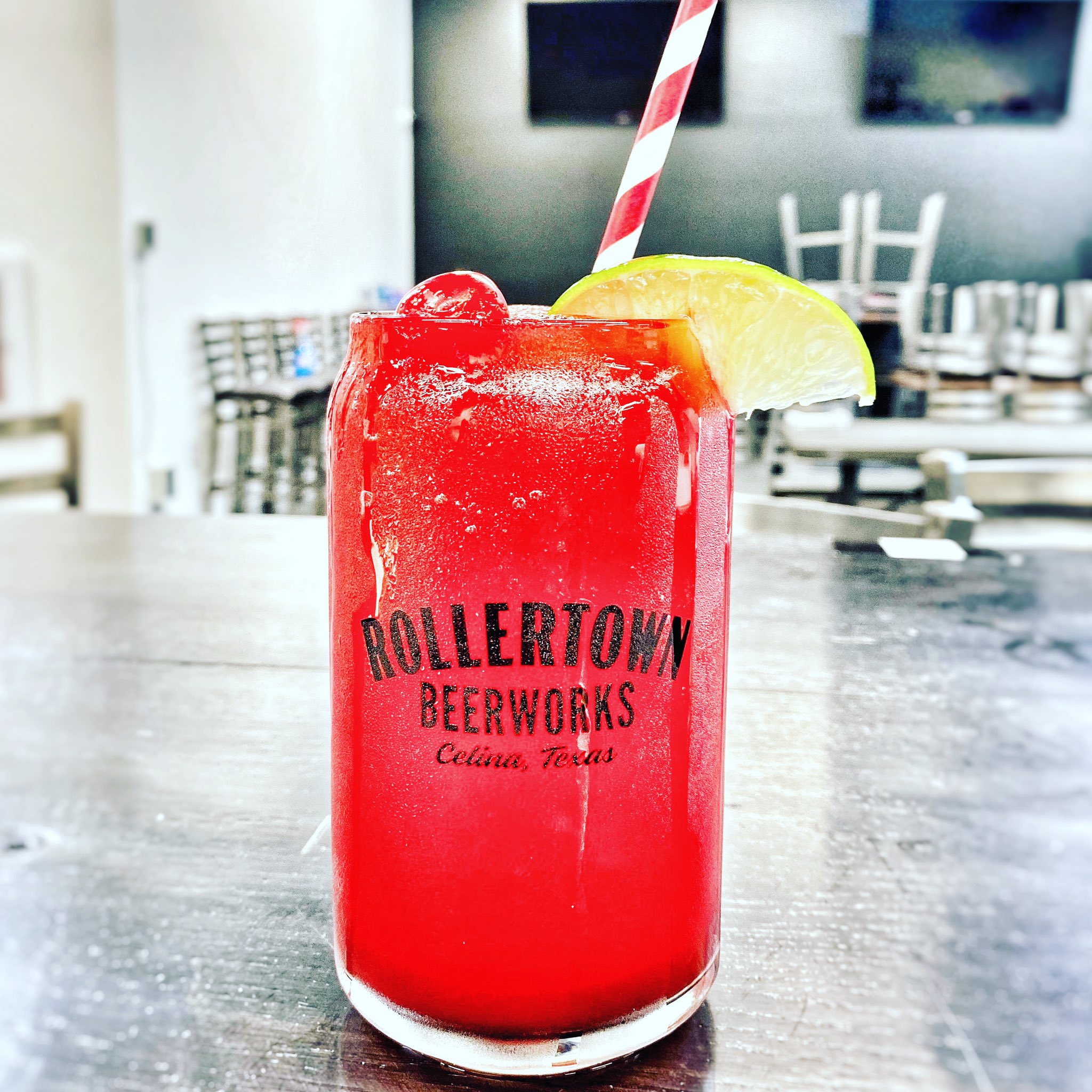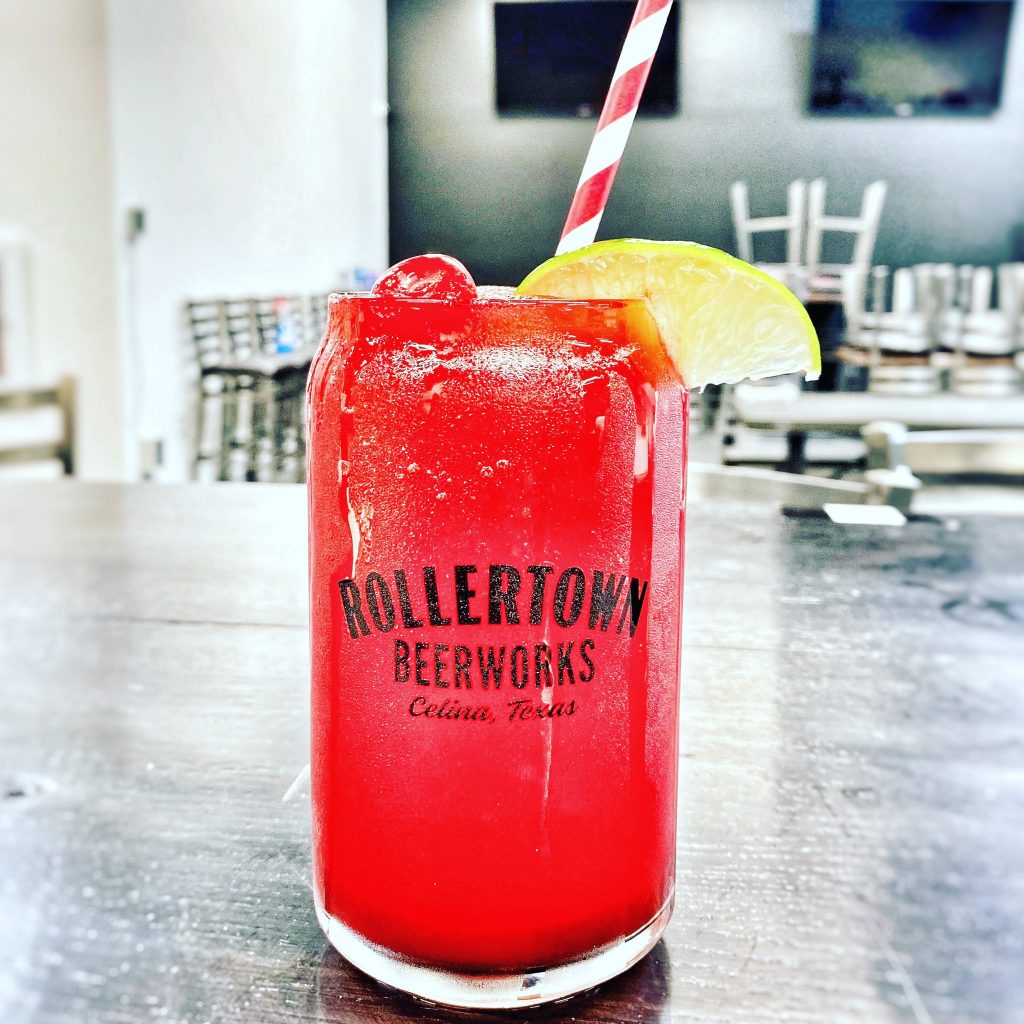 For the more daring there is the "Cherry Mojito Sour" a gose-style sour that is light, tart and refreshing. The flavor profile jabs the palate with tart cherries balanced by mint leaves that roll across the palate in a clean, satisfying way.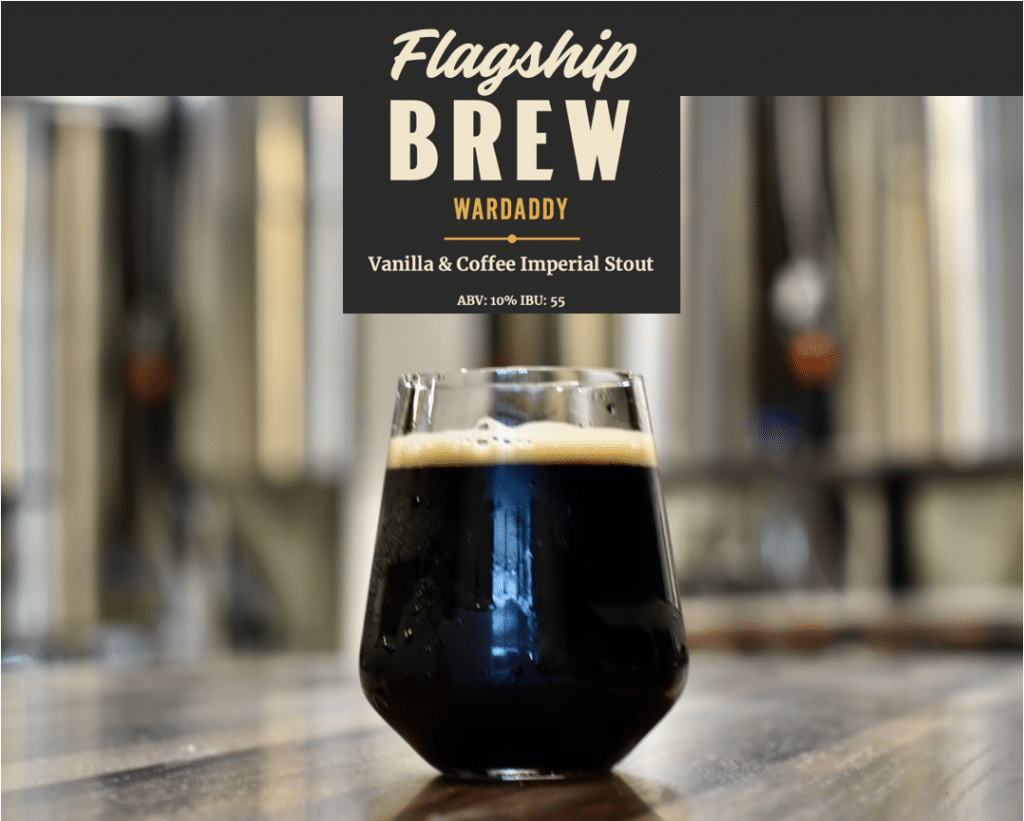 Stout fans will not be disappointed with "War Daddy" a 10% stout full of coffee and chocolate notes that don't disguise the integrity of the malty stout base itself. It is not overcome with indulgent milk sugars like many stouts. Don't worry, New England IPA fans, "Juice Serum" represents. This beer has everything you would expect in a NEIPA while maintaining balance between juice and hop.
As I visited with Tommy I learned that he had big plans for the beer. Primarily he wanted to maintain drinkability, while subtly challenging the palate as the community embraced Rollertown. They have procured barrels from Balcones for Barrel-Aged Stouts down the road. Tommy's time in Belgium has inspired him to dream of barrel-aged saisons. There are lots to come from this little brewery that could.
As I learn from Tommy and the team about what Rollertown is, I begin to lock in with the Rollertown intention, that while beer is important to their livelihoods, beer is really just the social lubricant and the facilitator of a building of conversation; it is the starting gun for a building of loyalties. Beer is the canvass Rollertown uses to form relationships with the community of Celina.
Rollertown – Community
Tommy explains, "We want to create a brewery that serves the community, not community that indulges it's brewery." He notes that it's about the people and what they need. The folks at Rollertown welcome the sum total of humanity, the future's past. They recognize their community and hoist themselves on rollers to bring to them a place where their neighbors' strivings, achievements and irreconcilable shortcomings come together and join in a perfect circumference of toasting beer glasses. When you sit down for a pint at Rollertown you will experience a forum where stories are told and memories deepened. This is how "I love you" is expressed between men.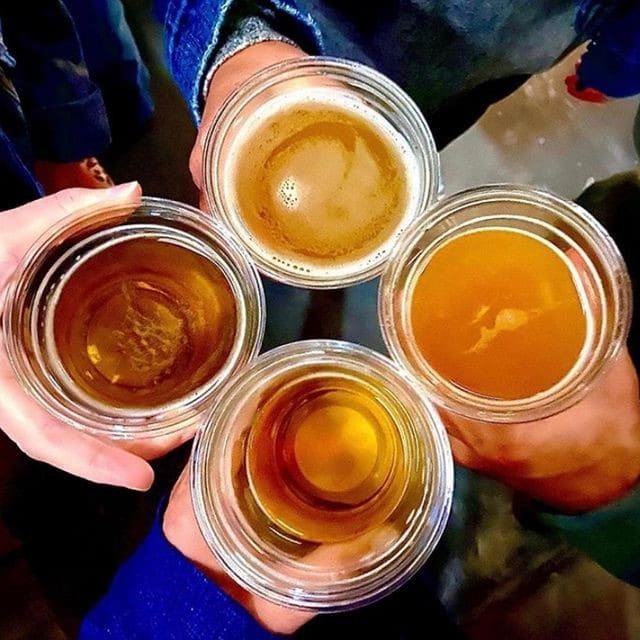 Conclusion
These guys are family, maybe not of origin, but of choice. What I learned from these guys is that it is all too easy to live through our brief existence with blinders on and miss those moments where friends show up for your victories with cake and for defeats with beer and corn hole bags. The guys at Rollertown Beerworks keep on rollin' in spite of everything trying to derail the industry. These guys roll on.