Best Blackberry Sours – Up Your Sour Beer Game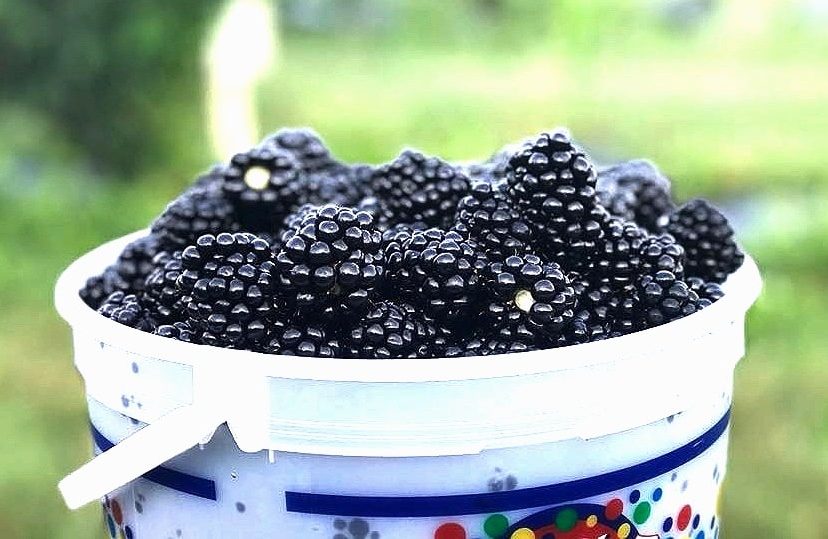 I am on a mission to civilize. To introduce the world to the wonders of sour beer. Sour ales are often misunderstood as palate wrecking, pucker bombs. Lacking subtlety. And in the wrong hands, those things are true. No need to be intimidated. Sours, when done well, are God's way of squeezing out fruity nectar onto the palates of his favored. This week, Best Beer Near Me's list of best blackberry sours. For my money, there aren't many fruits that lend itself to sour ales more then blackberry. Blackberries ripen in late August. They color gradually. A glossy purple clot among others, red, green unripe and hardened. It spreads through the vines like thickened wine with summer's blood in it. It leaves stains upon the tongue and lust for picking. As a child I would walk hand in hand with my grandmother with jam pots and coffee tins. The briars scratched and wet grass bleached out boots. We walked and picked until the tinkling bottom of the cans were covered and the big dark blobs glistened like a plate of eyes. Nothing is more satisfying than nostalgia. These beers take me right back to those moments with my grandmother.
The Cut: Blackberry – Casey Brewing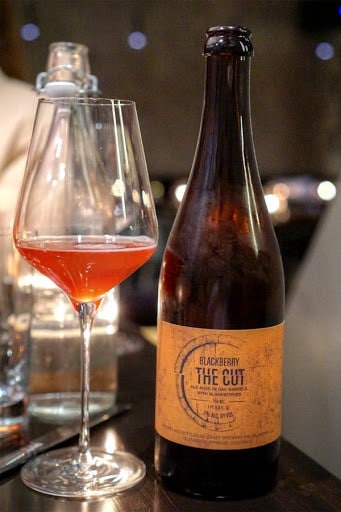 First up on Best Beer Near Me's list of best blackberry sours includes one of the artisans of wild fruited sours. Troy Casey is a purist. He only uses whole fruits that are organically grown and adds these top shelf fruits to his Oak Theory base beer that have been carefully selected for their light funk and acidity. He then ages the beer for weeks on 2 pounds of the handpicked blackberries. Troy hand selects the best barrel. If the barrel does not come up to snuff, the beer simply doesn't get made. He's a mad man like that.
Tasting Notes:
Tasting Notes: It pours a light red/pinkish color. It is loaded with oaky funk. The beer is effervescent with an intoxicating aroma that you have to smell to believe. If you never took a sip, the aroma alone is worth buying a bottle. There is depth of blackberry. From the skin to the juicy berry to the jammy quality, the palate is not cheated. Finishes dry and crisp. If you have the good fortune of drinking this in Glenwood Springs Colorado, the beer takes on a whole other dimension as you begin to taste the climate around you.
Gin Barrel Aged Nocturn Chrysalis – Jester King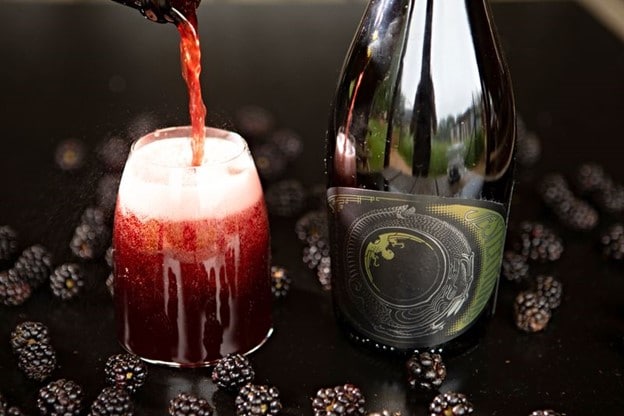 Jester King stumbled onto genius with this brew. Nocturn Chrysalis has been a favorite sour of mine for years, but when they aged this baby in gin barrels it was next level. Gin and blackberries are a God-inspired match.
Tasting Notes:
The nose is blackberry dominant with undertones of gin botanicals and of course that classic Jester King funk. The palate is blackberry upfront, but the gin folds into the blackberry so beautifully. Notes of juniper make this an intriguing experience. As it warms the blackberries really come alive making it a bit jammy. The barrels pulls in accents and never overpowers. This beer is a special occasion must that has to be shared with only your best of friends.
Thicket – Side Project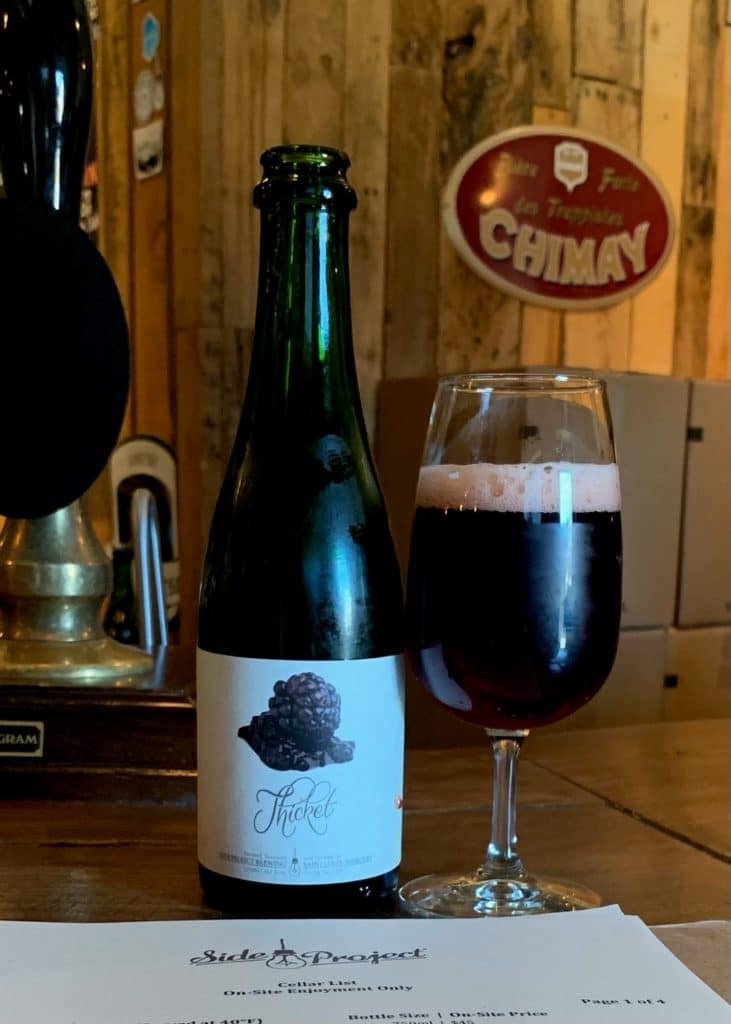 Side Project is arguably the pre-eminent stop for sour and wild ales. Corey King has cultivated a reputation as the Michelin Star Chef of craft beer. With highly sought after beers like Fuzzy, Tete de Cuvee, Balaton, du Fermier, Side Project knows how to make a sour. The base is a blend of their Flanders style red beer with a smidge of their French Oak Foudre beer. For starters the Foudre beer has been aging, via solera method for 5 years. The blend was transferred to Missouri Oak and aged with 3000 lbs of Oregon blackberries where they sat for another year. I was lucky enough to be in St. Louis when this beer dropped. Wow.
Tasting Notes:
Thicket pours a deep purple with a mauve head. The nose is fresh blackberry tangled with lactic funk. Hints of leather and wet stone appear. The palate begins on the acetic side, but not overpowering. There is an underlying sweetness that comes from the malt of the Flanders that runs parallel to the acidity. The blackberry character is unmistakable that leans to the pre-ripe, seedy end of the fruit spectrum. The acidity burns fast and bright, then settles revealing some maltiness and oak.
Jammy – Side Project/Casey Brewing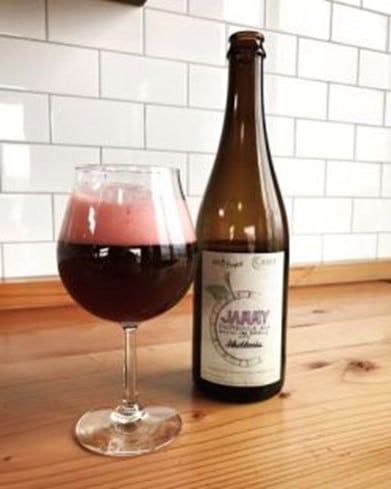 Side Project and Casey Brewing put their collective sour brains together to pump out this insanely delicious blackberry sour. Both breweries share an affinity for layering fresh, local fruit into their Saison base. Jammy is a Saison that has been fermented and aged with mixed cultures from both Missouri and Colorado in French Oak wine barrels for several months.
Tasting Notes:
The beer is a vision of deep, wine-like purple with a finger of fizzy white head. It is bubbly and alive. The nose is full of blackberry, red currant underscored with earthy funk. The palate is moderately tart with hints of white pepper. Its bretty and woody with much more subtle nuance than most fruited sours. Red wine becomes more noticeable as you sip. So much blackberry, which is the point.
Fruit Punch #2 – Sante Adairius Rustic Ales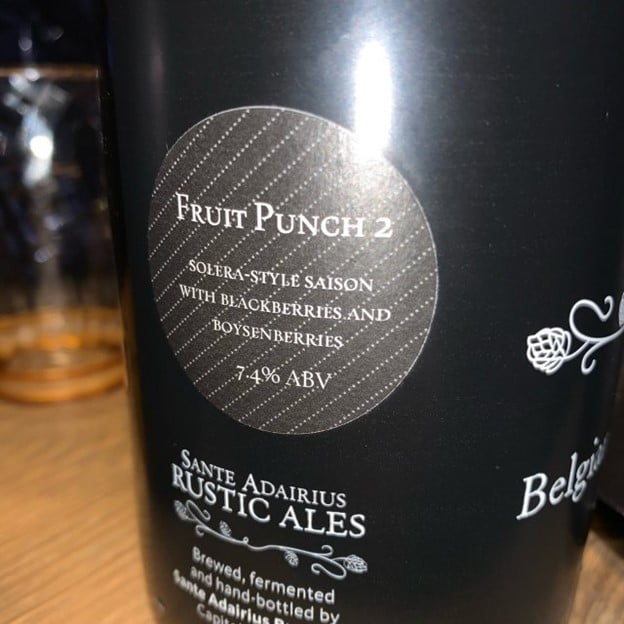 Sante Adairius Rustic Ales is the Yoda of Saisons. I'm cheating a bit with this 2nd iteration of Fruit Punch because it is not purely a blackberry sour. It is a Solera-style Saison with blackberries and boysenberries. But it's just too good not to include, so I'm breaking the rules and putting it on the list. By the by, if you want to try the absolute best boysenberry sour on planet earth, SARA has you covered with Appreciation. Holy Moses is that tasty. But I digress.
Tasting Notes:
FP2 pours a dark ruby red with traces of magenta and just under a finger of white foam. The nose is full of blackberries, cherries and raspberries. This drinks like a jammy berry medley that is heavy on the fruit. There is subtle pucker that slides into a muddled malt sweetness and lacto acidity. The berries are intense and absolutely blend well together.
Blackberry Sour Conclusion:
Best Beer Near Me's list of the best blackberry sours is more than a list. The best blackberry sour beers on this list are master works of beer art that transport you to a special time and place. For me it's Fort Cobb Oklahoma, summer of 1977 with my grandmother. Some berries fall, those are for the squirrels and raccoons. Other berries remain unripe and hard, those are for the foxes and the deer. Some go into the coffee tin, those are for you. You get to taste them even if just for a moment. One tiny blot of dark sweetness after another until their gone. I'm thankful to these beers for taking me there.