Best Beers in Vermont – Little State, Big Craft Beer Selection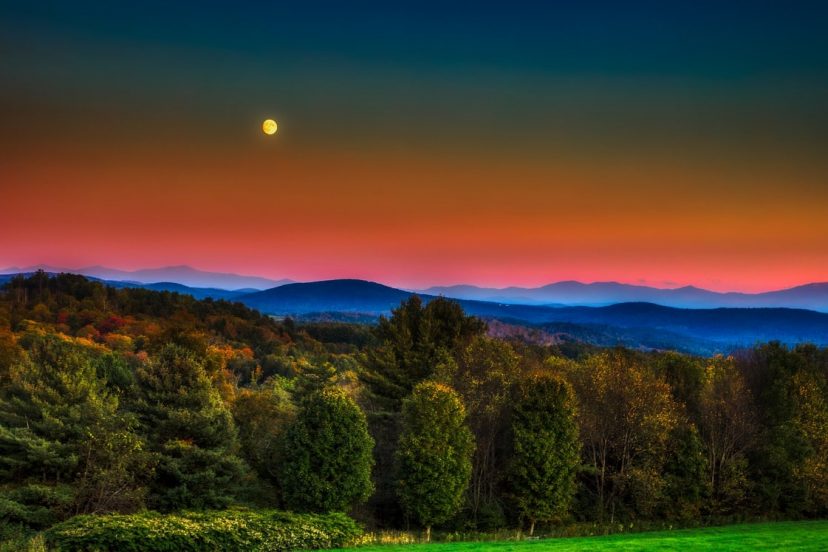 Vermont has been a force in the craft beer industry for ages, dating back to Greg Noonan opening a brewpub in 1988. Nowadays there are more than 50 breweries operating within state lines. IPAs and any variation thereof are likely to be found at just about any brewery in the state, but the innovation and creativity taking place in the Vermont beer scene is unmatched. If you find yourself looking for a brew or two around Vermont, here are 10 breweries and some of the best beers in Vermont you should not pass up.
(403 Hill Rd Greensboro Bend, VT 05842)
Hill Farmstead Brewery has time and time again been named RateBeer's Best Brewer in the World. Located in Vermont's Northeast Kingdom and situated on land owned by the Hill family for more than eight generations, Hill offers a wide range of beer styles. One of their most popular offerings is Anna, a 6.5% ABV Ale Brewed with Honey, named after an aunt who once called Hill Farmstead home. The subtle sweetness of this brew is perfectly balanced with the tart brett flavors. Edward, named after the founder's grandfather, is their unfiltered and dry hopped American Pale Ale brewed with four different hops. While this beer is somewhat bitter, the earthy and citrus flavors from the hops bring this beer to life.
Grassroots Brewing, a buzzy name in the Vermont brew scene, calls Hill Farmstead home, or rather, IS Hill Farmstead. Grassroots is a line of beers that may otherwise not fit in Hill's portfolio, for example; Brother Soigné is a tart and refreshing Farmstead Ale brewed with hibiscus, blood orange, and lime. Another Grassroots beer is Viola Sofia, a full bodied Russian imperial stout with notes of chocolate and smokiness offering a lush mouthfeel. Visiting Hill Farmstead will make you feel right at home with all the heritage it has to offer.
Feature Hill Farmstead Beers:
(100 Cottage Club Rd Stowe, VT 05672)
If you ever find yourself in Stowe, VT, The Alchemist should be at the top of your list. Their facility is beautifully set up to produce beer and offers the instagramable taproom of your dreams. Their Stowe location is the only place to get limited run specialty beers, ranging from fruited sours to irresistible double IPAs. You cannot visit without trying The Alchemist's two core beers: Heady Topper, their 8% ABV double IPA and Focal Banger, their 7% ABV New England style IPA. Heady Topper boasts a blend of six hops and is not intended to hit you with a bitter flavor up front, instead the aroma and range of flavors will leave you trying to pick out which flavor is your favorite. Focal Banger on the other hand is brewed with Citra and Mosaic hops, each drink packed with a pleasantly bitter juicy fruit flavor.
Feature Alchemist Beers:
(25 Omega Dr #150, Williston, VT 05495)
Making the list of best beers in Vermont, just a few miles from the Burlington airport, Burlington Beer Company occupies a large warehouse outfitted with an artistic and trendy taproom and restaurant. Since beginning in 2014 BBCO has grown tremendously, giving them the opportunity to brew in excess of 50 beers each year.
With such a large menu there is something for everyone, but a real hit of theirs is Beachcomb, a pina colada style double gose with pineapple and coconut. Coming in at 8% ABV it is a boozy beer, but with the strong coconut flavor it feels like you are sitting on a beach. Creatures of Magic seems to be a home run every year for them as well. A New England style IPA brewed with Oat Malt, Flaked Oats, and three different hops ranging in flavor and aroma profiles from berries to pine. Creatures of Magic brings a whole new level of creamy to NEIPAs without being too heavy. Within the year Burlington Beer will be moving into their namesake city's Southend on Flynn Ave, be sure to check out their new digs next time you are in town.
Best Burlington Beer Company Beers:
(112 Lake St, Burlington, VT 05401)
It would be a shame for you to miss Foam Brewers' waterfront taproom patio, with breathtaking views of Lake Champlain. Foam is no stranger to hops, boasting a menu almost completely full of IPAs, but they also offer sours and even a traditional Lager. Check out Canvas, a pale ale with notes of tropical fruit, a velvety mouthfeel and a bit of lemon juiciness. Canvas has a nice bitter bite to it, but it is an easy to drink pale ale, especially with 4.5% ABV. If you're looking for true hop goodness though, grab their A Thousand Beautiful Things double IPA. This 8.0% ABV beer is dry hopped with Comet and Mosaic hops and brings notes of passionfruit, blood orange, and pineapple. If you are looking for views to complement your brews, look no further!
Feature Foam Brewers Beers:
(716 Pine St, Burlington, VT 05401)
Zero Gravity began in 2004 as part of a brewpub in Burlington; however, in 2015 they opened a production facility on Pine St where they now do all their brewing. This location also has a taproom with great outdoor seating, offering a full food menu along with beer for onsite consumption or to take to go. Green State Lager is one of their year-round beers. A perfectly balanced pilsner brewed with Noble hops to provide a crisp easy to drink beer. Zero Gravity also has a robust seasonal beer list filled with gems. A favorite from the seasonal list is Sippie Wallace, a 6.3% ABV IPA makes for the perfect summer beer. With Simcoe, Azacca, and Idaho 7 hops this beer gives off notes of pineapple and cherry, plus the can art is pretty cool.
Feature Zero Gravity Beers:
(6305 Shelburne Rd, Shelburne, VT 05482)
Fiddlehead Brewing Company sits across the street from a vineyard about a mile away from Shelburne Falls. Their taproom includes a woodfired pizza kitchen and beer by the glass or bottle. You would be missing out if you did not try their 6.2% ABV flagship beer, Fiddlehead IPA. It is an American IPA with a bit of haze to it, you will experience notes of citrus along with the dank hops flavor you are looking for. If you are hoping for something with a little more funk, check out the Shape Parade they have available. This wild ale is available in a 500ml bottle and is often aged in barrels and/or fermented with fruit.
Feature Fiddlehead Beers:
(171 Commerce Street, Hinesburg, VT 05461)
About 15 miles Southeast of Burlington is a hidden gem of the Vermont craft beer scene, Frost Beer Works. Located in Hinesburg, the founders of Frost set out to prove that hoppy≠bitter. While every beer in their year-round profile is an IPA, the recipes highlight the different flavors and aromas of each hop variety. Starchild is one of their lower ABV beers at 6%. It is an IPA with notes of pepper and fruit right off the bat with a nice floral finish leaving you wanting more. Double Shush on the other hand is one of their double IPAs filled with citrus and tropical fruit flavors with medium body and an 8% ABV. If you are feeling adventurous on your visit to Frost, check out their Research Series to see what new and fun hop combination they are trying out.
Feature Frost Beer Works Beers:
(155 Carroll Rd, Waitsfield, VT 05673)
If you are looking for the perfect spot to grab a beer and snack after a day of hiking, Lawson's Finest Liquids is it! Lawson's has long been known for Double Sunshine, their double IPA with juicy fruit flavors and dank aromas. If you aren't all in on hoppy beers but dabble a little you will love The Space Between, their "undefined ale" as they put it. This beer is dry hopped with Nelson and Galaxy hops. But is well balanced by the oats and wheat it is brewed with. You'll get some tartness as indicated on the can. Don't be surprised when you can't quite define what type of beer it is.
Around May they do a seasonal release that may pique your interest. Scrag Mountain Pils Salt & Lime, this is their Czech pilsner infused with, you guessed it, salt and lime juice, does it get any more refreshing than that?
Feature Lawson's Finest Liquids Beers:
(228 Chelsea Street, South Royalton, VT 05068)
The three owners of Upper Pass Beer Company first brewed their beer in Tunbridge, VT on a small system. Later debuting at Turnbridge's World Fair in 2015. Today, their location in Tunbridge is for used production only. However, their beer can be enjoyed at First Branch Coffee on Chelsea St, owned by the same trio.
IPAs seem to rule the Vermont beer scene, but Moove On Up is Upper Pass' Milk Stout brewed with cocoa nibs, oats, and a bit of First Branch's cold brew. The lactose in Moove On Up tones down the sweetness, but amps up the silky smooth texture and mouthfeel. Alternatively, if you do prefer to indulge on the hoppier side. Check out one of their newer brews, Cashmere Hoodie, a pale ale brewed with Cashmere and Centennial hops. Cashmere Hoodie is an easy drinker at 5.3% ABV, not to mention the freshness of the tropical and citrus flavors.
Feature Upper Pass Beers:
(79 Stone Mill Dam Road, Brandon, VT 05733)
Last, but not least on our list of the best beers in Vermont, Foley Brothers Brewing. This pirate themed family run brewery is located on the property of The Inn at Neshobe River. Foley Brothers relies on fresh ingredients and "doing it the hard way" to bring flavor and consistency to their beers.
Fair Maiden, their flagship double IPA is named after the wife of one of the owners. This IPA is brewed with seven varieties of hops. Boasting an IBU of 90 it packs a punch of bitterness. However, is nicely balanced by the rich malt it was brewed with. The nose on Fair Maiden is piney, but the flavor has notes of orange, lemon, and pineapple. If a West Coast IPA is your go to, you must try Mutiny. It has all the citrus and piney goodness without all the juicy haze. The Inn at Neshobe River has a few guest rooms and a winery onsite if you are looking for a nice overnight brewery trip.
Feature Foley Brothers Beers:
Best Beers in Vermont – Conclusion
Whether you are looking for a small, homegrown operation running out of a garage, or a widely distributed, well known brand Vermont has it. With the consistent top ranking for breweries per capita and a rising beer production per capita, Vermont does not seem to show any sign of slowing down on the craft beer front. Grab yourself a pint and take in all the beauty and best beers Vermont has to offer. Check out our other East Coast Craft Beer Reviews.