Best Beers in Burlington, VT – Brews Around Burlington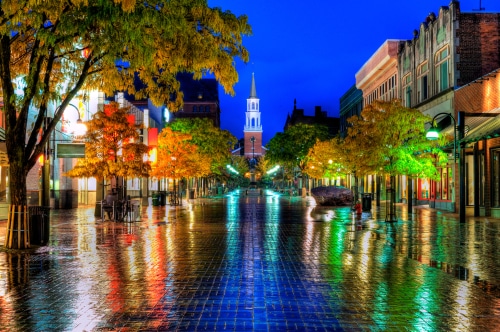 Vermont's craft beer scene has always been abuzz. According to The Brewers Association, in 2020 Vermont had the most breweries per capita. A hot spot on the map of Vermont breweries is Burlington. Located in Northwest Vermont on Lake Champlain, Burlington has been called home to many breweries. While Magic Hat closed their Burlington location, there are still many great options around town. We have gathered information about 5 breweries and the best beers in and around Burlington that you won't want to miss.
(25 Omega Dr #150, Williston, VT 05495) Coming Soon: 180 Flynn Ave, Burlington, VT 05401
First on the list of Burlington's best beers, just a few miles from the Burlington airport, Burlington Beer Company occupies a large warehouse outfitted with an artistic and trendy taproom and restaurant. Since beginning in 2014 BBCO has grown tremendously, giving them the opportunity to brew in excess of 50 beers each year.
With such a large menu there is something for everyone, but a real hit of theirs is Beachcomb, a pina colada style double gose with pineapple and coconut. Coming in at 8% ABV it is a boozy beer, but with the strong coconut flavor it feels like you are sitting on a beach. Creatures of Magic seems to be a home run every year for them as well. A New England style IPA brewed with Oat Malt, Flaked Oats, and three different hops ranging in flavor and aroma profiles from berries to pine. Creatures of Magic brings a whole new level of creamy to NEIPAs without being too heavy. Within the year Burlington Beer will be moving into their namesake city's Southend on Flynn Ave, be sure to check out their new digs next time you are in town.
Best Burlington Beer Company Beers:
(112 Lake St, Burlington, VT 05401)
It would be a shame for you to miss Foam Brewers' waterfront taproom patio, with breathtaking views of Lake Champlain. Foam is no stranger to hops, boasting a menu almost completely full of IPAs, but they also offer sours and even a traditional Lager. Check out Canvas, a pale ale with notes of tropical fruit, a velvety mouthfeel and a bit of lemon juiciness. Canvas has a nice bitter bite to it, but it is an easy to drink pale ale, especially with 4.5% ABV. If you're looking for true hop goodness though, grab their A Thousand Beautiful Things double IPA. This 8.0% ABV beer is dry hopped with Comet and Mosaic hops and brings notes of passionfruit, blood orange, and pineapple. If you are looking for views to complement your brews, look no further!
Feature Foam Brewers Beers:
(716 Pine St, Burlington, VT 05401)
Zero Gravity began in 2004 as part of a brewpub in Burlington; however, in 2015 they opened a production facility on Pine St where they now do all their brewing. This location also has a taproom with great outdoor seating, offering a full food menu along with beer for onsite consumption or to take to go. Green State Lager is one of their year-round beers. A perfectly balanced pilsner brewed with Noble hops to provide a crisp easy to drink beer. Zero Gravity also has a robust seasonal beer list filled with gems. A favorite from the seasonal list is Sippie Wallace, a 6.3% ABV IPA makes for the perfect summer beer. With Simcoe, Azacca, and Idaho 7 hops this beer gives off notes of pineapple and cherry, plus the can art is pretty cool.
Feature Zero Gravity Beers:
(6305 Shelburne Rd, Shelburne, VT 05482)
Fiddlehead Brewing Company sits across the street from a vineyard about a mile away from Shelburne Falls. Their taproom includes a woodfired pizza kitchen and beer by the glass or bottle. You would be missing out if you did not try their 6.2% ABV flagship beer, Fiddlehead IPA. It is an American IPA with a bit of haze to it, you will experience notes of citrus along with the dank hops flavor you are looking for. If you are hoping for something with a little more funk, check out the Shape Parade they have available. This wild ale is available in a 500ml bottle and is often aged in barrels and/or fermented with fruit.
Feature Fiddlehead Beers:
(171 Commerce Street, Hinesburg, VT 05461)
About 15 miles Southeast of Burlington is a hidden gem of the Vermont craft beer scene, Frost Beer Works. Located in Hinesburg, the founders of Frost set out to prove that hoppy≠bitter. While every beer in their year-round profile is an IPA, the recipes highlight the different flavors and aromas of each hop variety. Starchild is one of their lower ABV beers at 6%, it is an IPA with notes of pepper and fruit right off the bat with a nice floral finish leaving you wanting more. Double Shush on the other hand is one of their double IPAs filled with citrus and tropical fruit flavors with medium body and an 8% ABV. If you are feeling adventurous on your visit to Frost, check out their Research Series to see what new and fun hop combination they are trying out.
Feature Frost Beer Works Beers:
Best Beers in Burlington – Conclusion
Burlington's rich beer culture makes for the perfect weekend getaway if you are looking new beers to try. As the Southend continues growing there are sure to be many Burlington beer destinations worth visiting. If you are looking to explore more of Vermont's best beers on your next adventure, check out our article on The Best Beers in Vermont.