Kegerator Buying Guide – How to Buy the Perfect Kegerator – 4 Things to Consider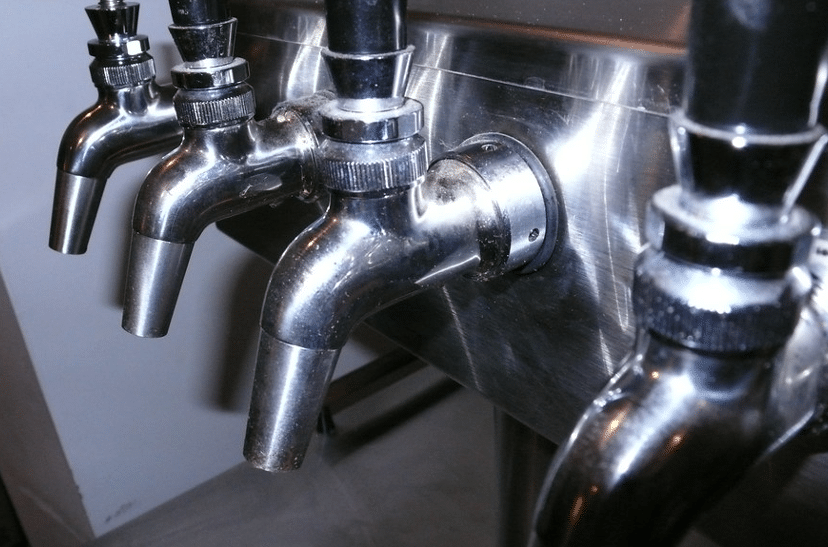 What could be better than enjoying a fresh, chilled beer at home after a long and tiring day at work? This is why kegerators were invented in the first place. You can purchase them from the store, rent them, and even build them using a refrigerator. A good kegerator in 2020 reduces beer waste and keeps it fresh for a long time. Storing and pouring beer right out of the keg is like a dream come true. Read on for your kegerator buying guide for 2020
Put simply, a kegerator is a combination of a keg (you guessed it!) and a refrigerator. However, this isn't just any refrigerator. It has been designed to preserve the fizziness and flavor profile of the beer. As is true for just about any commercial product out there, there are pros and cons of owning a kegerator. Make sure to do your due research before investing in one.
We've rounded up four things you should consider before buying a kegerator. The good news is you don't have to worry about where to buy a kegerator, amazon can deliver right to your door.
1. Do You Have Kegerator Storage Space?
You'll have a hard time storing kegerators in cramped-up rooms and basements. Those of you that have home bars need to evaluate the space you have. An average kegerator is at least the size of a keg, which means you'll need about three square feet of floor space (or more for multiple kegs). Some advanced kegerators are outfitted with a draft tower on top, and this adds about 4 more inches to its height.
If you're not ready to make a huge investment or don't have enough storage space for one, then a mini kegerator is a suitable alternative. This unit is much more affordable and gets the job done, albeit only fitting around 5 liters of the keg. It conveniently sits on your countertop, and you can take it with you wherever you go. Plus, you get the best draft beer experience without breaking the bank!
The only problem is that you'll have a limited selection of beers available in a 5L keg. That said you can get a healthy fill of your favorite craft beer. (10 pints/169.7 ounces)
Our recommendation: 5L Mini Stainless Keg by Fdit1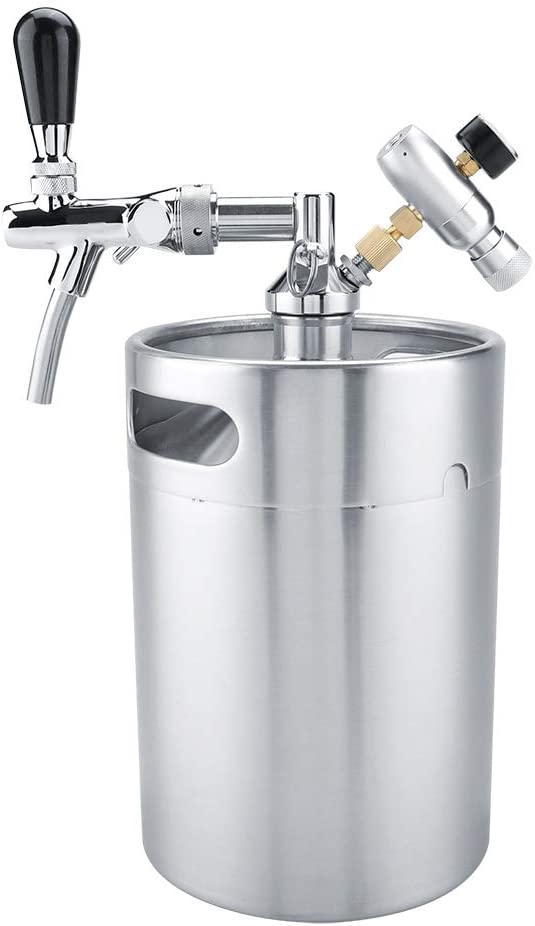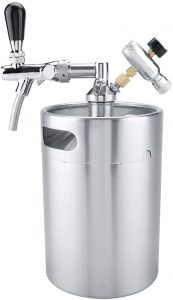 Pros
Adjustable pressure
5L of storage space
Keep beer fresh for weeks
Insulator sleeve included
2. Does Portability Matter to You?
Bringing a kegerator to an outdoor party will instantly make you the MVP for the day, but transporting traditional kegerators is a tough call. This is true for those that are made of metal since they can weigh up to a ton! They're not easy to transport, so if you want to move them around, you'll need something more portable. Some manufacturers have come up with an efficient and more modern way of transporting beer kegs: portable kegerators.
Our Recommendation: Pressurized Beer Mini Keg System by NutriChef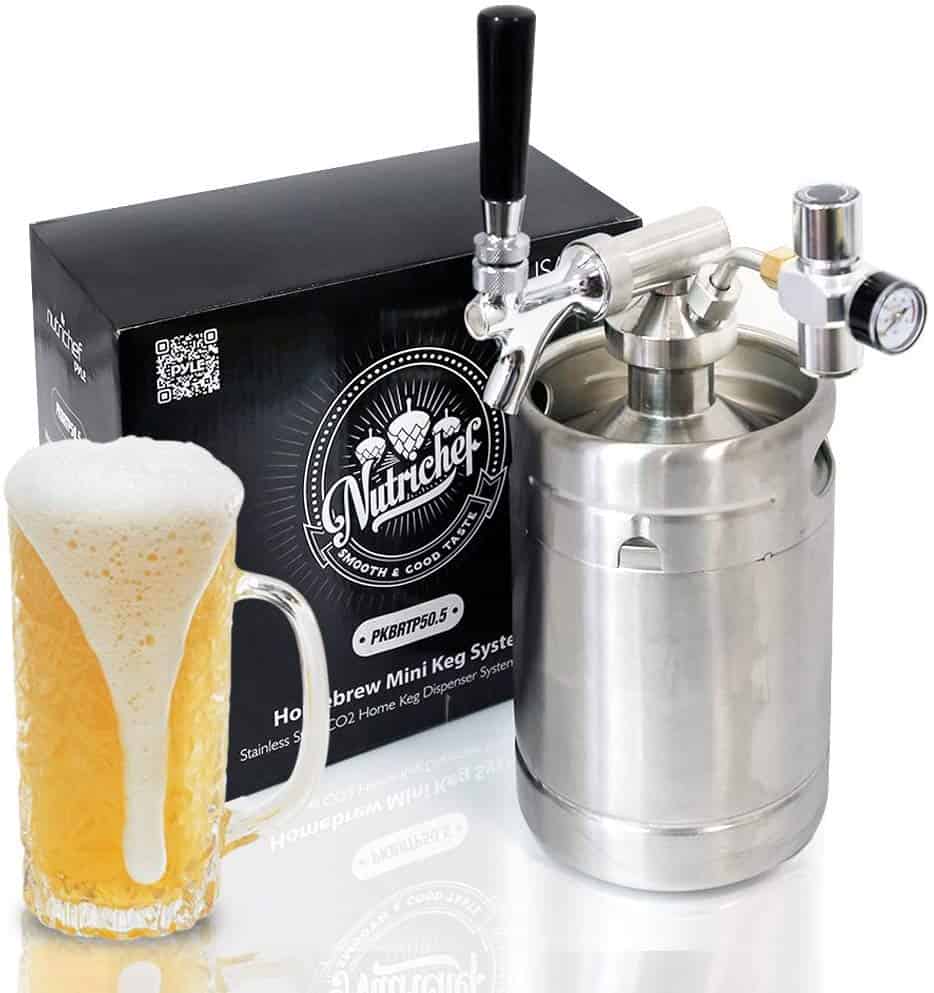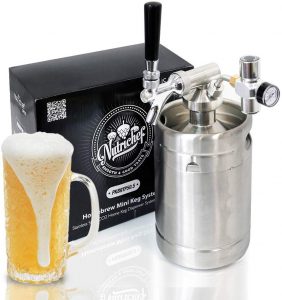 One such product that is easy to transport and gets the job done is the Pressurized Beer Mini Keg System by NutriChef. It's hard to believe it weighs only 4 pounds and keeps your beer carbonated.
Pros
Portable
Easy storage
Assembles Easily
Inexpensive
Built like a tank
3. Want to Store the Kegerator Outside?
If you love your draft beer, then you'll want to quench your thirst every time you enter and leave the home. Sometimes, you just want to keep a kegerator close by for convenience in case an outdoor party comes up. A typical kegerator simply won't withstand the challenges of the outdoor environment. You need something more rugged and robust: you need an outdoor kegerator.
A lot of engineering goes into these units to make them durable enough to function outside. They're going to cost you anywhere from $400 to $5000.
Outdoor Kegerator: KC7000SSTRIP Kegerator by Edgestar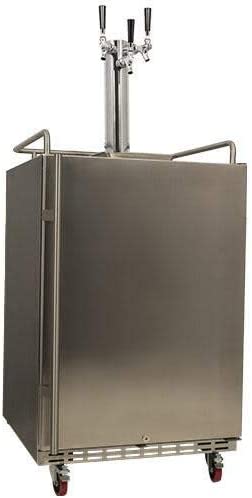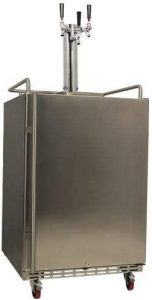 This freestanding kegerator has a tough protective stainless steel construction for extra durability. You'll need a cannon blast to get past its defenses. Another nice feature is it has multiple taps option.
Pros
Versatile temp range
Stainless steel construction
Practically guarantees perfect pour every time
Are You Ready for Maintenance Work?
The cleaner your kegerator is, the better your beer's taste will be. Experts recommend cleaning the draft beer lines every two weeks with a caustic cleaning agent. Every three months, clean the kegerator with acid to get rid of the beer stone. Properly balancing your draft system isn't very difficult, you just have to get used to cleaning it now and then.
But if you want the luxury of pouring fresh beer without the effort, you're better off going to the nearest bar. Just make sure to wear protective gear such as eyewear and sturdy rubber gloves when handling the chemicals used for cleaning beer lines!
Our recommendation: Kegerator Beer Line Cleaning Lit by Right Dynamics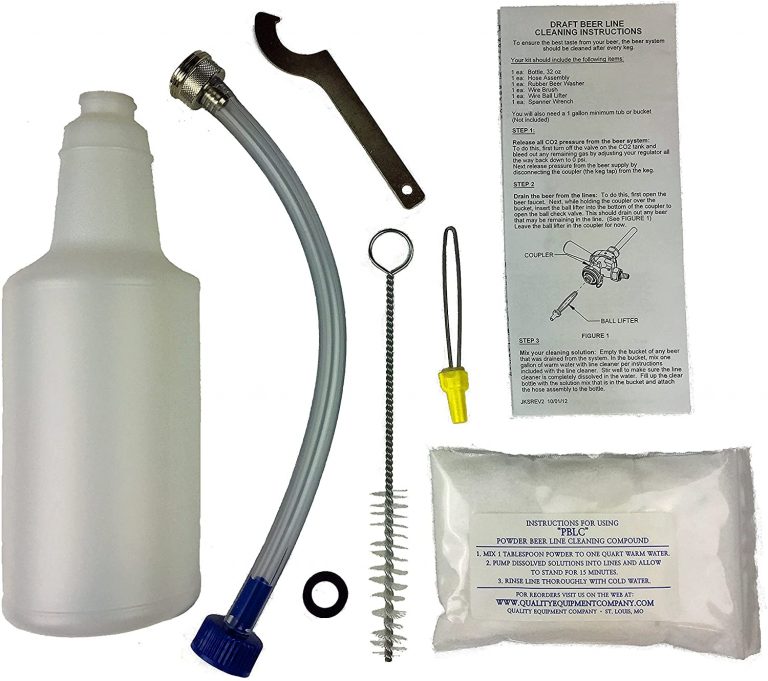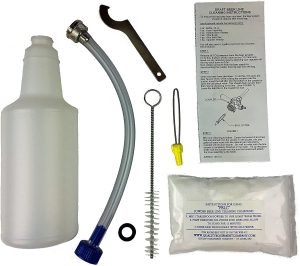 This kegerator cleaning kit is made with leak-proof materials and simplifies the process of beer line cleaning.
Pros
Quality seal materials
The kit is fit for easy cleaning
Hose assembly fits all standard draft towers
4. Kegerator Noise Levels
A kegerator is like a refrigerator with the ability to pour draft beer. This means that it's going to make those 'fridge' noises we've all grown to love and hate. If you're not a fan of unsteady squealing, groaning, and chirping noises, then you should consider investing in a 'quiet' kegerator. Out of sight and out of mind, as the saying goes.
Our recommendation: The K309SS-1 by Kegco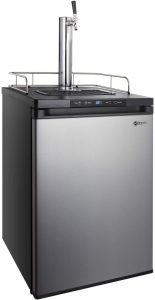 This stainless steel kegerator has plenty of features and solid performance. It comes with a sleek stainless steel door and an LED display that lets you see the temperature at a glance. More importantly, it boasts ultra-quiet operations, which means you'll never hear a thing unless your ear's practically up against its walls. However, this unit is a bit pricy.
Pros
Quiet operation
Durable
Large interior
Cool design that looks good in most interior settings
DIY Kegerator – Homemade Kegerator
Last part of our kegerator buying guide, isn't really about buying a kegerator. Although there are a few companies that specialize in making commercial kegerators or draft systems for home use, you could always go the DIY route if you want to flex in front of friends or save a couple of hundred bucks. The kegerator kit process is rather easy to follow, and we've even found a nice little step-by-step guide you can check out here. Only do this when you've got some free time on your hands!
Kegerator Buying Guide – Conclusion
If you have a "go-to" beer, the beer you sip on over and over, or if you're entertaining a large group of people, then a keg makes a lot of sense. It allows your beer to stay fresh longer and your favorite everyday beer is there just waiting for you like an eager puppy watching you come up the sidewalk. If you like variety, but want the same experience as a draft, then the smaller mini-kits are the way to go. Join our newsletter.