20 Best Beers in New England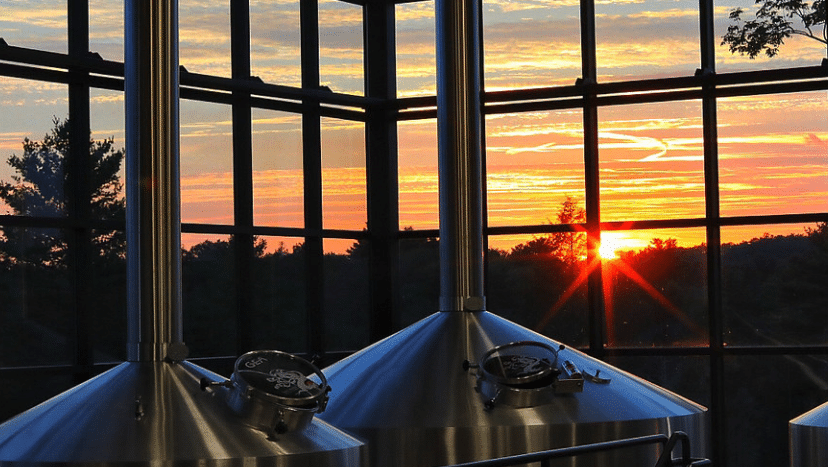 Hazy Shade of Winter
"Look Around. Leaves are brown. And the sky. Is a hazy shade of winter." – Simon and Garfunkel.
It's a crisp afternoon as I look out over Boston Harbor. A dense fog is creeping slowly across the water like a shadow. It's fitting that the air fills with this wintery haze as this is the cradle of the New England IPA phenomenon. Beers so cloudy that the collective vision of the beer drinking region has lost sight of the trail of bread crumbs that lead to clean filtered beer. Though this craze gained its popularity in New England, the virus has spread throughout the United States. There is not a region in the land that has not found their fevered collective unconscious infected with this hazy contagion. And what a beautiful sickness it is. This craze is more than a trend now as it has produced the most popular beers across the whole of the craft beer landscape. I have selected the 20 best beers in New England based solely on my experiences with these beers.
Analysis Approach
I'll approach my analysis of the best beers in the region a little differently. NEIPA's are so ubiquitous in the region it stains the backdrop and limits the ability to research any beers beyond this style. Ratings of NEIPA's on Untappd or Beer Advocate are only separated by fractions of a point, making it difficult to name one as "the best" let alone rank them. In fact, if you were to take the best hazies from every state and average their scores, they're virtually all above 4 on a 5-point scale. This speaks more to how popular the style is, than anything else. The bulk of the beer drinking crowd is consuming this style at a pace that is far and away ahead of any of the others. Novice beer drinkers as well as seasoned craft connoisseurs are among the masses.
This is also solid evidence that beer ratings are basically meaningless. While untapped and beer advocate are good resources to learn about a particular beer, they sometimes tilt the scales away from trying less popular styles due to arbitrary ratings from people who may not understand a particular style. I'm taking a cross-sectioned look at the 20 best beers in New England. For this particular exploration, I will separate beers by brewery and then list the best offerings of that brewery. For old school, non-ipa fans, hold steady. I plan on introducing a few to the list that are not hazy.
20 Best New England Beers (give or take a few)
(129 Sturbridge Rd. Charlton, MA 01507)
Tree House is the Mecca of New England IPA's. These guys were the ones who took the style to its zenith. In the early days of the craze people were clamoring from all over the US to get their hands on some of their brews. To this day, lines stretch 300 hundred deep on a routine basis. Virtually every beer they produce is rated above 4 on Beer Advocate and Untappd (for what that's worth). Tree House produces their signature beers and then kicks them up a notch with variants of said beer. Julius, Haze, Green, Sap and Alter Ego are the bricks that built the brewery's popularity. One of my most memorable beercations was too Tree House.
It is a beautiful setting with a staff that works like a finely tuned clock. People are eager to be there so the space between each other fills with enthusiasm and camaraderie. You can make a quick trip or you can take your time and enjoy your surroundings while savoring the best IPA's on the planet. NEIPA's have a reputation of tasting the same, and in most cases that is largely the case, but at Tree House you can taste the differences, the nuances that only come from attention to detail and a deep understanding of ingredients and the artistry to manipulate these mediums into a something special and unique.
Canton – (110 Shawmut Rd. Canton, MA 02021)
Fort Point – (50 Thompson Place, Boston, MA 02110)
Fenway – (401 Park Dr. Boston, MA 02215)
Beer Garden – (High Street and Atlantic Ave. Boston, MA 02110)
Trillium Ft. Point was my first stop during my NEIPA beercation. It is a tiny spot that is for pick up only. So I grabbed a caboodle of everything I could carry, then ventured my way down to the beer garden. I love the idea of sharing a beer with locals in the center of the city. You cannot escape the energy of that city, its smells, its noise, its personality and its foibles. Trillium celebrates Boston and you can taste it in their beers. They are unashamedly the NEIPA capitol of Boston and they have been rewarded with 4 locations due to that popularity. While NEIPA is their bread and butter, they do offer some delicious alternatives that should not be overlooked. Here were some of my personal favorites.
(403 Hill Rd. Greensboro Bend, VT 05482)
I have not had the good pleasure of traveling to this brewery, however, I have gotten to sample several of their beers. It is a bucket list dream to make it to this brewery as I believe it is best to drink the beers at the location they were created. You are drinking more than a beer that way, you are taking in the moment, time and atmosphere of the location. It's an experience that can only exist at that point in time and space. I can just imagine breathing in the pine, viewing the rolling landscape and feeling the Vermont air on my skin as I sip on a beer that punctuates all of those qualities. The best I can do for now is to slowly savor these incredible brews with my eyes closed and dream.
(100 Cottage Club Rd. Stowe, VT 05672)
The Alchemist Brewing Company is a bucket list visit for most craft beer aficionados. It is really where the hazy craze fuze was lit. It rates a 4.9 on Beer Advocate in terms of breweries so that demonstrates in no small part to its enormous appeal. While I'm sure it is beautiful and the folks are friendly, the real draw is there legendary beers.
5. Honorable mentions
(30 Moore Rd. Weymouth, MA 02189)
Try the "There Goes the Neighborhood"—a delightful triple IPA, "Big Red Boat" or the "Long Live at Sea." These offerings are a little lesser known gems tucked away in this fantastic brewery that is gaining steam with the locals.
(2804 Milbrook, St. Worcester, MA 01606)
Try the "Pulp Daddy" recent winner of last year's March Madness, blind taste test of all the top NEIPA's in New England. A list that featured heavy weights like Tree House, Trillium, and other big hitters. "Pulp Daddy" beat them all. No bias. Just straight taste test.
(31 Astor Ave. Norwood, MA 02062)
Try the "Bohemian Shine" the 2019 GABF gold medal winner for Bohemian-Style Pilsner. A satisfying beer that ushers in clean grain, corn bread sweetened with caramel indications from the malt and rounded off with the slight bitterness of floral hops.
Wrap-up
Wow. This list of the 20 best beers in New England is an insanely large list of mainly NEIPA's with a dash of sour, pilsner and stout just to make it interesting. This is an IPA lover's paradise. Park yourself at one or all of these amazing breweries and try the best beers in the land. You cannot go wrong with any that you try. There are so many more I could add to this list and if I were to throw this away and start again, I'm sure there would be new ones that I had forgotten. It's all a blur man…a "haze"…a beautiful, beautiful "haze".
Cheers.