Oak Highlands Brewery: In My Neighborhood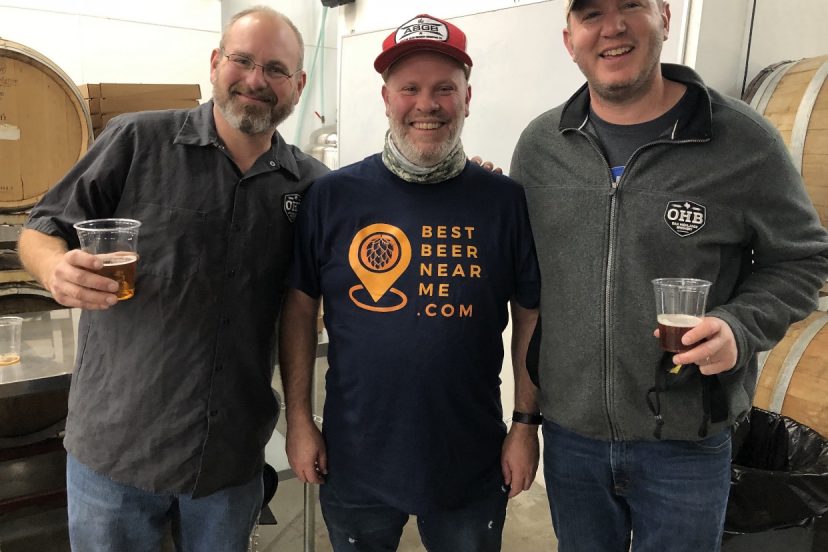 In my neighborhood
I never sweat when I'm
In my neighborhood
I feel much better when I'm
In my neighborhood–-Dirty Heads
It's a family thing. Oak Highlands Brewery is about neighborhood. It's about community. OHB is inextricably tangled with the Lake Highlands family. Brad Mall and Derrin Williams, founders of Oak Highlands Brewery set out to intentionally infect the community with their support and loyalty. "They've given so much to our brewery, it's important that we give back" was a phrase emphasized by Brad Mall in an interview I did with the pair.
At first glance Oak Highlands is no more impressive than the litter of warehouse spawned breweries that stain the craft beer frontier. No one is coming here because it looks beautiful; however, as the 4.54 rating on Beer Advocate can attest, when you get here the beauty of this place works its way into your tissue.
I sat down with the dynamic duo to discover what Oak Highlands Brewery was about. What their goals were. How they managed to not only survive, but thrive during a business crushing pandemic. More than that, I got to learn about the people that Brad and Derrin are and how those personalities are the real draw to this neighborhood brewery.
The beer lineup isn't going to seduce you with hyped IPA heavy options. Nor is it driven by trendy adjunct or barrel aged offerings that saturate the secondary market. The brewery's beer list is full of no-frills, beer-drinker beers, meant to be a tasty social lubricant for the few hours you will spend here.  The beer is the canvass for the stories told.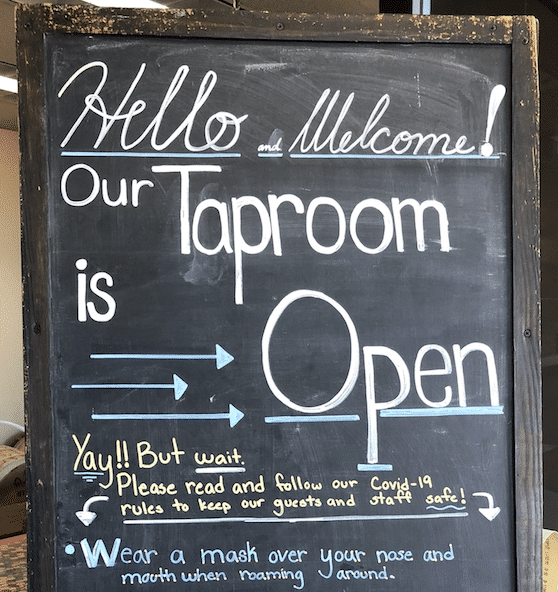 In my travels I've observed one common thread, we live in a land of fevered unconsciousness. We exist as insects crawling across the shiny hood of a beautiful car. We're children at Christmas looking at the paper without tearing into the package to see what's in there. While most people don't care if they're lied to, so long as they're entertained, Oak Highlands cuts through that bullshit. There are no frills. No fancy paper. The outside reflects what's inside. No one is seeming to be, they just be.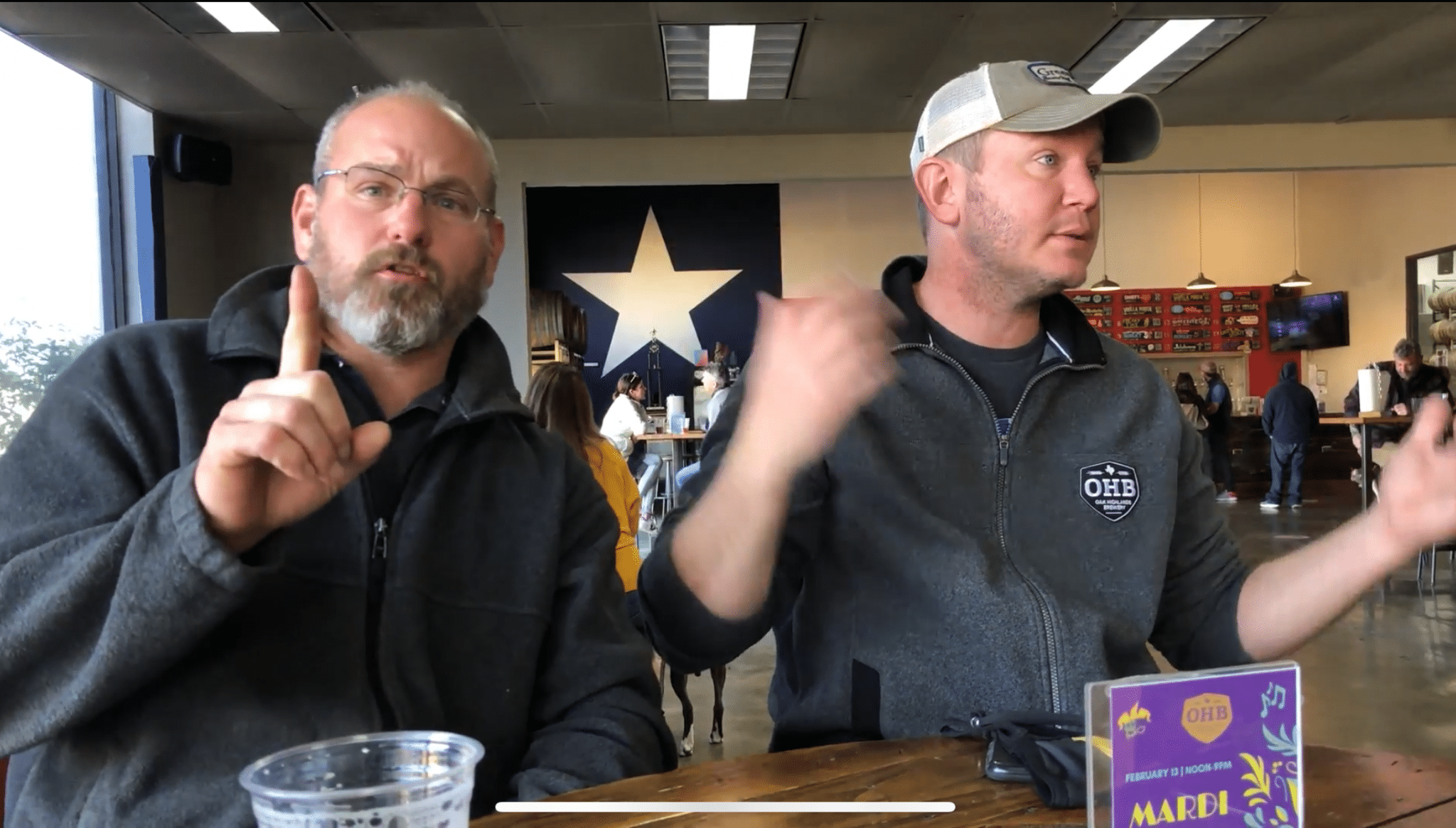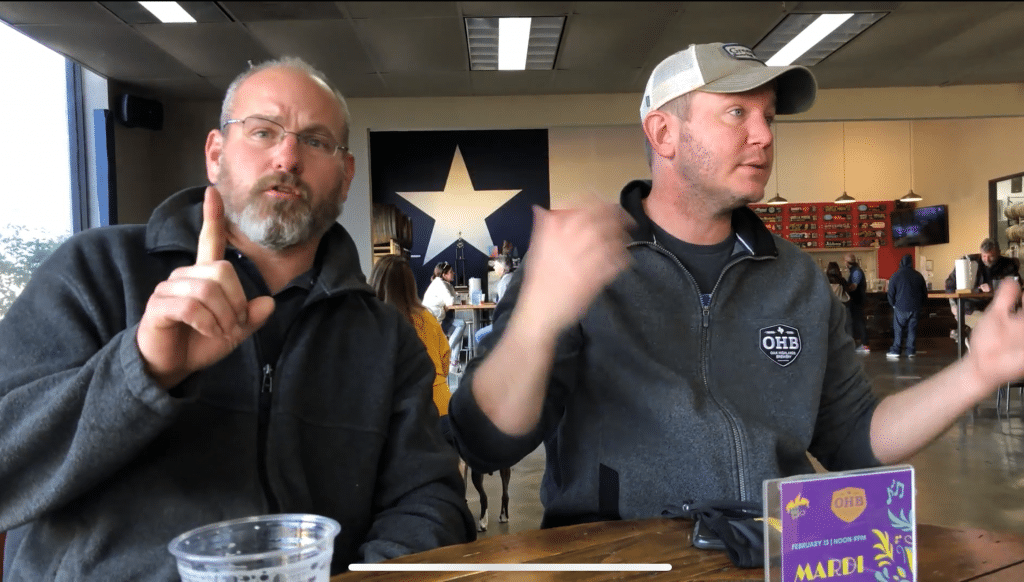 What impressed me most, was Brad and Derrin are more than just masters of their brewing craft; they are teachers. Curators of traditional styles. Impresarios of new experiences. Roving ambassadors of beer knowledge. When you pull up a seat at Oak Highlands you are ensured meaningful sips of history. You will continue to imagine and tell stories from the stools curling around the bar; and there is a palpable sense that you take on the stories of those who sat there.
There is a peculiar intensity about Brad which becomes more compelling the longer you sit across from him. The longer you listen, the greater the stray memories and associations you build up. Brad barks his voice out through a closed throat, that induces you into a charmed spell like a Tom Waits tune.
Derrin is a giant human. Standing next to him I felt like a toddler waiting his chance to climb on Santa's knee. At what has to be 6'5–6'6", he is the ideal height for my weight. Though he is intimidating in size, he is disarming with his warmth and ease of manner. He acknowledges you with a pace that is considered and steady. He is a calming Yin to Brad's Yang.
Why Lake Highlands?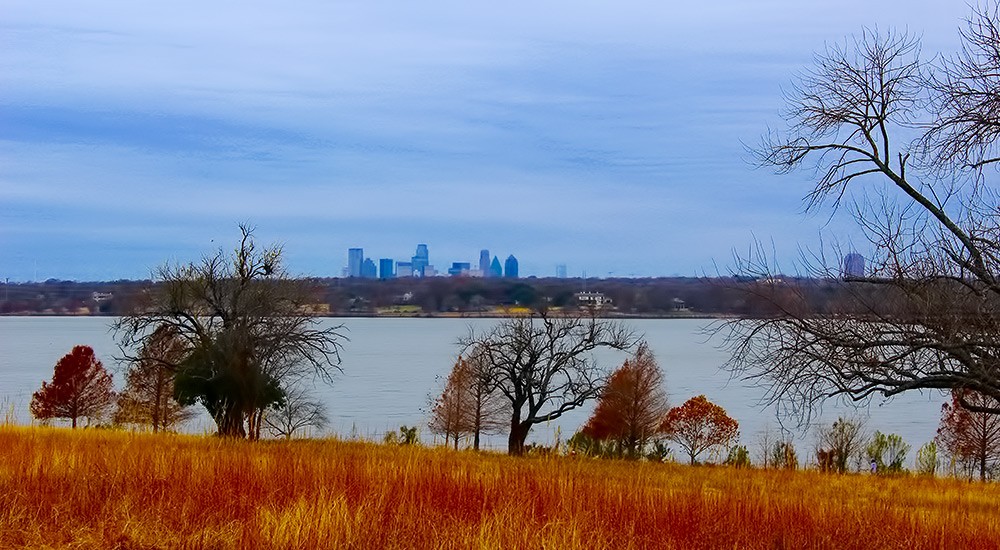 Derrin Williams explains: "We live out in Lake Highlands. We always thought we wanted to be as close to where we live as possible. We had lots of local support. It was very difficult early on due to zoning issues. We basically had to be in an industrial area to be a production brewery. That relegated us to a small area." The brewery shares a building with 3 other businesses. "You have to be zoned industrial in Dallas. It was actually a blessing in disguise. We have a giant outside space. We are all alone on the weekends (the other 3 businesses do not operate over the weekends). There is plenty of parking. We've had events where there have been 1500 people (pre-pandemic) and there was plenty of space."
Why does it have to be industrial zoning?
As Brad points out, "Even though the city of Dallas considers us a food distribution facility, we have to be zoned in an area that is zoned for industrial purposes, such as cement manufacturing and tanneries and things like that."
Oak Highlands could have opened up their own brewery in a more accessible part of Dallas, but that would require paying for industrial surveys, water analysis, and other cost prohibitive obstacles. By operating from a warehouse that is already industrially zoned, this research has already been executed. "You have to find a place that has done industrial research. One of the advantages of being off the beating path is people don't just come here for a beer. They come here for a while. They spend some time."
What do you know now, that you had wished you'd known when you opened?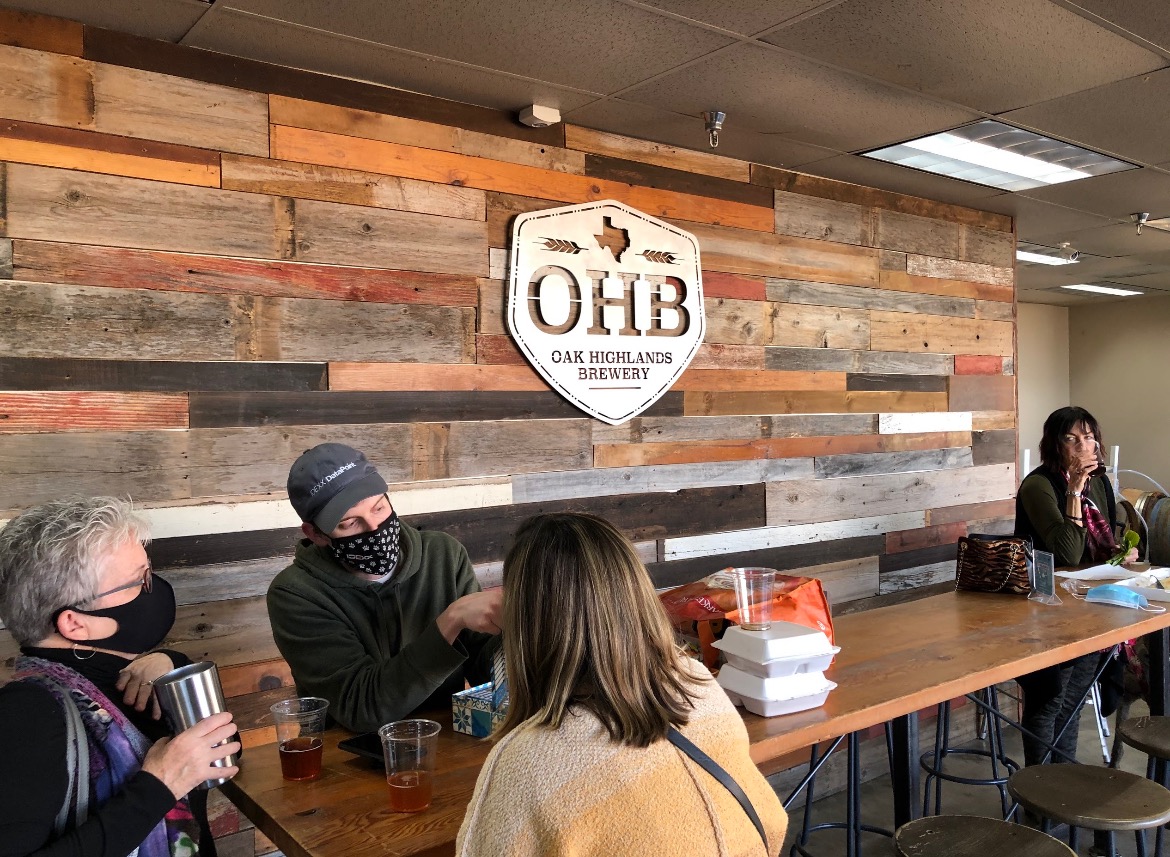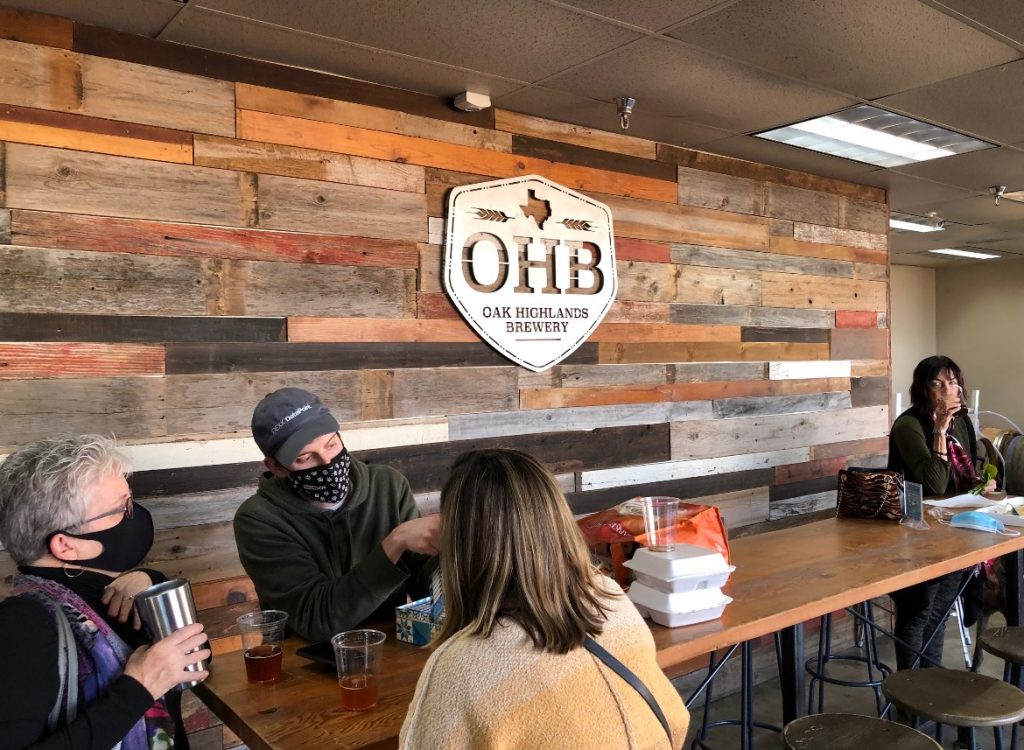 Brad Mall, as is his nature, gives a very pedagogical response: "Honestly the biggest thing we wished we'd known was cooperage. Seems like the for the first 2 years of the brewery we never felt like we had enough kegs. Anyone looking to start a brewery, do not underestimate the amount of kegs you have or need. It hasn't been until the last year or so that we finally felt like we had enough inventory. You need 5 for every draft." This interaction of passionate guidance regarding the beer industry would unfold more and more as the interview matured. Helping people understand, seeing him and his business' and what makes these identities tick, is a journey of purest discovery. You cannot sit down with Brad and not learn something about him and what is important to him, I mean really learn.
Oak Highlands sports one of the most diverse tap lists of anyone in the DFW area. Beyond their core beers, which include a Belgian triple, a Dunkelweizen, an IPA, an English Porter, a Dortmunder, a Kolsch, an Altbier and a Helles Bock; Oak Highlands feature seasonal beers that are as celebrated as their award winning line up. While visiting with Brad and Derrin I was drinking one of the best Pilsners I've had in the DFW area: Slow Your Role a slow pour pilz that was crisp, clean and had that unique ability to make you crave the next one even as the last sip was making its way down your gullet. These guys have serious game. They do not dazzle you with flash, they win you over with substance. Clean, delicious, solid beers made with attention to precision and patience.
How did you come to decide on such a diverse tap list?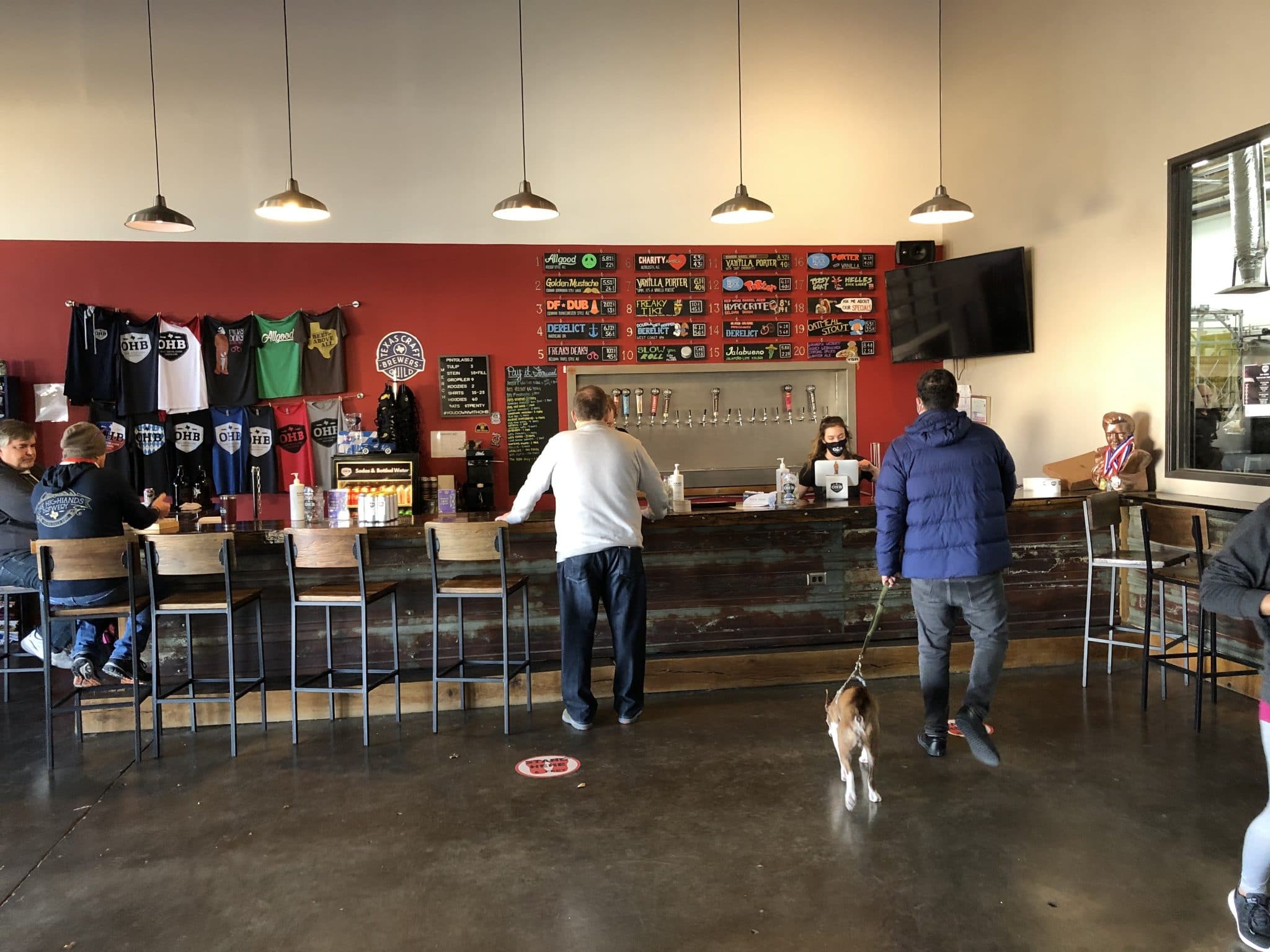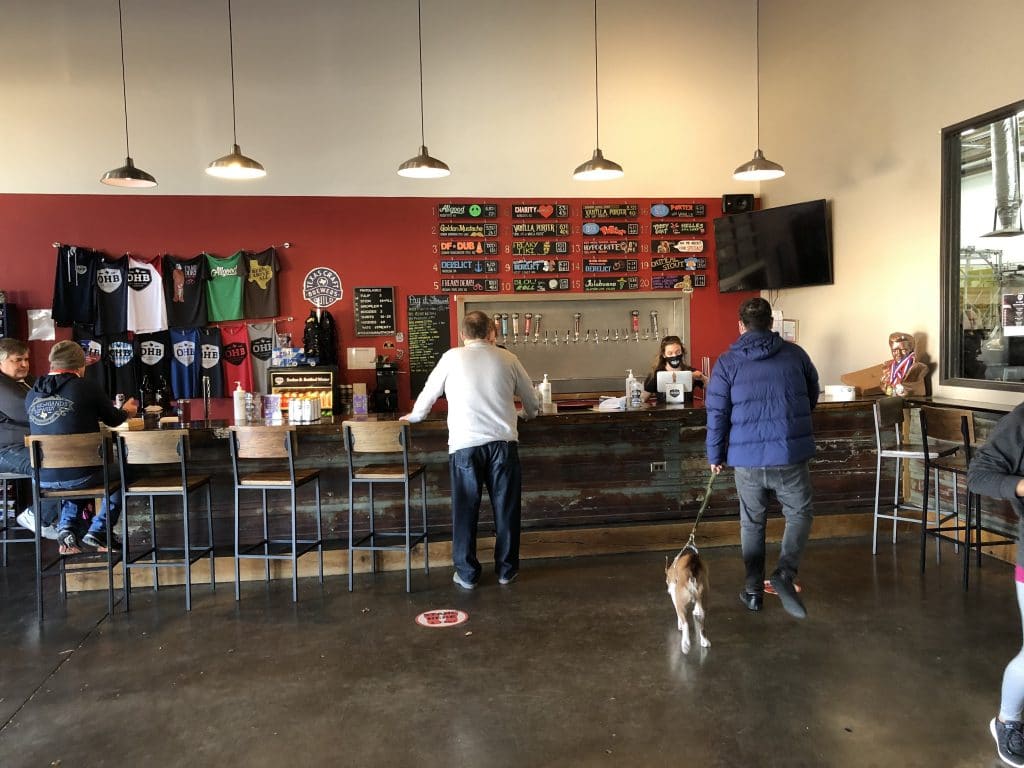 In contrast to their bold personalities is the restrained subtlety of their beer. The beer never begs for attention it just checks in like a cool breeze on a summer night. I listened to these guys tell me story after story of their homebrewing adventures, while sipping on beer like Tipsy Goat and All Good. Enthusiasm for beer making seems to erupt from these two and they're enthusiasm for beer making springs from their spirit in a way that makes your hormones bubble. They are more than beer makers they are sherpas that guide you through to new peaks of beer knowledge. What these guys learned as homebrewers lives in their spine.
Derrin: "we started basically as homebrewers and we just brewed what we liked. We weren't huge IPA fans, so we just brewed what we liked to drink. We have given control over to the brewers and they brew what they want. We have our staple recipes, but they just keep the board full (with beers they like)."
Brad: "one of the things we learned real quick is we can run a 45 gallon homebrew rig all day long. We had never brewed commercially. So one of the first thing we did was go out and hired a really great head brewer. That was John Simms. He started at Great Grains, Two Rows, Four Corners then moved to Texas Ale Project. Running a production facility where you've got to make sure your timing is correct. You've got beer in the tank and beers are being turned timely. You need someone dedicated to do that."
Derrin: "When we got the equipment we didn't know what the hell we were doing. It took John to show us how to hook all of these things together efficiently. It takes someone who can manage the planning of that. You can't do that and run the day to day brewery tasks."
What were you homebrewing? Roots of Oak Highlands Brewery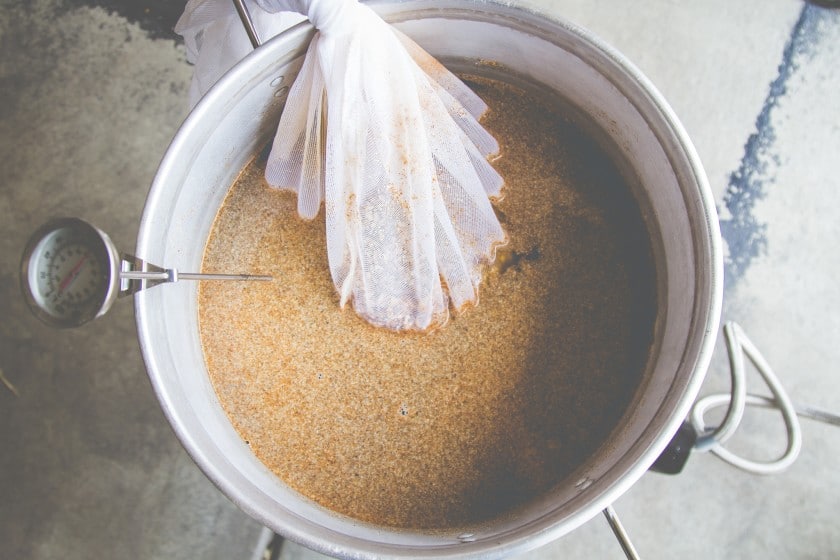 Brad: "Any beer that goes out commercially, either started with us or we had our hands in. The brewers handle most of the small batch recipes. I started homebrewing my freshman year in college. Just kept doing it as a hobby. It was my thing instead of golf. I met Derrin, we did some contests. We decided to get more serious about it."
It was through their experimentation on their homebrew rig that the calling of Oak Highlands Brewery began to take form. "The reason we are called Oak Highlands. We had a legal pad with two full pages of names we were trying to agree on. And we had to enter (a home brew contest) and we had to have a name to enter it so we just entered under Oak Highlands and thought we'd just change it later. Well we won 5 out of 7 categories. So we were like, screw it, I guess we're Oak Highlands. Every competition we entered we won several of the categories. Everywhere we went people were asking us, Where can we get your beer? Where can we get your beer? So we said if we're gonna do this lets make sure we do this right. We took our time. We drew up business plans, feasibility studies and probably over thought it, but I'm glad we did, because when the pandemic hit we went back to those old projections and just acted like this was year one and we figured stuff out. We knew this was a dream, but we knew that if we didn't try it we would be miserable."
Chump change was one of the first home brew beers that got some attention. Derrin explains: "We entered it into the old Martin House homebrew contest. The rule was you have to use their equipment. A lot of people were doing porters and what not. We wanted to go with a dark grain bill, but use a saison yeast."
Brad: "The winners of the contest get to brew their recipe on Martin House's equipment as a featured beer to be sold at the brewery. So we technically won, but they asked us what the grain bill was and they were like, yeah we can't brew that on our system. Our mash tun can't handle it. So I guess we won, but didn't win."
Chump Change seemed to capture the imagination of the DFW brewing consciousness. Brad noted, "As soon as we made that beer. Rahr came out with midnight cab, their dark saison. Peticolas came out with black curtains. At the time we came out with Chump Change there was only one other brewery who was doing a dark saison and that was Green Flash. After that Ommegang did their Game of Thrones version. We wish it sold better. We'd love to bring it back more often."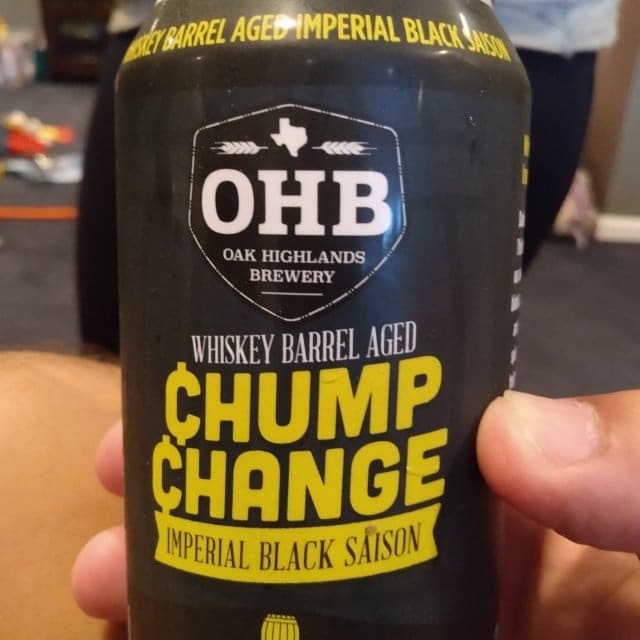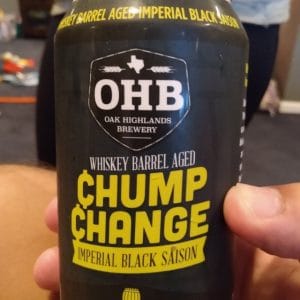 This sparked a rather shameless plea from me to guilt trip them into making this beer again. I had the good fortune of trying it a few years ago and was enticed by its unique presence in DFW. Chump Change is a an Imperial Black Saison featuring a highly roasted black malt. This provides a bit of dryness to the beer. With subtle hops, this dryness provides a blank canvass for the spiciness of the saison yeast.
Derrin: "I do feel like we should do another batch."
Brad: "Done."
Apparently, begging like a toddler who wants a toy at Target pays off if you really commit yourself to the tantrum.
What was responsible for the 40% increase in taproom sales during the pandemic.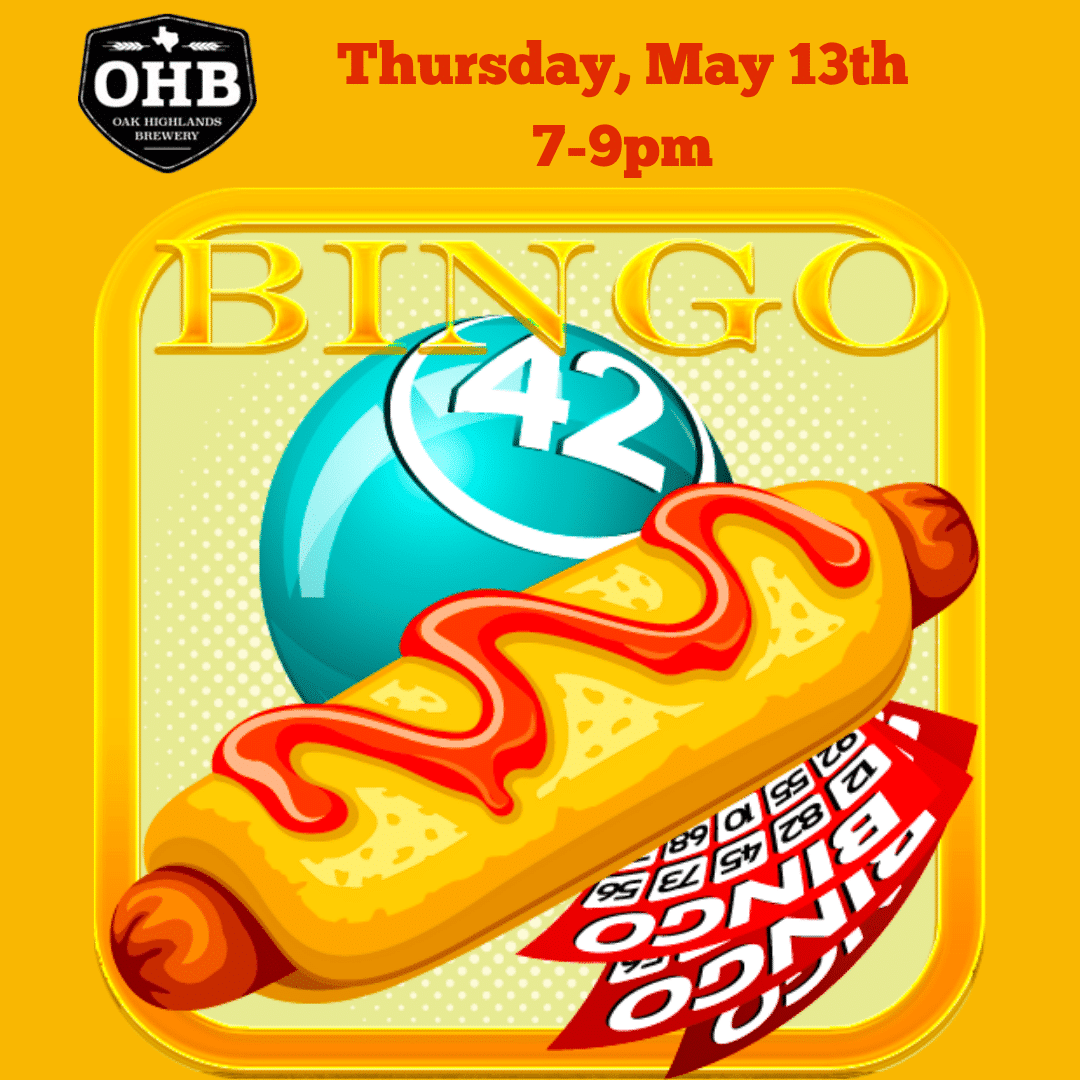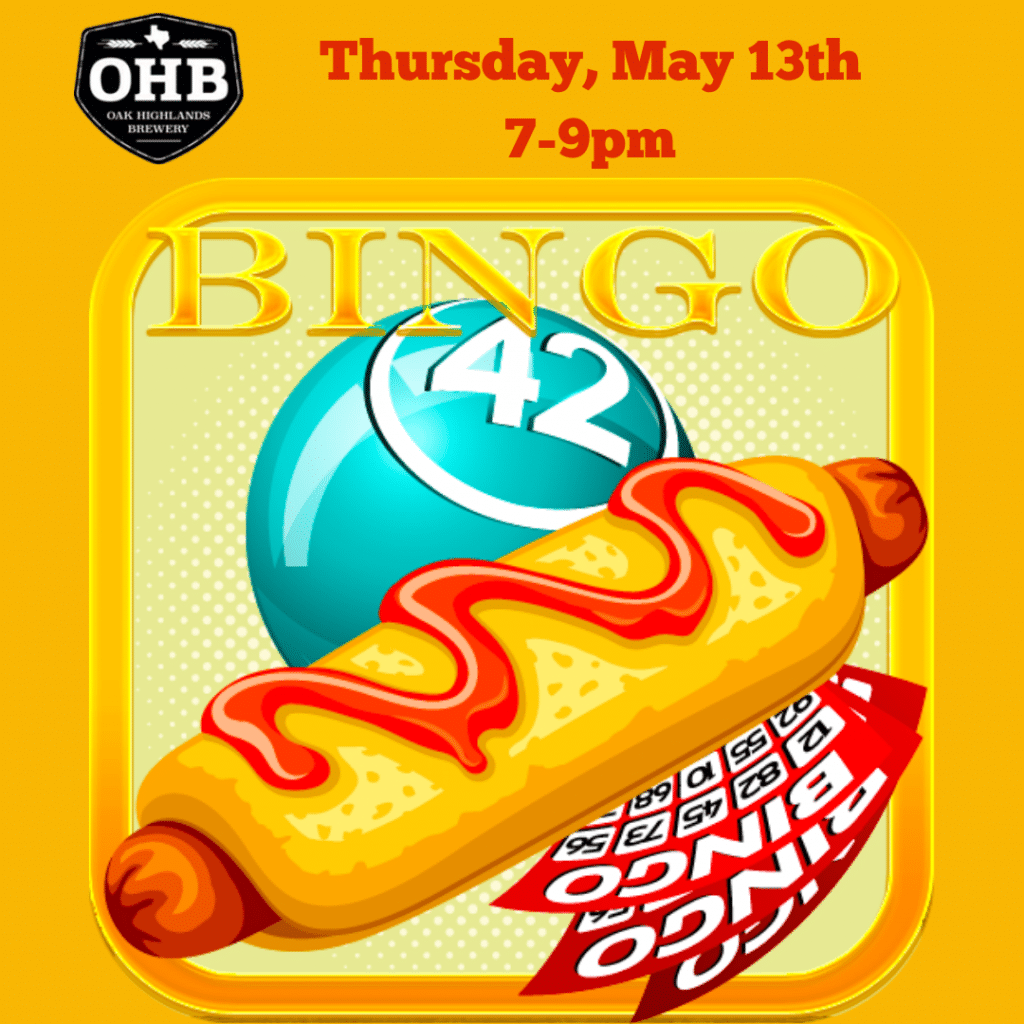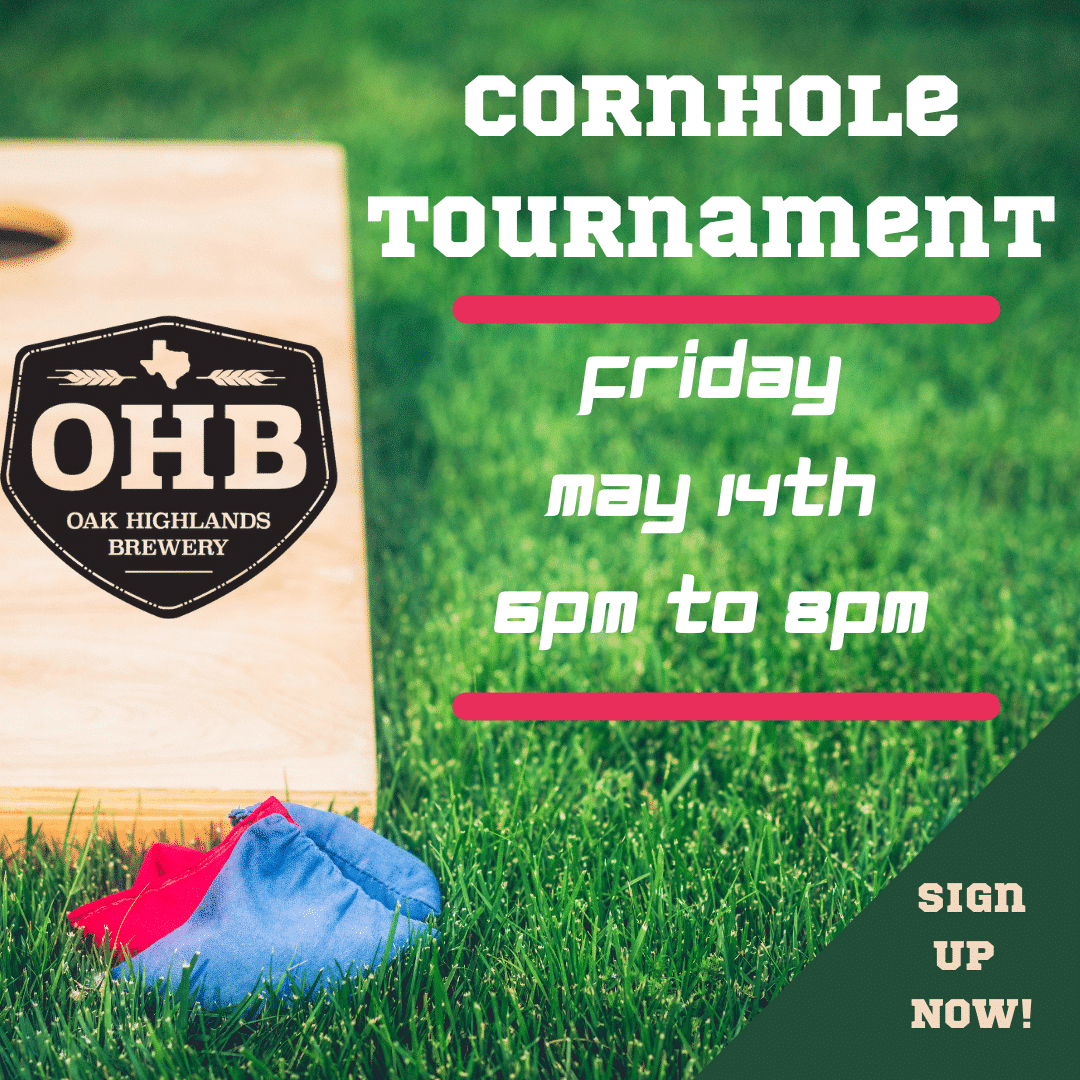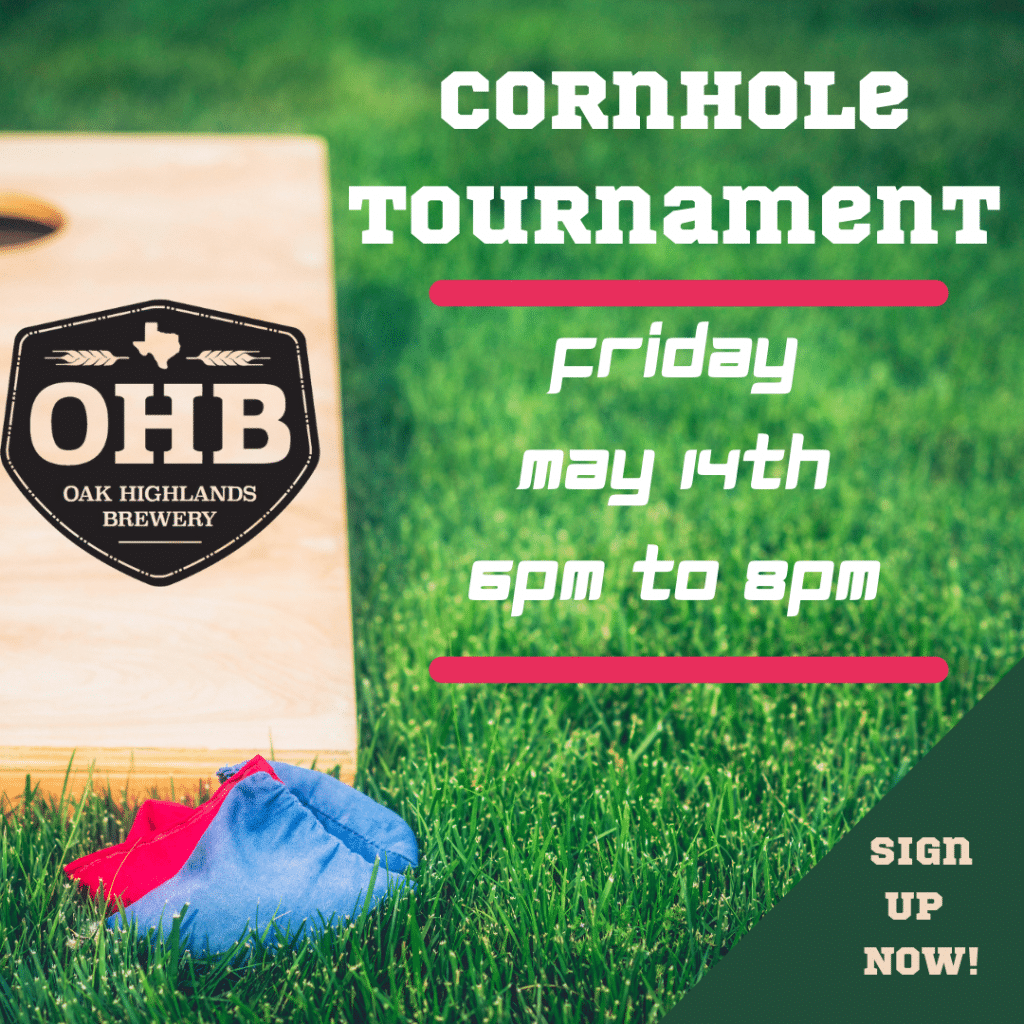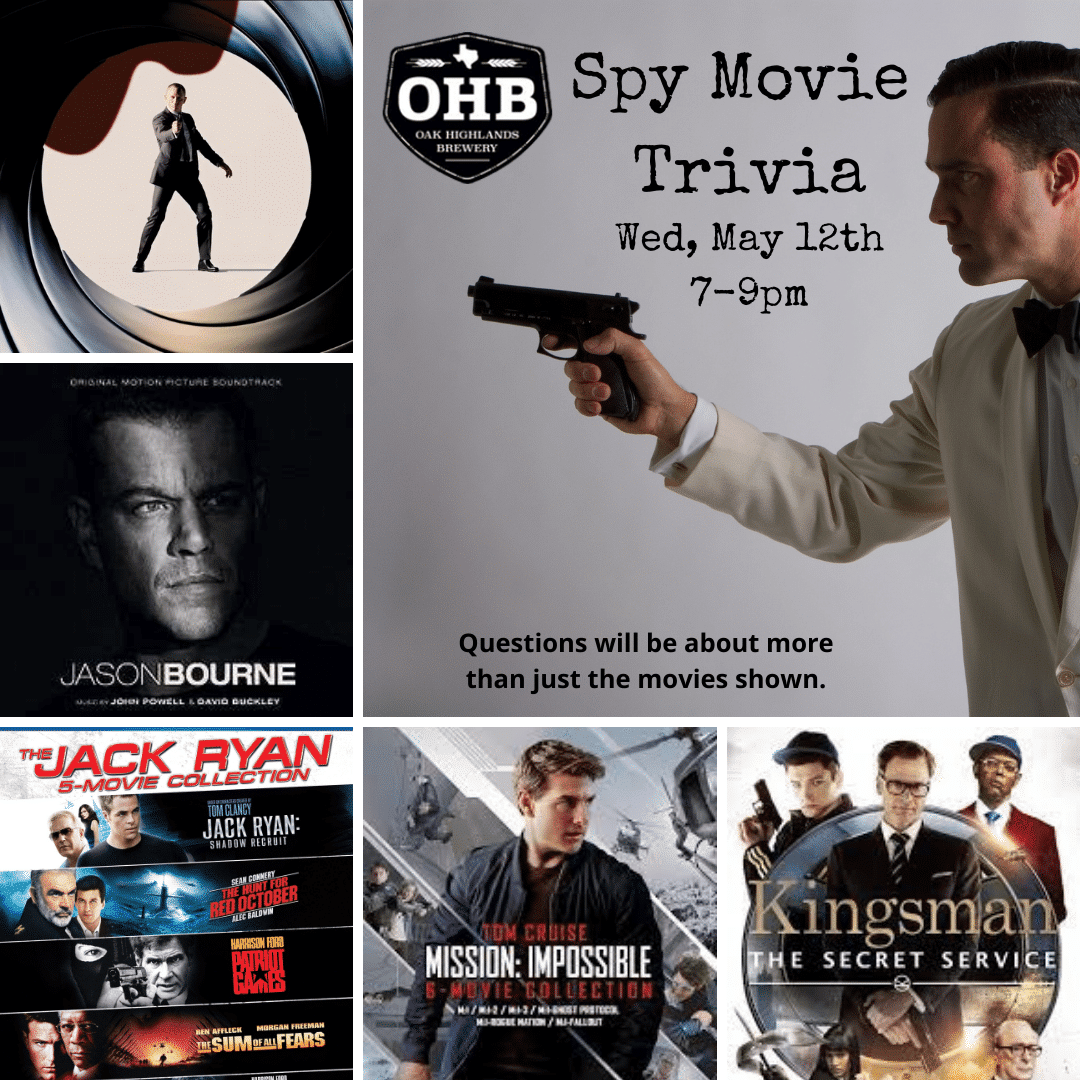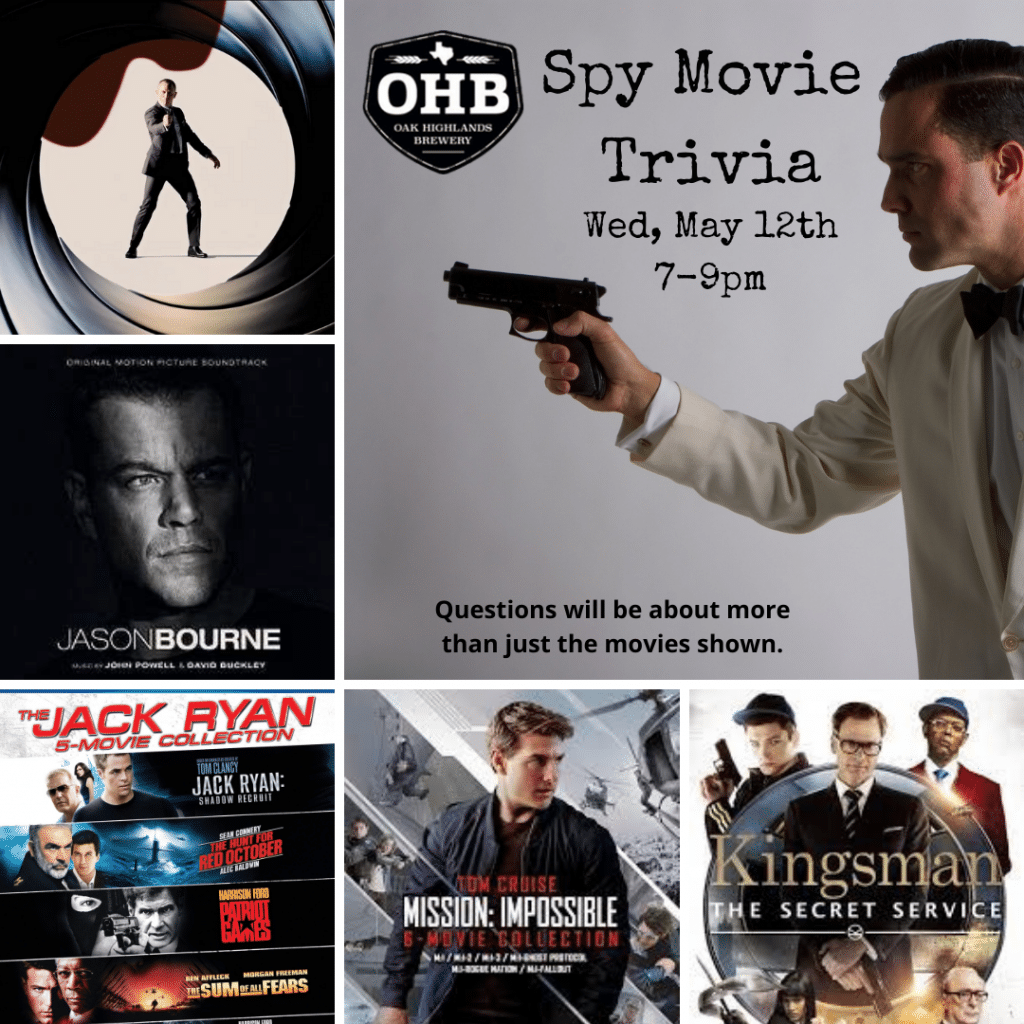 By revisiting their original business plan, the pair were able to lean on their outside -the-box creativity to find solutions to bring people out to the brewery in a safe way.
Brad: "We just started doing things that we had never done before. We started opening up more days of the week. We started a cornhole tournament. Chili cook offs, steak cook offs, just events to drive people back here. That's the great thing about having such a big place, we could socially distance, have everyone in their own parking spot and have these events in a safe way. We did a lot of tailgate stuff, where you could get beer to go and enjoy it tailgate style in the parking lot. We went round and round with TABC whether that was legal, because they thought that this was part of our facility when in actuality we share this strip with 3 other businesses. They eventually said, "yeah go ahead."
One of the more interesting things the pair innovated was the use of meals to go which allowed another avenue for the brewery to increase sales. The pandemic required many Texas breweries to find creative ways to stay solvent, finding loopholes to inject their product into the market. Austin Beerworks sold $5 bags of chips paired with $1 beers to accommodate the 51% food sales regulations. ABGB sold groceries to stay compliant. It was a truly bizarre span of time in the craft beer era. In the wake of the pandemic, the pair have discovered even newer and fresher plans for the future of the brewery. The emergence of the tailgating popularity is an innovation that is going to stick. If you are in the Dallas area, you really need to experience this with your friends. The tailgating parties are uniquely OHB and really ingratiates you into the neighborhood vibe.
The Importance of Charity at Oak Highlands Brewery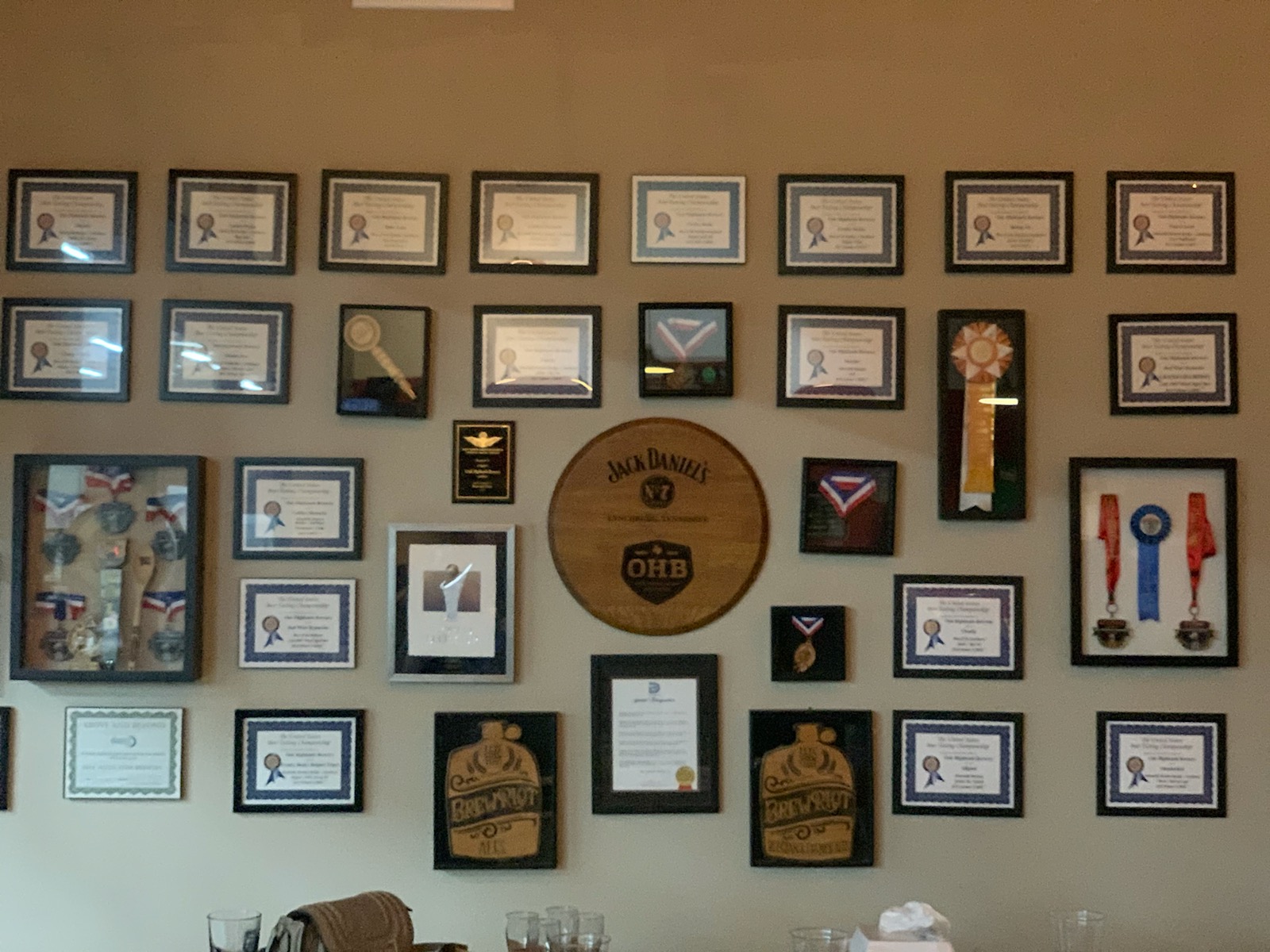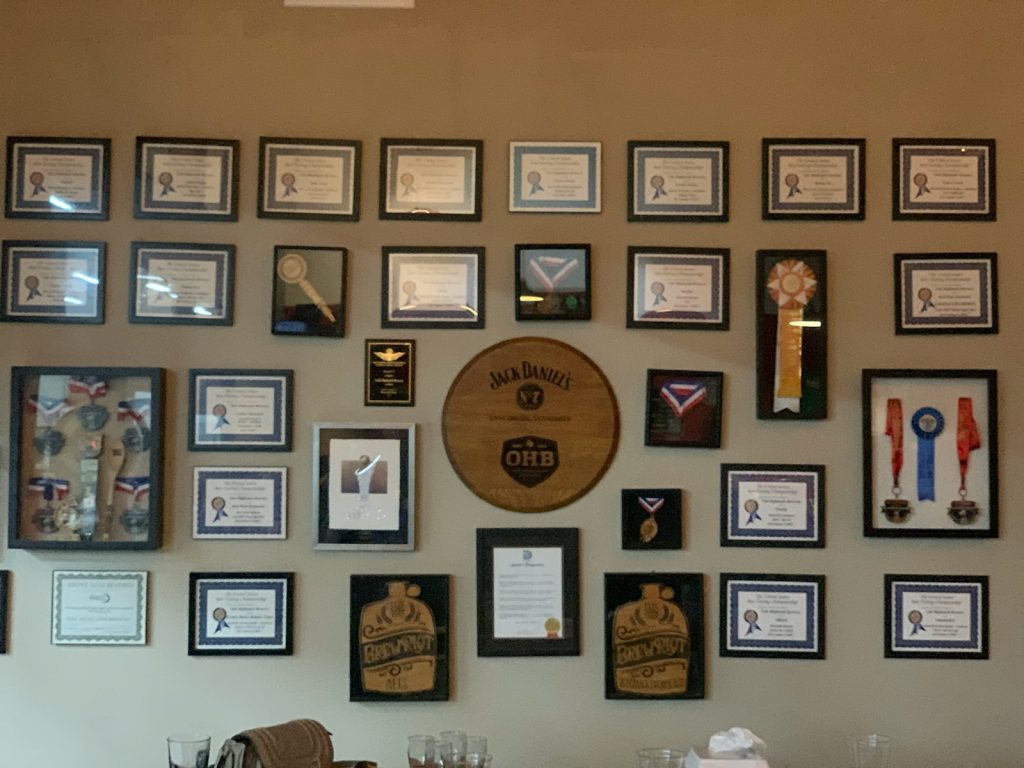 Charity is important to Brad and Derrin. So important they named one of their staple beers Charity. Proceeds from this beer goes to many community organization within the Lake Highlands community.
Brad: "The real emphasis is that I don't have to be a lawyer anymore (Brad practiced law until the opening of Oak Highlands Brewery). All the people that come here from our community. We want to give back. We donate to anything we can. We work with schools. We support them whether they want to support us or not. We have a  Brew Your Own Experience event. It's an auction(where the winning bidder) spends the day at the brewery, make up a special recipe with them, give them 10  gallons to take home. they get to bring their friends to see it on our tap wall "look what I made."
Award Winning Beer
Oak Highlands delivers the goods as their multiple award winning beers will testify to. To name a few there is Tejano Pecano the Gold Medal winner at US Beer Open in 2018, Oktoberfest a GABF winner for Maerzen Lager, Freaky Deaky, their most celebrated beer has won Gold at the San Diego International Beer Festival and Regional winner at the United States Beer Tasting Championship for the Belgian Triple category. Red Wine Hypocrite was the Grand Champion at the 2018 United States Beer Championship. This is just the tip of the iceberg. Their walls are littered with award after award, bearing witness to the love that goes into every bottle and every keg.
What is your go to beer?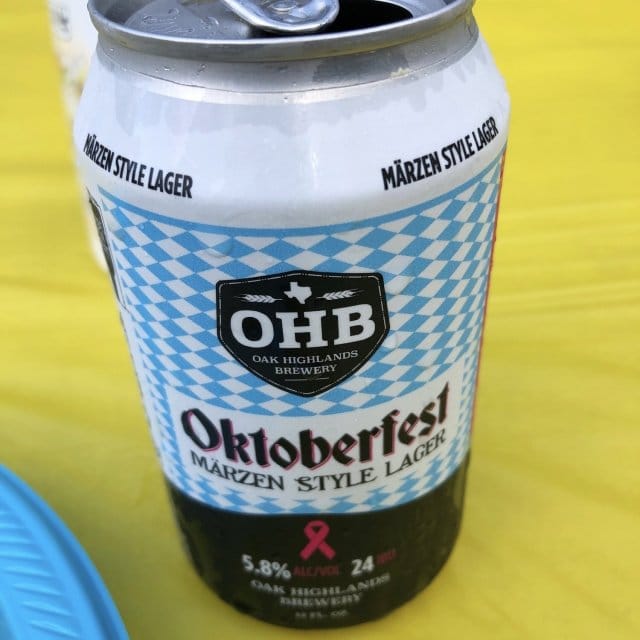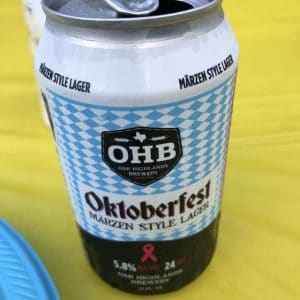 Derrin: "I'm a seasonal guy. Right now Tipsy Goat, but I am driven by the seasons. Vanilla porter when its cold out is always awesome."
Brad: "I'm a huge German beer fan. When Oktoberfest is on, I'm drinking it all day long. Tipsy Goat right now. Charity is always a main stay. Freaky, when I'm in the mood for something a little more. It can be dangerous. It's the wake up in your neighbors bushes wondering where your keys are beer."
Derrin: "Freaky for us is a little bit different. Its one of the higher ibu beers that masks some of the higher abv. A lot of people associate darker beer with higher alcohol content and don't realize that you can get yourself in a lot of trouble with freaky deaky. It's a good beer."
What is your after you mow your lawn beer?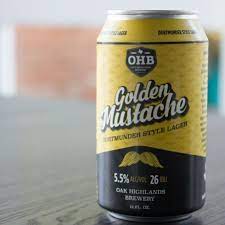 Brad: "Golden Mustache. All day long. Love Golden Mustache. Its crisp. A little bit more malt, a little bit more hops than a pilsner. Nice balance. I can drink gallons of it. Love it."
Derrin: "Yeah. I'm in the same boat. If there is one of our core beers that is canned that I go to, its definitely mustache."
Which beer best represents you as a brewery?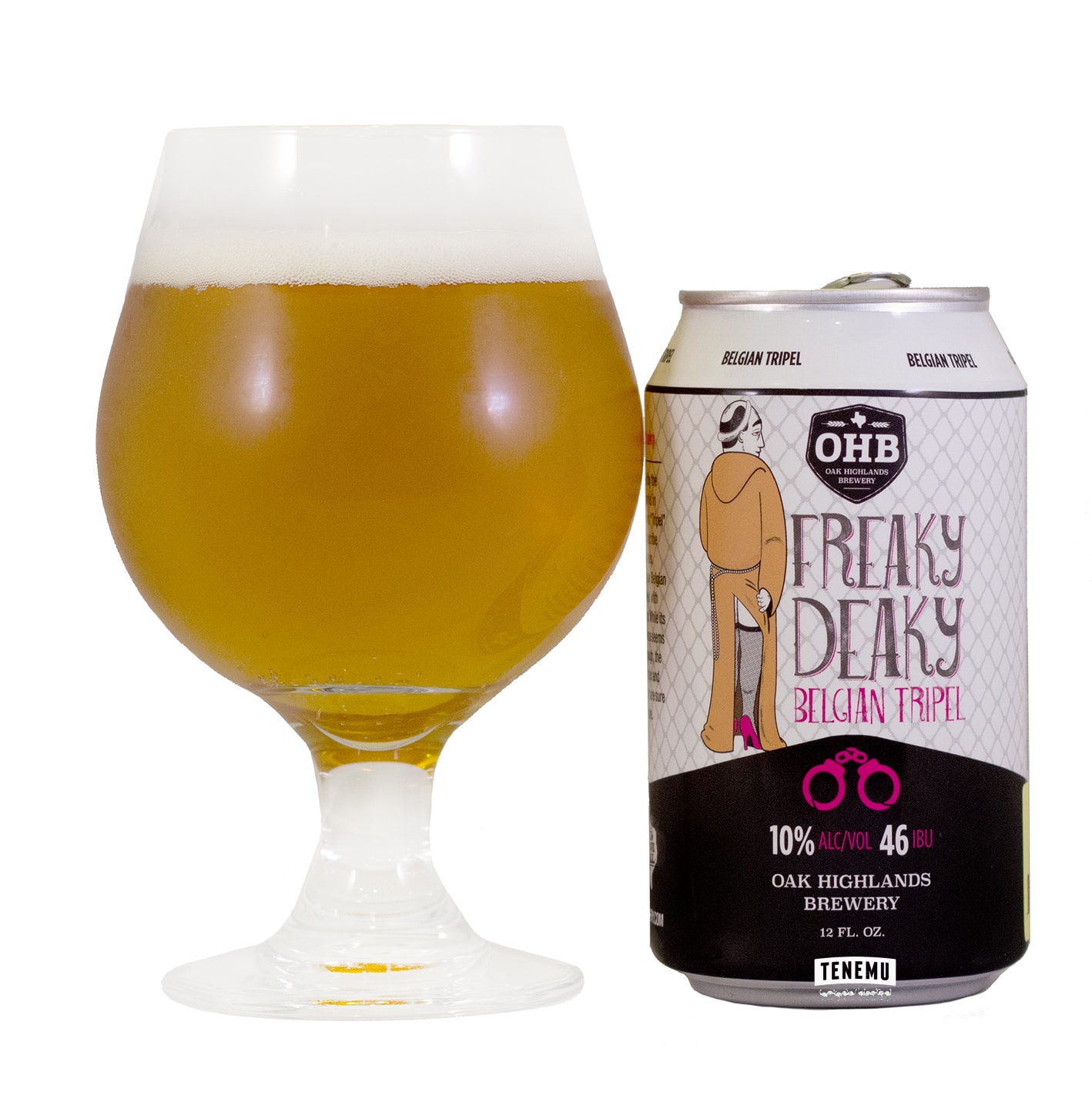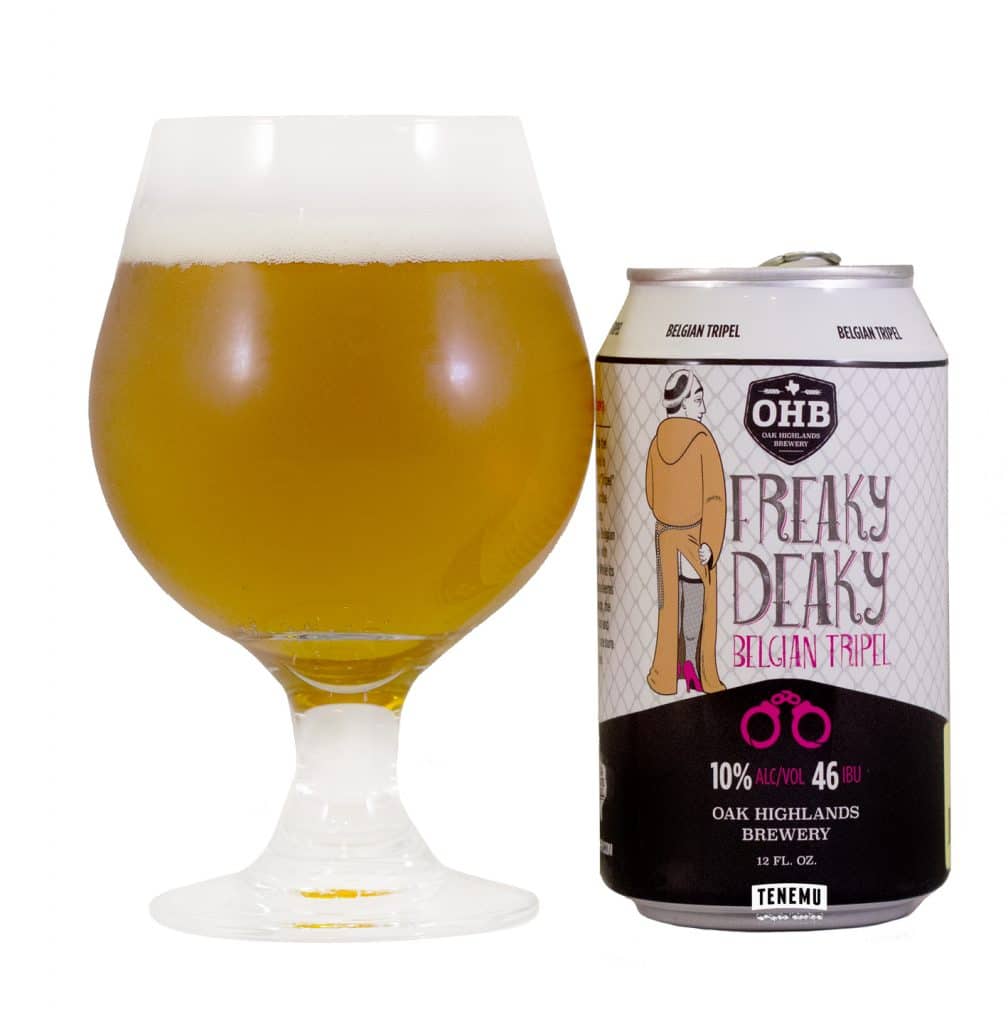 Derrin: "Freaky Deaky is what we're most known for; inevitably that's the way it works with any brewery. But honestly, our seasonals are just where its at. Everyone of our seasonals just knock it out of the park."
Brad: "Like our Guava Good. Were we the first ones to use guava?"
Derrin: "The 2nd. You couldn't find it. Nobody had it. I mean I couldn't tell you how many weeks I spent trying to find guava puree. Now its easily available. Everyone can get it. It's the hot thing right now."
Brad: "I tell you, if you wanna use guava, you have to beat us to the punch. Because we call in January and say we want the first palate and no one else can't get it."
These guys pride themselves on making something that is different from the mainstream norm here in Dallas. They have a passion for lighter beers, believing earnestly that there is nowhere to hide.
Brad: "Whenever we're at GABF or on a trip together, we always start with their lightest lager or their lightest ale. Tells me about their brewer. If you can make a light lager or light ale that is spot on, because you can't hide. If you want to make a porter there is a lot of places to hide, you can hide a lot of mess ups behind the roastiness of the beer. It doesn't mean it's a bad beer. I just want to know; can you nail the beer? When you go to Bierstadt and you try their slow pour pils I mean they nail that beer. They nail it. Altstadt. Their light lagers are phenomenal. ABGB has won so many awards for their light lagers. If you go to a brewery where all they are doing is making fruited sours or stuff where they're dumping a bunch of adjuncts in, you can't really tell what the level of precision is. Making a good lager is hard. Its real hard. Its hard to make a lager, crystal clear, crisp, have the malt and save everything, because when you run it through a filter sometimes you lose all that stuff. We pride ourselves on some of our lighter beers. Hell get a Charity if you haven't had it. It's a phenomenal beer. Most people don't even know what an altbier is.
When people come and say what is the lightest beer you have? I'll give the a sample of All Good and say here you go. Then I'll pour them a DFDUB, a dunkelweisen, then I'll pour them a Charity and the people will be all "Oh those are dark that's gonna be a sandwich in a glass" and I'm like "no, no, no color does not matter. Color does not mean heaviness." I try to explain to them, "did you know Guiness is considered a light beer. Its 94 calories." Most people don't think of it as a light beer. I mean if you get our oatmeal stout, you know its gonna have more to it. Its gonna be a sandwich in a glass. A little bit heavier mouthfeel. You know that going in. but if you get a dry Irish stout, no. Its meant to be pounded. Lots and lots of pints."
Conclusion: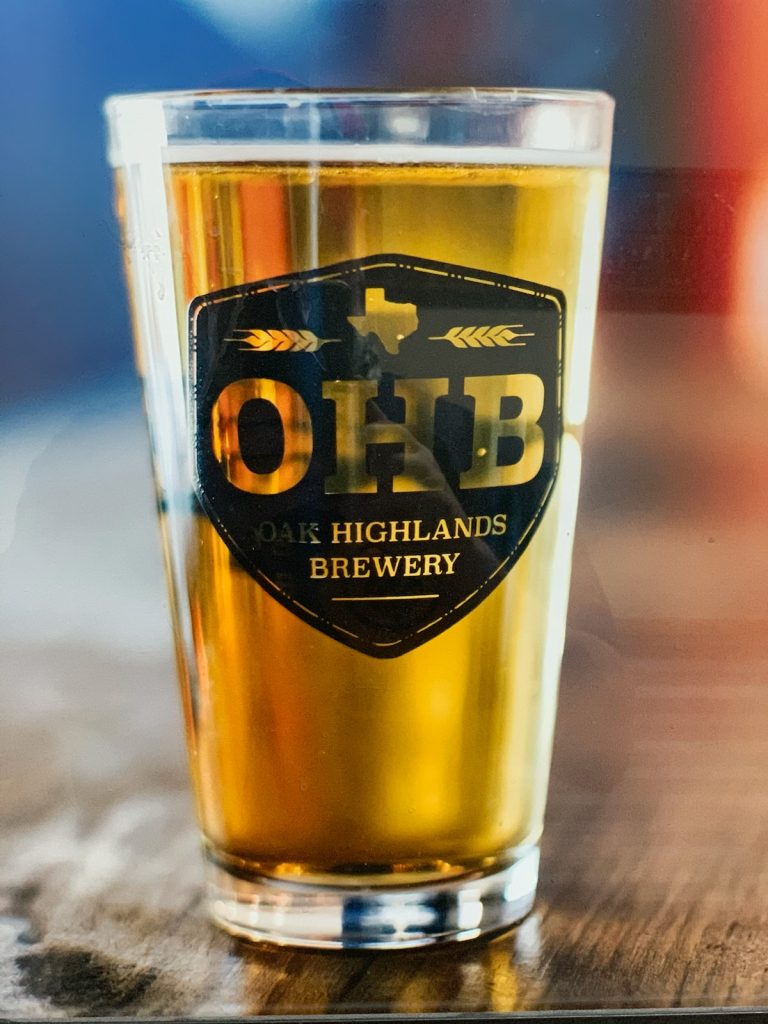 If you haven't made your way out to Oak Highlands Brewery, really, what are you waiting for? This place has something for everyone. Not only is there a beer for everyone, there is an experience for everyone. When you arrive at Oak Highlands, the neighborhood feel is thick and as intoxicating as the libations that flow here. There are cornhole bags slapping against poly-finished boards at an arythmic meter that runs counterpoint to the clinking beer glasses rising together like a round of appplause. Tailgates are down and ornamented with coolers, beer bellies and mom bods.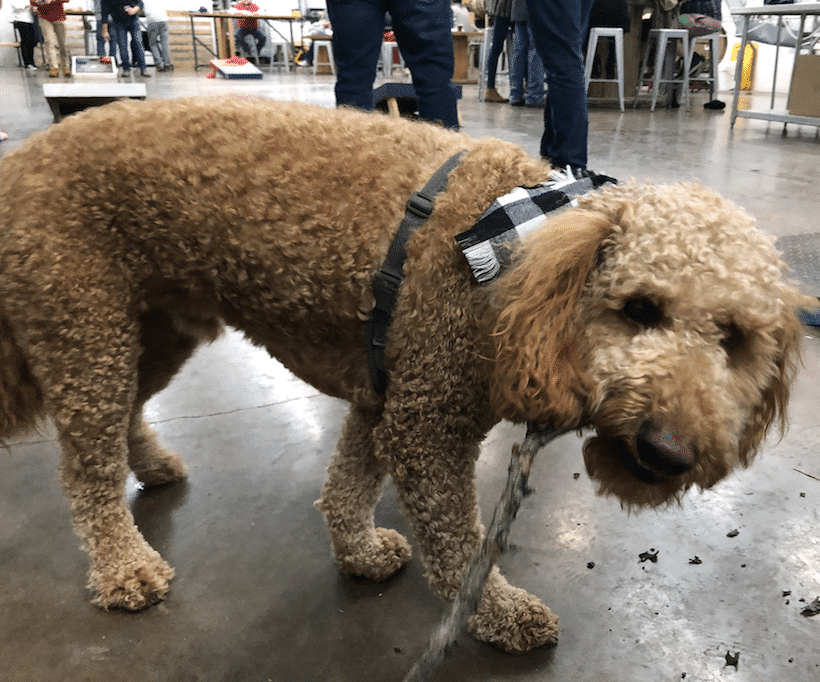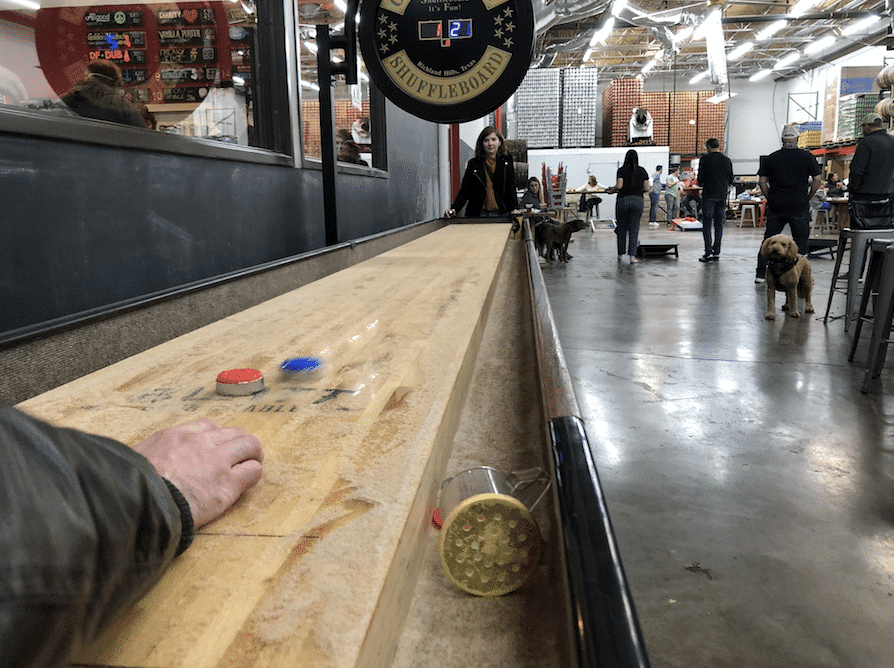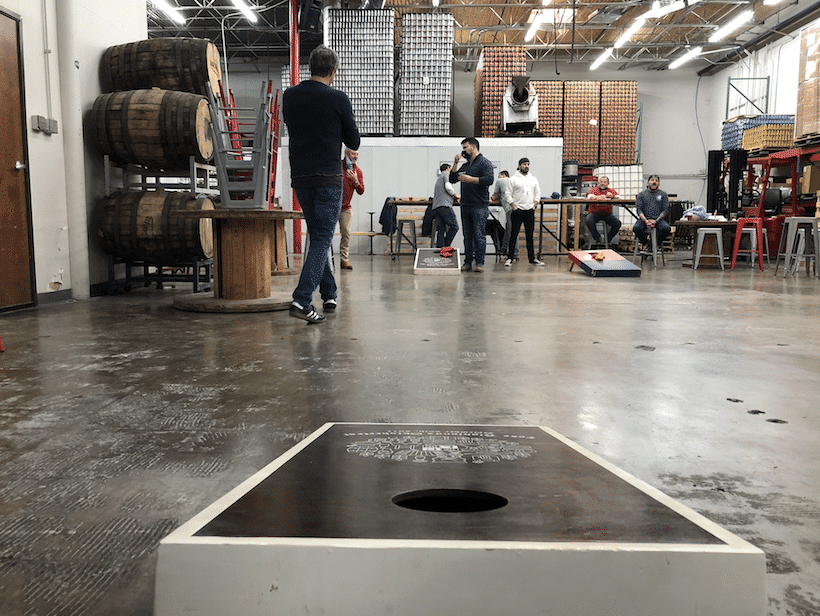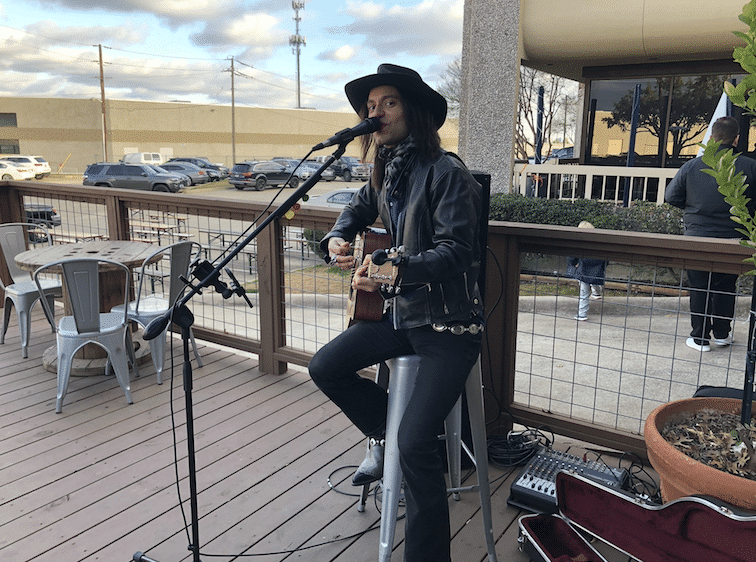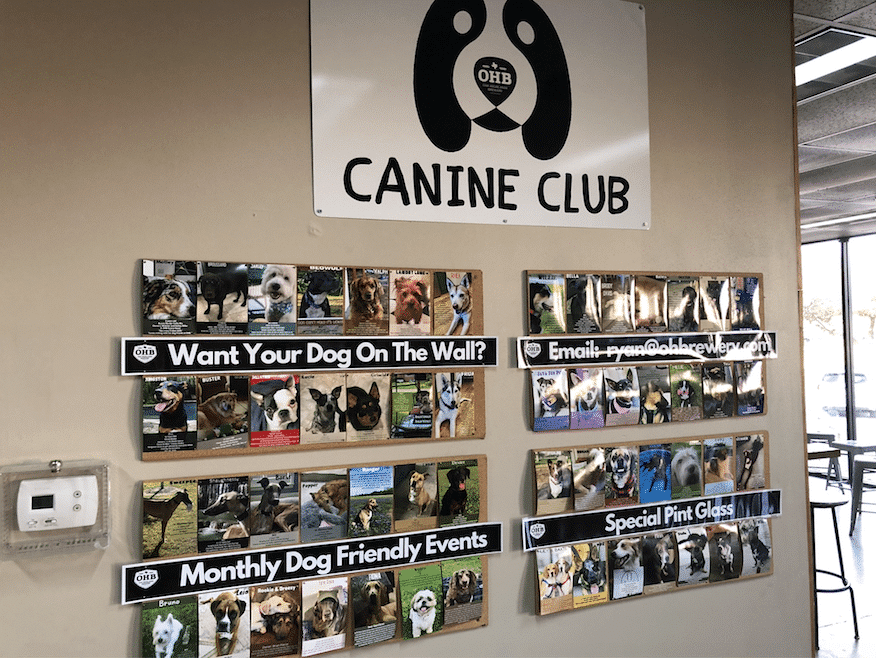 Dogs are yapping, children are scurrying and gossipers are dishing in sounds that form together as an odd invitation. An atonal jam session where everyone contributes a sound. Even if you are like me, a lonely misanthrope who travels the country like a lonely nomad in search of a good story, you have a home at Oak Highlands. Stories overheard are always better than stories shared.
Oak Highlands is the perfect place for eavesdroppers, if you know how to eavesdrop. The beer, non-pretentious and pure, disarms secrecy and invites the covert lurker to bear accidental witness to the days gossip. More than that, there is something unstained and clean about observing friends and neighbors dishing with each other over a pint. Its a family thing at Oak Highlands Brewery. It's in the neighborhood.
Be sure to subscribe to our youtube channel for the full interview, which will be posted soon. See you on down the road at your favorite brewery. Cheers.